May Day is celebrated in many places around the world on May 1st. While this special day might be observed in different ways depending on where you live, one popular tradition is the May basket. You fill a small basket with flowers, and even treats, on a neighbor's doorknob. The trick is that you are supposed to try to put the basket in place without being seen. If your neighbor catches you, they get to kiss you!
You don't have to spend money on a fancy basket to participate in the May Day fun, you can make one or more using these ideas.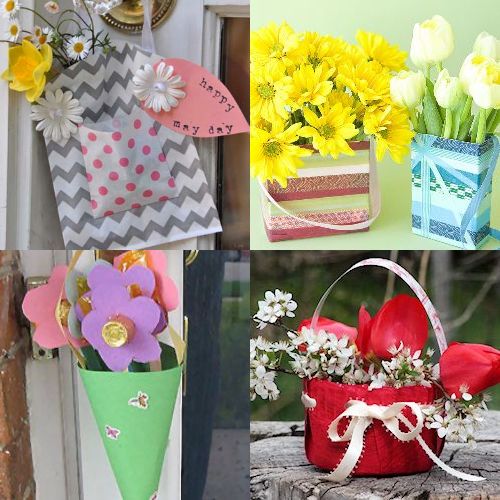 Bitty Bag May Day Basket – Can you believe this cute doorknob hanger was made by Kerstie using 2 Small bags (called Bitty Bags) and some other paper crafting supplies. If you don't have Bitty Bags, you could experiment with fashioning similar bags out of colorful paper.
Recycling Bin May Day Baskets – Missy created these May Day Baskets using items she dug out of her recycling bins and colorful Washi Tape
. The Washi Tape is easy to use and gives you wonderful results, don't you think?
May Day Cone Basket Craft – All you need to make this simple cone basket is some colorful paper and tape. You can make simple, candy topped flowers or any of these homemade flowers.
May Day Paper Plate Baskets – Stephanie created this basket by cutting slits around the edge of a painted paper plate and bending them up to form a basket shape. The edges are held together by punching holes in them and threading colorful ribbon through the holes.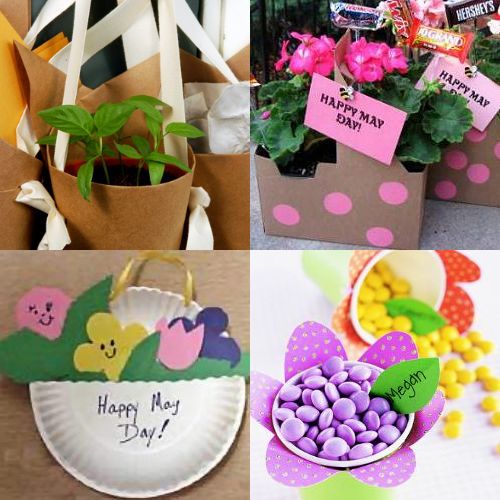 Paper Bag May Day Cone – This project really shows you that you can use whatever you have lying around your home to make unique and amazing crafts. This simple yet elegant May Day cone is made from a brown paper bag.
Drink Holder May Day Basket – This basket was made by decorating a folding, cardboard drink holder you get from a coffee shop. This one was painted using a round sponge to make polka dot prints, but you could decorate yours using stickers, stamps, or anything you have on hand.
Paper Plate May Basket – You can make this simple basket using a full paper plate as the back and half a paper plate stapled to the front to form a pocket. You can decorate it using a variety of supplies or simply write a special message on it.
Flower Power Candy Cups – This flower cup wasn't originally created to be a May Day basket, but it's flower design certainly made me think it would work well. Simply add a handle using paper that coordinates with the petals and fill it with wrapped candies.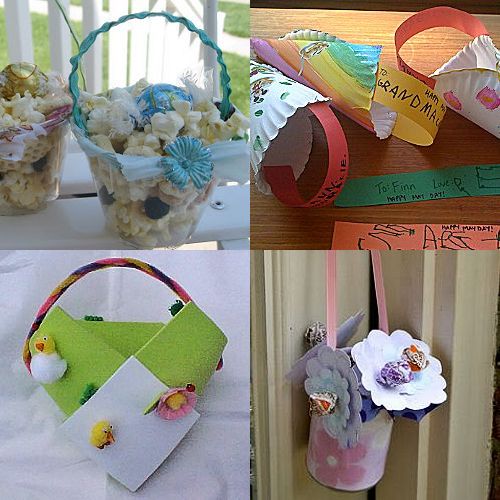 Plastic Cup May Basket – I love the simplicity of this basket made using a clear, plastic cup, strips of colorful fabric, ribbon, and faux flowers.
Paper Plate May Day Baskets – Learn how to use paper plates to make cone-shaped May Day baskets. Simple paint or decorate the back of the plate, roll it into a cone shape, and staple it at the seam. Don't forget to add a paper handle.
May Day Basket Made With Craft Foam – Cut and fold two pieces of craft foam to create this hanging basket. Michelle suggests you decorate the basket using small critters and flowers using pom-poms, wiggle eyes, and felt.
Tin Can May Day Basket – Cover a clean tin can with paper and Mod Podge
and then decorate it with ribbon. This crafter even used ribbon to cover any sharp edges along the top of the can. Cut flower shapes out of paper and then poke the stick of a sucker through the center.