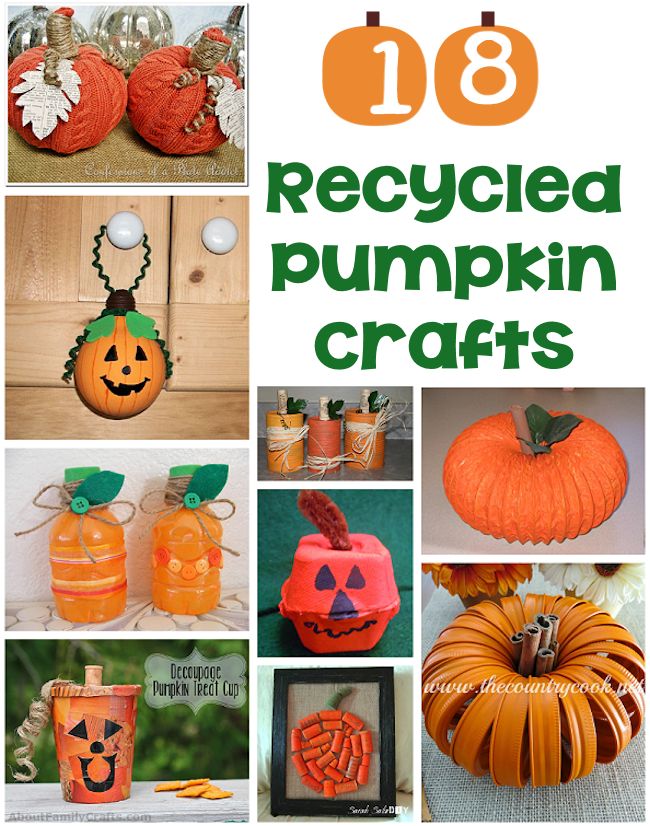 Whether you are looking for pumpkins you can use to celebrate Halloween or Thanksgiving, one or more of these pumpkin crafts just might fit the bill.
All of these pumpkins are made by recycling items you can find in most households. I start out by sharing 3 I have posted and then share many others I have found online.

1 – Decoupage Pumpkin Treat Cup
Learn how I turned a treat cup into a cute pumpkin.
2 – Decoupage Pumpkin Sun Catcher
All you need to make this pumpkin is a plastic paint, fabric scraps, Mod Podge and paint.
3 – Canning Jar Lid Pumpkin Craft
Discover how to make a pumpkin using three canning jar lids.

4 – Book Page Pumpkin Tutorial from Creations by Kara
Learn how to cut a pumpkin shape out of a paperback.
5 – Pumpkin Art Project from My Montessori Journey
This pumpkin is made using a paper plate and tissue paper.
6 – Soup Can Pumpkins from Yummy Cuppy Crafts
Turn tin cans into pumpkins using paint, raffia, a cork, and a fake leaf.

7 – Pumpkin Bell Halloween Craft from Craft Elf
Create this cute pumpkin using egg carton cups.
8 – Wine Cork Pumpkin from Purple Patch DIY
This is such a fun way to use corks, don't you think?
9 – Baby Food Jar Pumpkins from 1+1+1=1
Fill a baby food jar with orange paper to create a tiny pumpkin.

10 – Paper Bag Jack-o-Lantern Craft from All Kids Network
Decorate a lunch bag and stuff it with newspaper.
11 – Rock Jack-O-Lanterns from No Time for Flashcards
Paint up some rocks to look like happy pumpkins!
12 – Artificial Pumpkin Centerpiece from The Artful Crafter
Can you believe this adorable pumpkin is made from a dryer vent.

13 – Mason Jar Lid Pumpkin from The Country Cook
This pumpkin is made from 20 mason jar bands, orange spray paint, a piece of yarn, and cinnamon sticks.
14 – Sweater Pumpkins from Confessions of a Plate Addict
Use an old sweater to make a fashionable pumpkin.
15 – Tube Pumpkins from Always Expect Moore
Cut apart a cardboard tube and wrap the pieces to make pumpkins.

16 – Light Bulb Jack-O-Lantern from About
Learn how to decorate a light bulb to look like a friendly pumpkin.
17 – DIY Mini Pumpkins from Bacon Time with a Hungry Hypo
Decorate a bottle to look like a pumpkin.
18 – Milk Jug Trick-or-Treat Pumpkins from Filth Wizardry
Turn an empty milk jug into a jack-o-lantern.