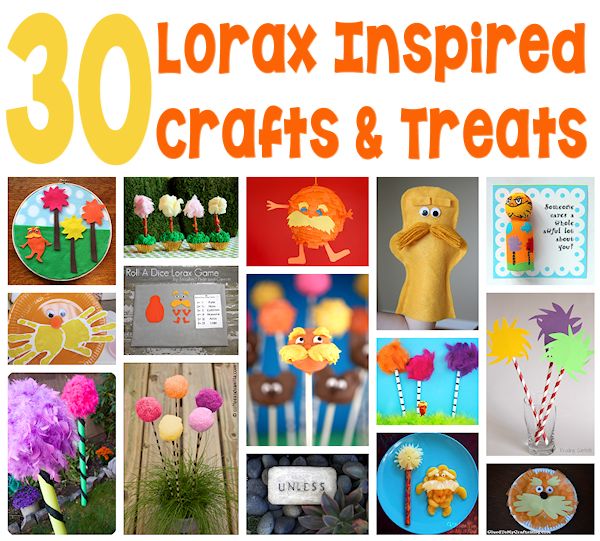 While young kids might enjoy watching The Lorax for the cute characters and colorful scenery, older kids and adults will hopefully take something more away from it. I don't want to get into heavy environmental and even political issues here…  I would much rather craft! There is just one quote from the story that I think sums it all up — "Unless someone like you cares a whole awful lot, Nothing is going to get better. It's not."
Now, let's make some Lorax crafts!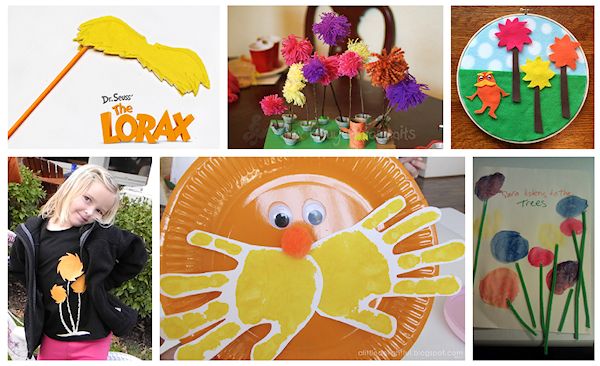 1 – Lorax Paper Plate and Handprint Craft from A Delightful Design
This is such a simple project — all that you need in a paper plate, google eyes, a pom-pom, and two handprints.
2 – Lorax Tree Art from Kolcraft
Use a cotton ball to print the top of these Truffula trees.
3 – Lorax Mustache on a Stick from Babble
Use a scrap of yellow fabric and interfacing to sew this simple mustache.
4 – Truffula Trees and Lorax from Alex Nguyen Portaits
This toilet paper roll Lorax will happily speak for these Truffula tress that are made out of twigs and homemade pom-poms.
5 – Lorax Felt Storyboard from Mod Podge Rocks
It is easy to create a Lorax felt board to play with using these directions shared by Amy.
6 – Truffula T-Shirt from Dabbled
Decorate a dark colored shirt with painted on Truffula trees.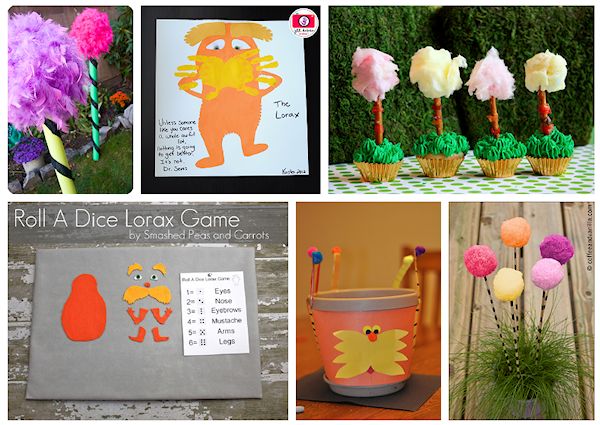 7 – Truffula Tree Tutorial from I'm Feelin' Crafty
Discover how easy it is to make large Truffula trees using pool noodles and feather boas.
8 – Paper Lorax with Handprint Mustache from Meet the Dubiens
Make the Lorax out of paper and then top it off with a couple of handprints.
9 – Truffula Tree Cupcakes from Tablespoon
The trees in these cupcakes are made out of pretzel sticks and cotton candy.
10 – Roll a Dice Lorax Game from Smashed Peas and Carrots
First you can make the game and then you can play it. The rules are similar to the Cootie game.
11 – Lorax Planter from Little Birdie Secrets
Learn how to decorate a planter to look like the Lorax.
12 – Pom-pom Truffula Trees from Coffee and Vanilla
These simple Truffula trees are made from pom-poms and wooden skewers.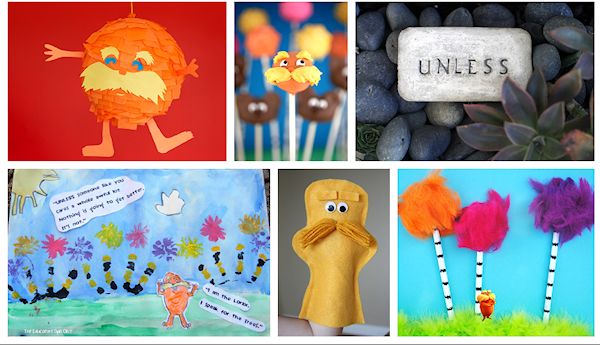 13 – Lorax Pinata from Babble
Discover how simple it is to make a pinata that looks like a Lorax.
14 – Lorax Cake Pops from Bakerella
learn how to make cake poops that look like the Lorax, Bar-Ba-Loots, and Truffula trees.
15 – Unless Garden Stone from Pretty Prudent
At the end of the story the Lorax leaves you with a single word carved in stone — UNLESS. Learn how to make your own!
16 – Handprint Truffula Tree Forest from The Educators' Spin On It
Paint your fingers with black and yellow stripes and press them on paper to create the trunks of the Truffula trees.
17 – Felt Lorax Hand Puppet form Babble
No sewing is required to make this puppet using felt, yarn, and google eyes.
18 – Truffula Tree Pencils from Zakka Life
Learn how to decorate a tree to look like a tree from the Lorax.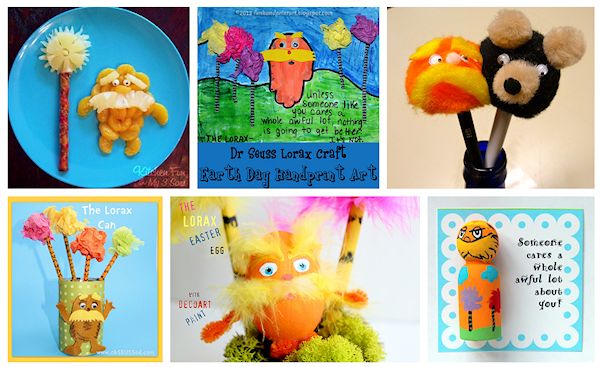 19 – Lorax Fruit Snack from Kitchen Fun With My 3 Sons
Make a healthy snack using mandarin oranges!
20 – Handprint Lorax from Fun Handprint Art
Make a Lorax by tracing your hand and truffula trees by crumpling up tissue paper.
21 – Lorax and Bar-Ba-Loots Pencil Puppets from Make It Easy Crafts
Follow these directions and you can make a Lorax and bear using pom-poms.
22 – Lorax Pencil Can from Obseussed
Recyle a tin can into a pencil holder.
23 – Lorax Easter Egg from Craftberry Bush
You can paint a hard boiled egg orange or even use a plastic egg.
24 – Peg Doll Lorax from Craft That Party
Follow this example to paint your own Lorax.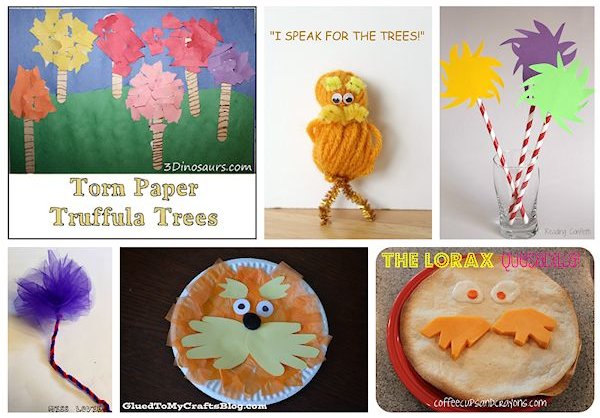 25 – Torn Paper Truffula Trees from 3 Dinosaurs
If you ask me, torn pieces of paper are the perfect medium to make Truffula tree pictures.
26 – Yarn Lorax from Babble
To make this Lorax, make a thin ball out of yarn and decorate it with chenille stems and google eyes.
27 – Lorax-Inspired Pixie Sticks from Reading Confetti
Top off these sweet treats with paper puffs.
28 – Fluffed Truffula from Miss Lovie Creations
I love these Truffula trees made from chenille stems and tulle.
29 – Lorax Paper Plate from Glue to My Crafts
Use glue and orange tissue paper to color the paper plate to make this craft.
30 – Lorax Quesadilla from Coffee Cups and Crayons
Dress up some cheese filled tortillas with cheese and ranch dressing.