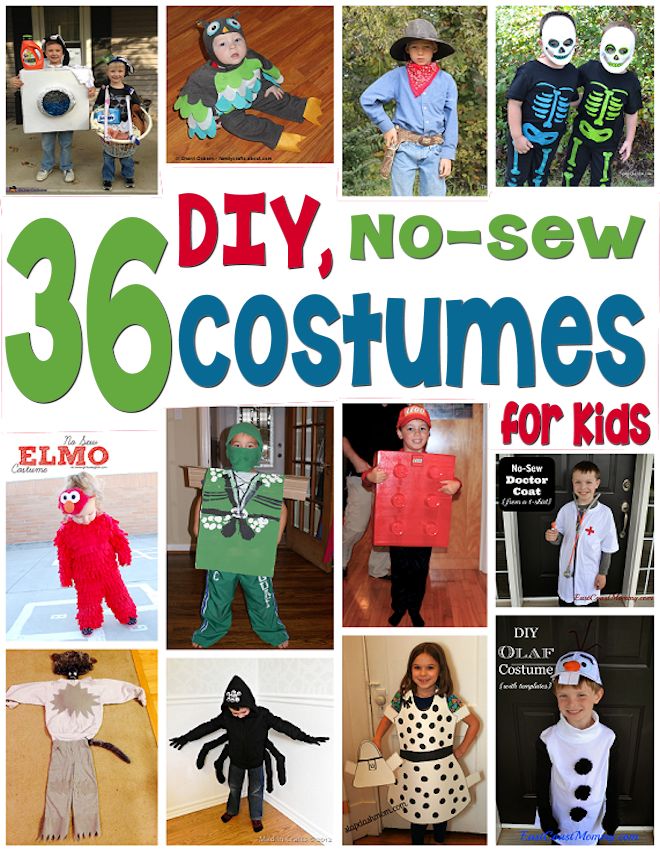 If you want to make your child's Halloween costume but aren't comfortable with a needle or thread, perhaps one of these 36 no-sew costumes will fit the bill. You can find something here to suit boys and girls of all ages. I know some adults who might even like some of these! How about you?
I hope you enjoy looking through all of these costumes as much as I did.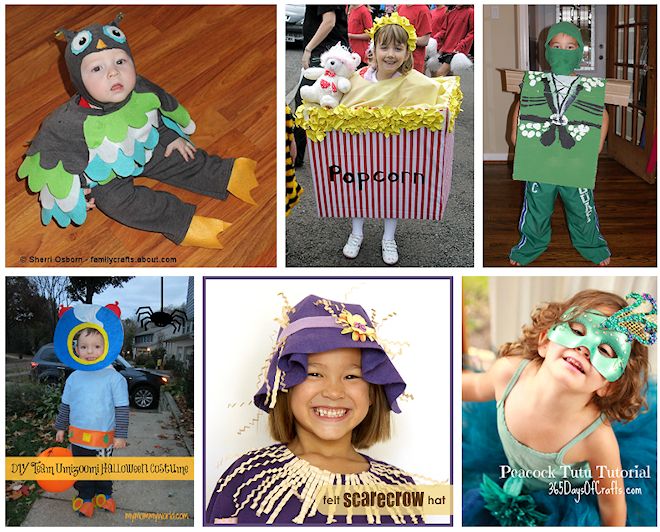 1 – Sweatsuit Owl Costume from Sherri
2 – Box of Popcorn Costume from Bekah
3 – LEGO Ninjago Ninja Costume from Creative Mama on a Dime
4 – DIY Team Umizoomi Costume from My Mommy World
5 – Felt Scarecrow Hat and Costume Ideas from Simply Kelly Designs
6 – Peacock Tutu Tutorial from 365 Days of Crafts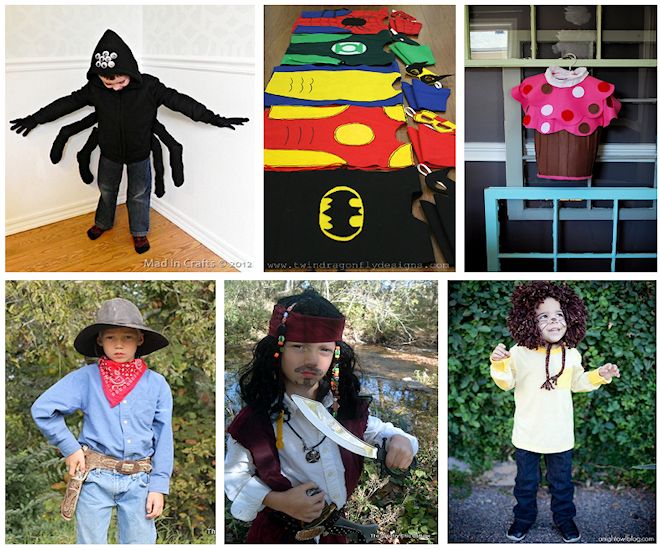 7 – Last Minute Spider Costume from Mad in Crafts
8 – No Sew Super Hero Costumes Tutorial from Twin Dragonfly Designs
9 – No-Sew Cupcake Costume from Lemon Tree Creations
10 – Cowboy Halloween Costume from The Country Chic Cottage
11 – Jack Sparrow Costume from The Country Chic Cottage
12 – Easy No-Sew Kids Lion Halloween Costume from A Night Owl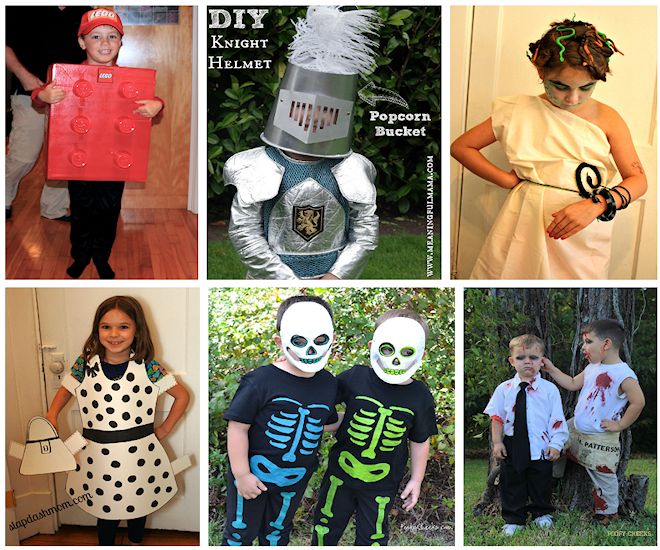 13 – DIY Lego Costume from Semi-Urban Mom
14 – DIY Knight Helmet from Meaningful Mama
15 – Medusa Costume and Makeup Tutorial from Slap Dash Mom
16 – Paper Doll Costume from Slap Dash Mom
17 – DIY Halloween Skeleton Costumes from Poofy Cheeks
18 – DIY Zombie Costume from Poofy Cheeks

19 – Fortune Teller Costume from Mom 4 Real
20 – Pippi Longstocking Halloween Costume from Mom 4 Real
21 – Bumble Bee Costume Tutorial from Creative Green Living
22 – Mermaid Costume Tutorial from Creative Green Living
23 – Fisherman Costume Tutorial from Creative Green Living
24 – DIY Zorro Costume from Yesterday on Tuesday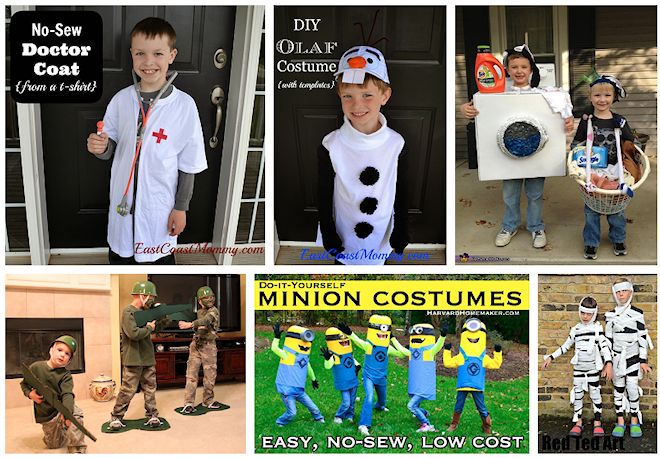 25 – No-Sew Doctor Lab Coat from East Coast Mommy
26 – DIY Olaf Costume from East Coast Mommy
27 – Dirty Laundry Costumes from Costume Works
28 – Toy Story Army Guy Costume from Frugal Fun for Boys
29 – Do-It-Yourself Minion Costume from Harvard Homemaker
30 – Mummies from Red Ted Art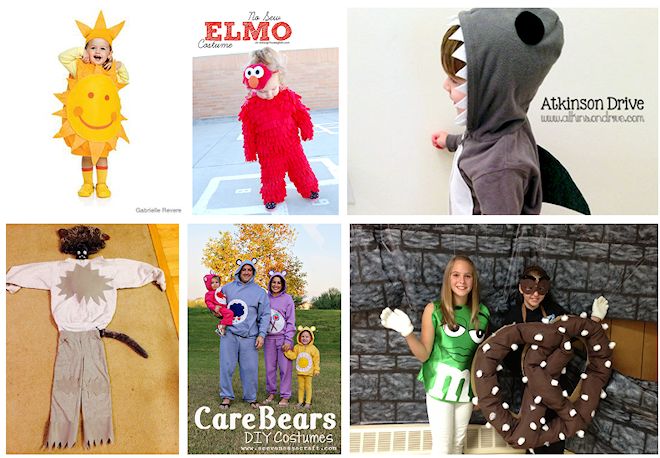 31 – Here Comes the Sun Costume from Parenting
32 – No-Sew Elmo Costume from Girl Loves Glam
33 – No Sew Shark Costume from Atkinson Drive
34 – DIY NO Sew Wolf Halloween Costume from Motherhood Support
35 – No Sew Care Bear Costumes from See Vanessa Craft
36 – No Sew Pretzel Halloween Costume from Bright Settings
If you make any of these costumes, make sure you come on back here and share your story and even pictures!  You should also take a moment to visit the project and tell the creator thanks!