Many families in the U.S. gather together to watch fireworks on the 4th of July. Is there a big fireworks display where you live?
If the kids enjoy fireworks, they will certainly enjoy making these 3D glittering fireworks. Even if they don't like watching the real think, they will enjoy making this fireworks picture! If you are having a 4th of July picnic, you can make these and hang them up as decorations. They are also a good projects kids can do during the party.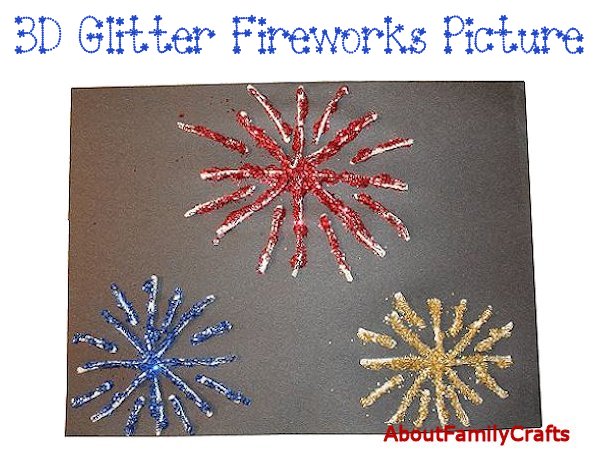 These pictures are so fast and fun to make the kids may want to make several of them!
Supplies Needed to Make a 3D Glittering Fireworks Picture:
Black or dark blue piece of paper
Tarn
Glitter
White glue
Tools Needed:
Scissors
Shallow dish (I used a paper plate)
Start out by cutting several piece of yarn. They can all be a lot of different lengths or several at just a few different lengths. Set these pieces aside.
Pour some glue into a shallow dish. add a little water to it to make it a little thinner. I used about 2 parts glue to one part water. If you would rather not use up that much glue, you can make your own glue. This paper mache paste recipe would work well.
You can now start making your fireworks. You will work on one at a time if you are making each one a different color like mine. To make one of the firework 'bursts', grab a piece of yarn, dip it into the glue mixture and then set it on the paper. Arrange them however you like.
While the glue is still wet, sprinkle the desired color of glitter over the glue-covered yarn. Be generous with the glitter! If you have a dry hand, you can even pat it down a little bit. Let the glitter set for a few moments and then you can pour of the extra and put it back in the glitter container to use again.
Continue doing these to make a more firework bursts on your paper. Let paper lay flat until all of the glue dries and then you can hang it up!