Here is my newest creation using the clear, plastic tube from this craft challenge.  I really wanted to come up with a party favor for the 4th of July, but I wasn't sure exactly what I wanted to do… Until I found some red, white, and blue star garland. I paired it with some red candy, a printable vintage flag design, and a plastic tube. Here is what I came up with: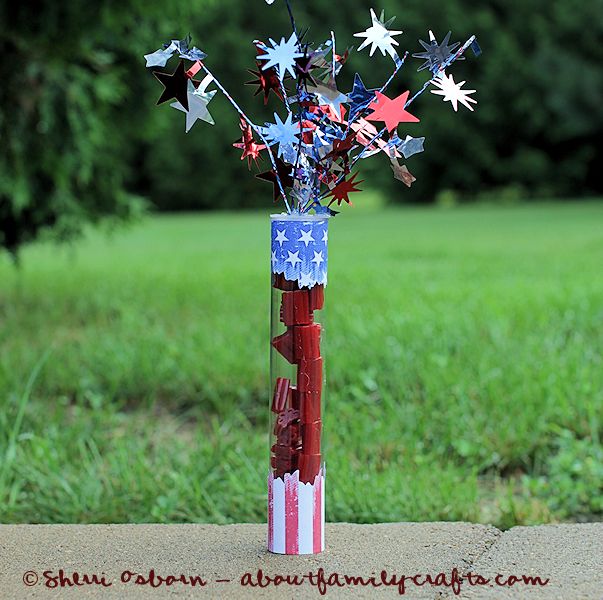 If you want to make some of these candy-filled party favors, you just need a few basic supplies and tools:
Supplies You Will Need:
Tools You Will Need:
Printer
Scissors
Hot Glue Gun
Start out by making sure the plastic tube is clean and completely dry.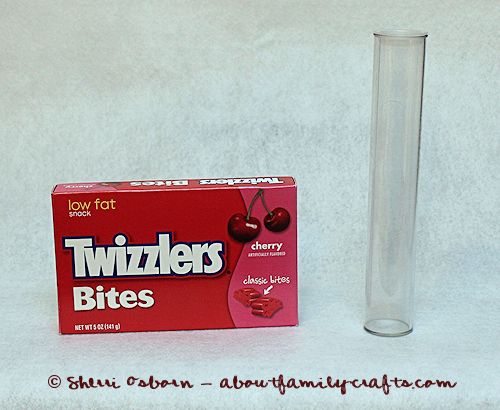 Fill the plastic tube with the Twizzlers licorice candy. If you prefer, you can use any red, white, or blue candy. Place the cover on the tube.
Print out the vintage flag design here (you can choose either the JPG or PDF file):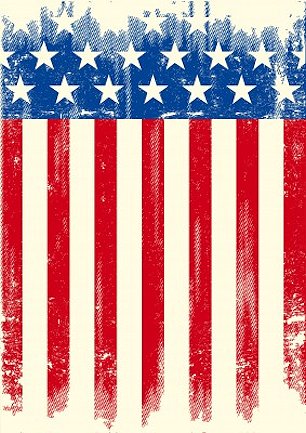 Download:


| PDF | JPG |
Print out the flag, making sure it is set to print at 100%. Cut out the flag and make sure it fits around the tube.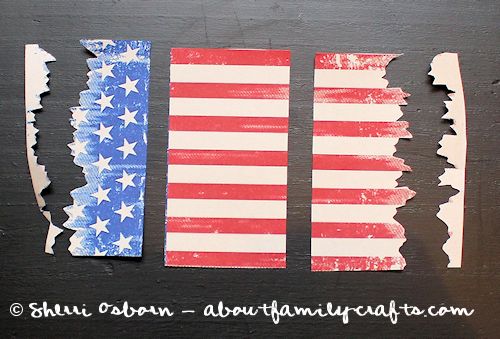 Now, cut the flag into 3 pieces: cut the star strip off the flag and then cut the red and white stripes piece in half. You will not need the middle piece. I also cut around the design on the edges on each end piece. This part is Optional…  I personally liked the jagged look better but you can decide which one you prefer.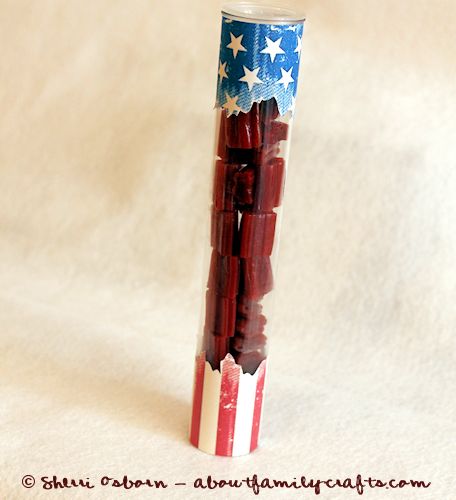 Wrap the striped paper strip around the bottom of the candy-filled plastic tube. Tape it in place. Wrap the star paper strip around the top of the plastic tube.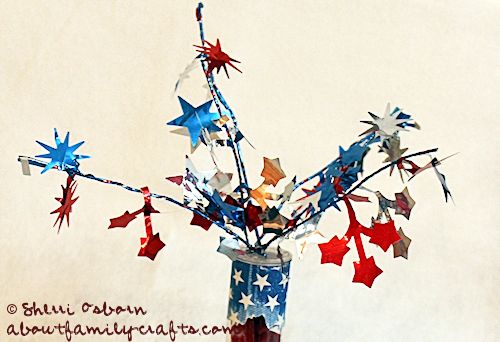 Finally, cut three pieces from the star garland. You will want each piece to be about 8-inches long (this does not have to be exact).  Fold each piece in half. Cover the top of the plastic tube lid with glue from the hot glue gun. Stick the folded section of all three star garland pieces into the glue.  Hold them in place until the glue cools.
Use more hot glue as necessary to hold the garland where you want it. Once the hot glue is dry, You can shape and trim the ends of the star garland however you please.
I hope you enjoy making these party favors and use them as part of your 4th of July celebration! If you do, please make sure you stop by here and let us know how they turned out. You can also share pictures with everyone on Facebook.
Vintage Flag Image credit: tintin75 / 123RF Stock Photo
Disclosure: As noted above, this post contains affiliate links. See my disclosure policy for details.