I haven't done this for awhile… It seems like this last month or so has just flown by. When I had to flip over the calendar page from July to August I just scratched my head. I haven't had any spare time lately to enjoy much crafting or visiting my favorite crafters online. I figured I would take a little time to share this DIY dozen with you guys before time starts flying again.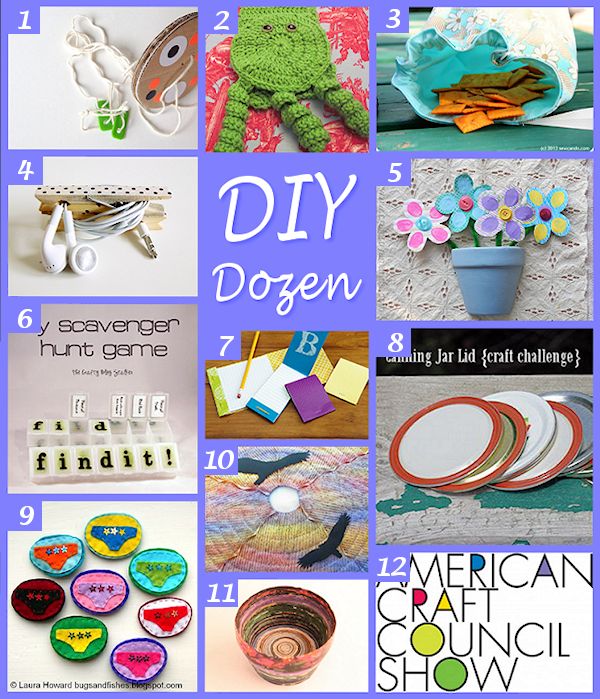 1 – DIY Cardboard Twirly Whirly Toy
Learn how to make this fun and frugal toy.
2 – Green Monster Scarf
Cherie's gearing up for crafting season with these monster scarves.
3 – Ultimate Reusable Snack Sack Tutorial
Learn how to use food safe fabric to sew up some snack bags.
4 – DIY Electronic Cord Keeper
Discover how easy it is to make a fashionable cord keeper.
5 – Bouquet of Fingerprint Flowers
Discover how to make a lovely bouquet of flowers using colorful fingerprints.
6 – DIY Scavenger Hunt Find It Game
This is such a fun and easy game you can make for your kids.
7 – Make Your Own Notebook
Show your kids how they can make their own notebooks just in time for back-to-school.
8 – Canning Jar Lid Craft Challenge
Participate in this new craft challenge. What would you make using old canning jar lids?
9 – Felt Lucky Underpants Badge
I never knew underpants were lucky, but they certainly are adorable.
10 – Mixed Media Artist
Just how *do* you get a vulture to take flight on an art quilt?
11 – Recycled Magazine Bowl Craft
Believe it or not, you can use rolled magazine pages to make a colorful bowl.
12 – Craft Council Show
The Crafty Princess shares the 411 on the American Craft Council Show.
I hope you enjoy exploring all of these crafty links as much as I did. Please make sure you leave a comment and tell them how you found them!