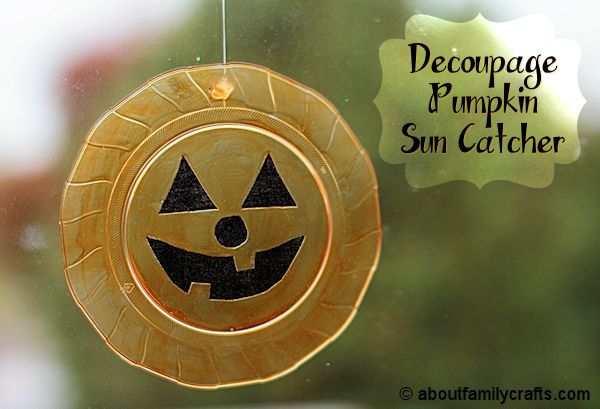 I happened to have a stack of clear, plastic dessert plates left over from a baby shower which makes a great base for a sun catcher.  If you are a regular to my blog, perhaps you saw the tutorial I posted awhile back about making a watermelon sun catcher.  While this pumpkin sun catcher is also made using a clear, plastic plate, I did not use any paint like I did with the watermelon.
Supplies You Need to Make a Pumpkin Sun Catcher:
Clear Plastic Plate
Black Fabric
Mod Podge
Food Coloring
Monofilament
Hot Glue Sticks
 Tools You Need:
Scissors
Small cup (preferably disposable)
Paint Brush
Hot Glue Gun
Start out by cutting a jack-o-lantern face out of black fabric.  I chose a black fabric with a fun design running through it. Make sure the pieces are small enough to fit on the bottom of your plate. Put these pieces aside for the time being.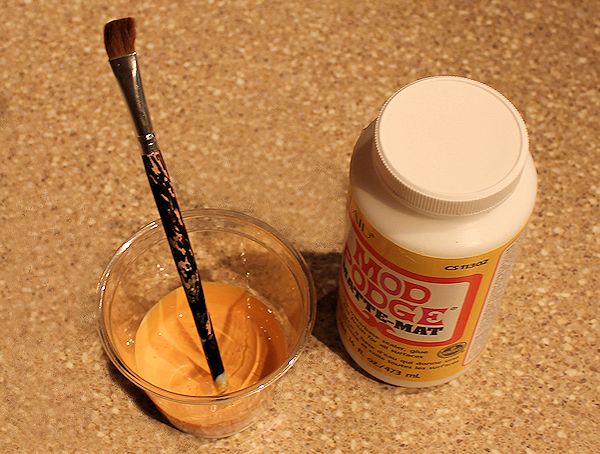 Pour a little bit of Mod Podge into a cup.  Add a drop of red food coloring and about 4 drops of yellow food coloring.  Mix it well.  Keep adding coloring (at about a 4:1 ratio) until you get the desired color you want.  Stir it well.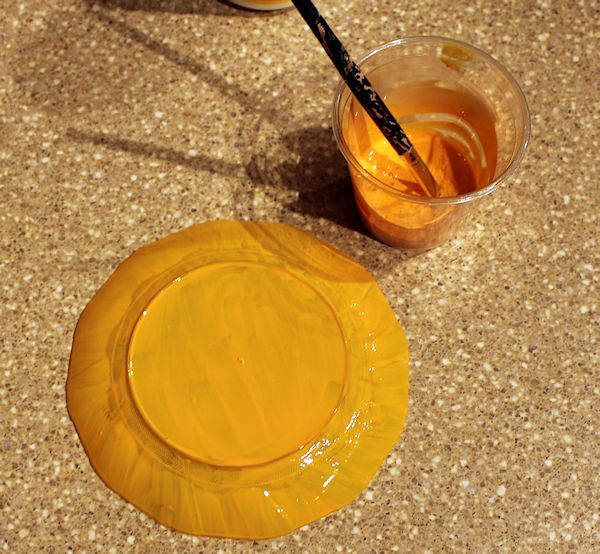 Paint  the back side of the clear plastic paint using the tinted Mod Podge.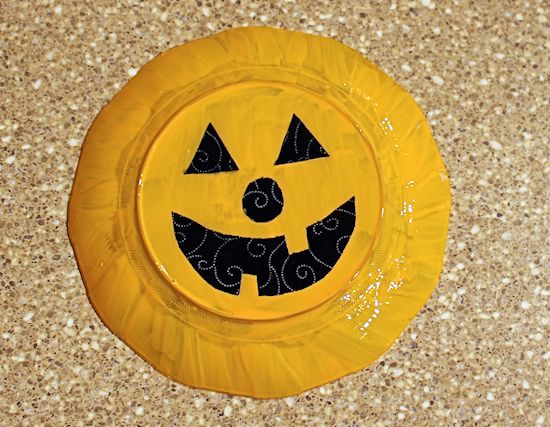 Carefully place the fabric jack-o-lantern face pieces onto the decoupage.  Let the Mod Podge dry.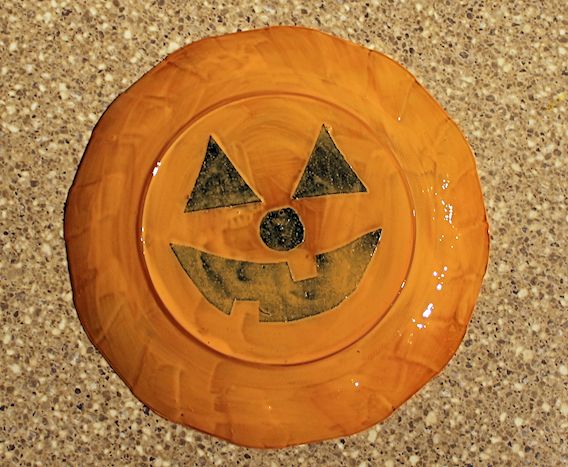 When the first layer of Mod Podge is dry, paint another layer onto the bottom of the plate. Make sure you paint it over the eyes, nose, and mouth. Let it dry.
Cut a piece of monofilament that is about 20-inches long. Tie the ends together to make a loop. Put a generous dab of hot glue near the top edge of the plate (on the side that was not painted). Press the knot of the loop you made into the glue and let it cool.
Your decoupage pumpkin sun catcher is now ready to hang up in a window. Enjoy!