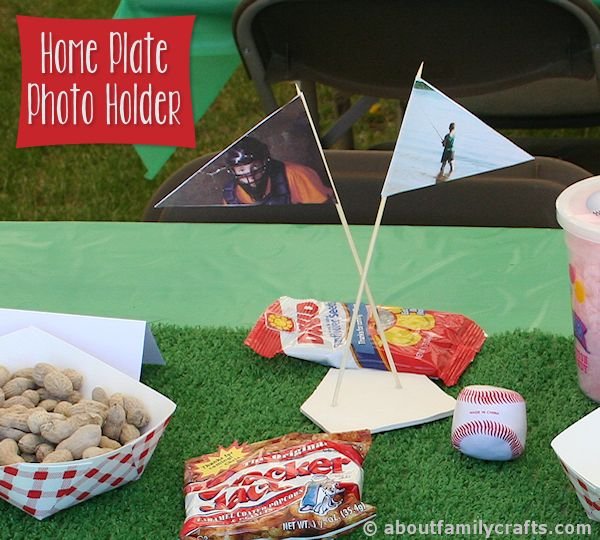 While I was working on gathering links for my DIY Baseball Birthday Party Ideas round-up, it brought back memories of a baseball-themed party I threw for my son. This party wasn't for his birthday, it was actually his high school graduation party.
I wasn't so great at taking a lot of pictures back then, so I didn't have many photos of the part decor. I did run across a couple of pictures of the decorations so I thought I would share. Many of the items were store bought, but I did make the photo centerpieces, which looked like a home plate topped with two pennants that were actually photos.
Here, I will explain how I made the home plate centerpieces. Below the tutorial, I also explain the other baseball decorations.
Supplies Needed to Make a Home Plate Photo Holder:
Crayola Air-Dry White Clay
Cardstock
Dowels
Craft Glue
Tools Needed:
Pen
Scissors
Rolling Pin
Butter Knife
Computer and Printer
Before you roll out your clay, you should make a pattern for your home plate. I simply drew a rectangle and topped it off with a triangle. My home plate was between 3- and 4-inches wide. Cut out the pattern and set it aside for the moment.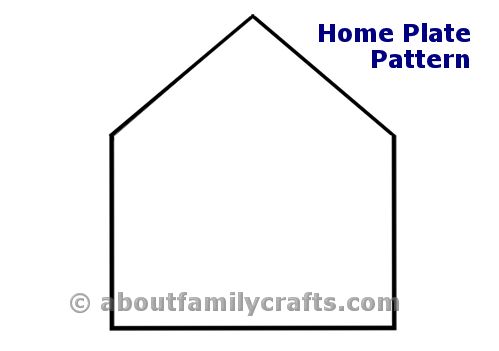 I used Crayola brand Air-Dry Clay to make my bases, but you can certainly use any brand you like or even make your own clay. Roll out the clay with the rolling pin until it is about 1/8-inch thick. Set your home plate pattern on the clay and use a butter knife to cut around it. Use this technique to make as many home plates as you need. If you roll out enough clay, you can cut several pieces at once.
Use dowels to poke 2 holes in each home plate. Use the picture here as a guide as to where you want the holes to be. If you make a mistake, all you have to do is roll out some more clay and try again!
Once you have the home plate cut and the holes in place, let the clay dry. This could take several hours (follow the manufacturer's recommendations). Once the top feels dry, flip your home plate over to make sure the bottom dries. If your place starts curling while it dries feel free to place something heavy on it.
While you are waiting for the clay to dry, you can prepare your photo pennants. I used my graphics program to create a pennant shape that is transparent in the middle.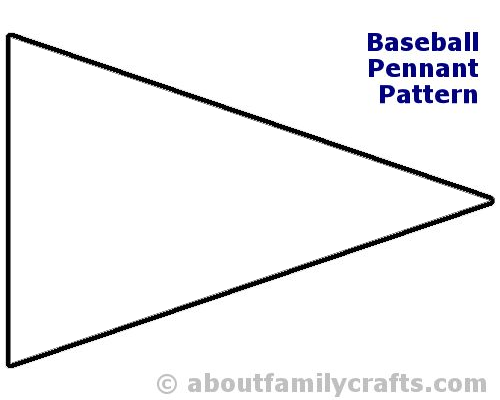 I then started opening photos in the same graphic program. I copied the pennant image and pasted it over each photo and repositioned it to show what I wanted. More often than not, I had to resize the photo. Keep experimenting to get what you want. (The program I use for my graphics is Paint Shop Pro).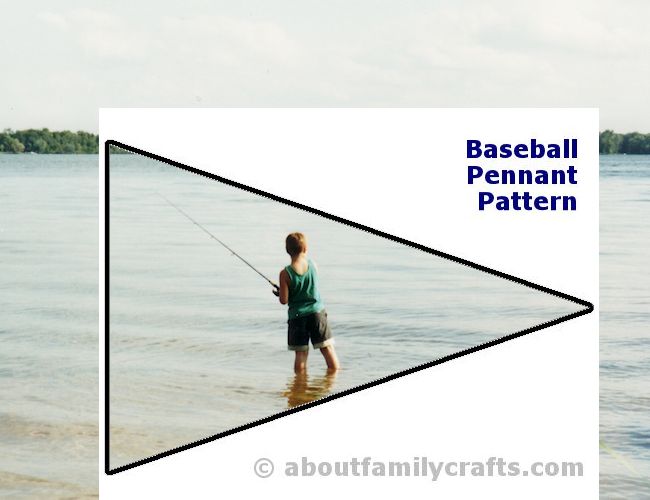 You will need to make 2 picture pennants for each dowel, and you will use 2 dowels in each home plate. That being said, you need to make 4 times as many picture pennants as you have bases. Print out your pennants and let the ink dry. You can then cut them out.
Lay one of the pennant pictures, photo side down, on your work surface. Spread a thin layer of glue on the back of it. Pay attention to which way your photo is facing so you don't accidentally glue it upside down. Lay a dowel along the side edge of the pennant on the glue. Put a little glue on the dowel where the other pennant piece will go. Place a second picture pennant on the first. You will want the dowel sandwiched along the edge, between the two pictures. Let the glue dry.
To assemble the home plate photo holder, place the pennants into the holes you made in the home plates. Secure them in place by putting a few dabs of glue around the base of the pennant. You might also want to put a dab of glue on the dowels where they cross.  Let the glue dry.
These photo holders really personalized the tables at my son's graduation open house. They sat on a piece of artificial turf that we cut to be about 12-inches wide and placed down the center of each table. On each table, along with the photo holders, we places packages of sunflower seeds, crackers jacks, and cotton candy. I had made stickers for put on each of these packages saying "Thanks for celebrating with us. We also had peanuts, stuffed baseballs, and a miniature baseball hat filled with mints.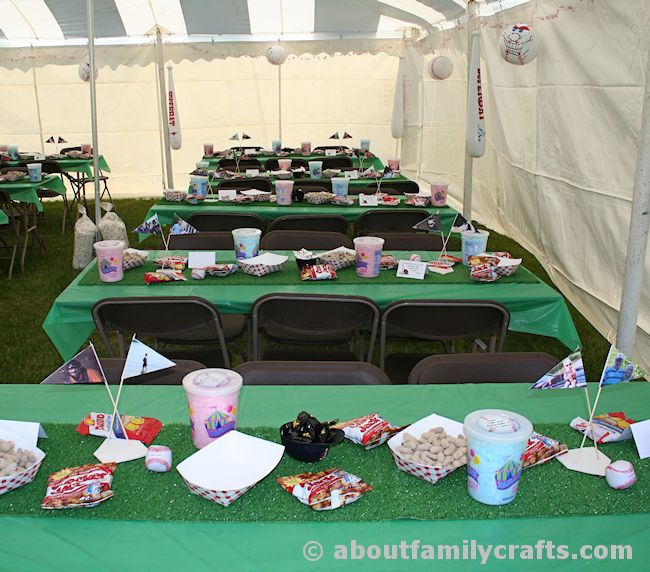 What do you think of our decorations? Do you have any baseball fans in your family that would enjoy this party?