UPDATED: The winners name has been randomly drawn and an email has been sent… Congrats Brenda D! All you need to do now is respond to my email.
I want to thanks everyone for making my first official About Family Crafts giveaway such a big success!
————————————————————————————————
So finally, I am holding the first official giveaway at the new About Family Crafts site. I hope you are as excited about this as I am!
A few things have held me back before now… First, I wanted to direct as much time and energy as possible to adding content. Now that a little more than 7 months have passed, I feel comfortable with what has been added so far and in the routine I have established.  Second, it has been a lot of years since I have run a giveaway so I wanted to polish up on the legalities of it. Third, I wanted to find a great prize to offer up — and I think I have done that!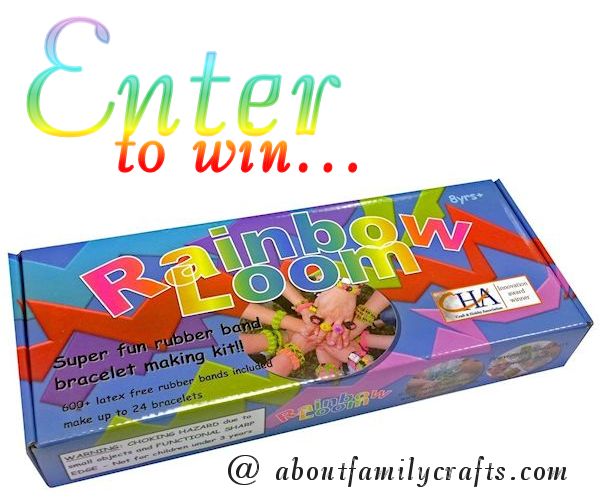 I am giving away one Twistz Bandz Rainbow Loom by Rainbow Loom. If you are not familiar with this craze, this loom will help you create wonderful jewelry (and other items) using nothing more than colored rubber bands. if you want to see the variety of things that can be made using these bands – with a little practice –  visit Loom Love.
This kit includes: a Rainbow Loom®, a Mini Rainbow Loom®, a hook, a bag of c-clips, instruction manual and 600+ mixed color rubber bands (colors may vary). Makes up to 24 rubber band bracelets.
So now here you go… Please take a few moments to enter and share this with your friends and encourage them to enter too!  For this first contest, I am starting out with a smaller prize just to test the waters — if this goes over well who knows what the next giveaway will be.
As always, thanks for visiting, for all of your positive feedback, and for all of your support!
Terms and Conditions:
There is no purchase necessary to enter.
The odds of winning are based on number of entries.
This sweepstakes is open to US residents that are 18 and older.
About Family Crafts reserves the right to publicize the winner's name and likeness.
If the winner forfeits or does not claim the prize within 30 days, the prize will be re-awarded or donated at About Family Crafts' sole discretion.
Entrants agree to release, indemnify, and hold harmless About Family Crafts and it's owners from any claims resulting from entering or winning this sweepstakes.
Void where prohibited by law.