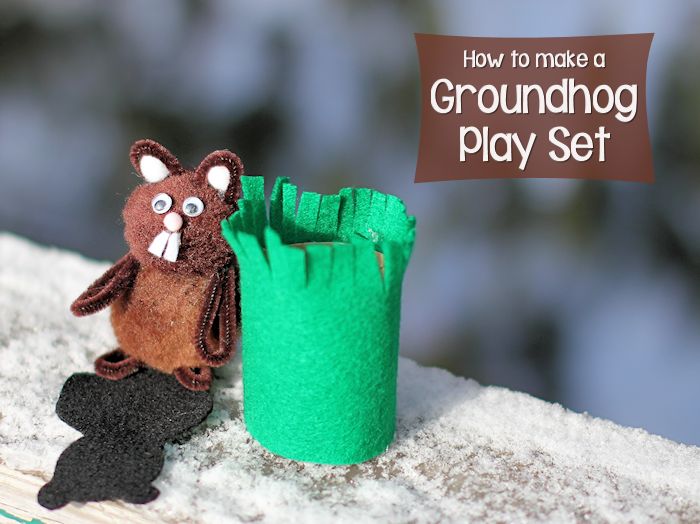 This craft is great for an older child to make or you can make it to give to a younger child.  This play set comes with a groundhog, a shadow, and his hole. The groundhog can go in and out of the hole and you can decide if he sees his shadow or not!
Supplies Needed to Make this Groundhog Play Set:
Toilet Paper Roll
Felt
Pom-Poms
Chenille Stems
Wiggle Eyes
Glue
Tools Needed:
The first thing you need to do is cut a 2-inch piece from the toilet paper roll. You also need to cut a piece of green felt that is 3-inches tall and 6-inches wide.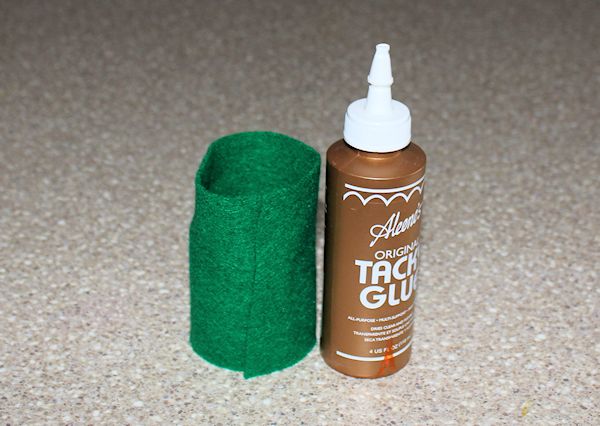 Glue the felt around the piece of toilet paper roll you cut. The felt will overlap the top of the roll by about an inch.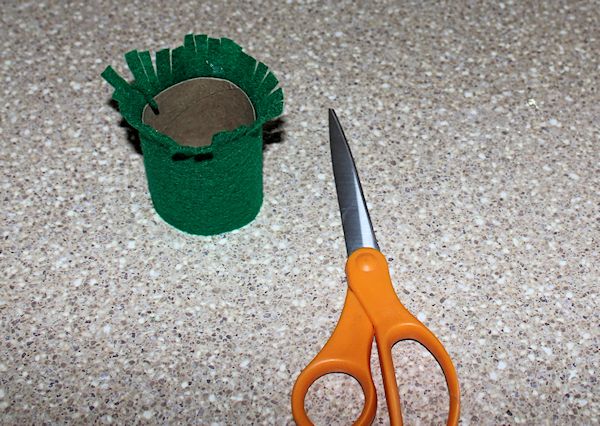 Use your scissors to cut fringe in the felt that overlaps the toilet paper roll so it looks like grass.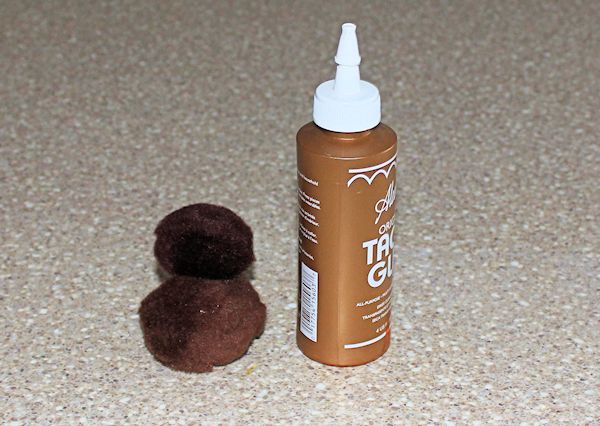 Now you are ready to start constructing your groundhog. You will want two brown pom-poms, one a little smaller than the other.  Glue them together – the smaller one will be the head and the larger one will be the body.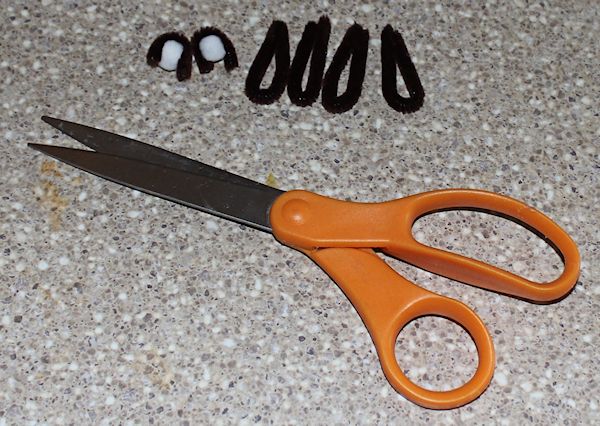 Cut 6 pieces from brown chenille stem. Bend four of them in half – two will be the arms and two will be the legs. Wrap the other 2 around two small, white or tan pom-poms. Glue these together to make the ears.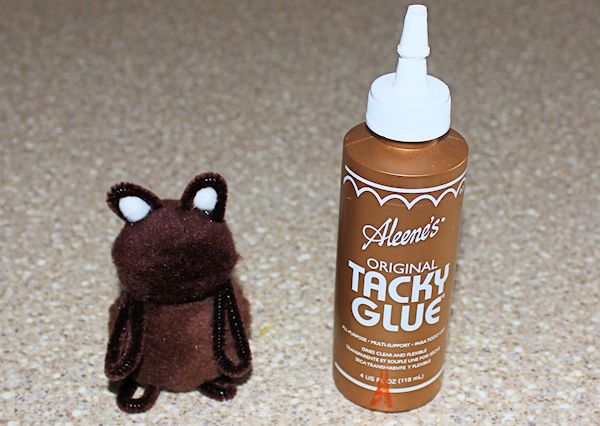 Glue the legs under the groundhog's body. Try to position them so the groundhog will be able to sit unassisted. Glue the ends of the arm pieces below the head. Glue the ears to the top of the head.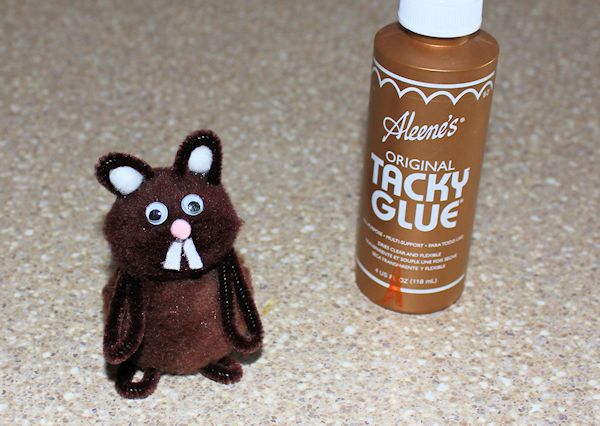 Cut two tiny rectangles from white felt. Glue them on the groundhog's face to be teeth. Glue on a small pink pom-pom for the nose and two google eyes.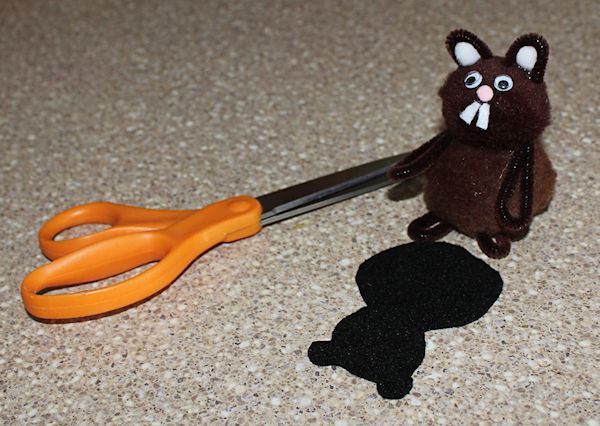 Use black felt to make the groundhog's shadow. You can make a pattern by tracing around the groundhog you made or you can simply cut it out freehand.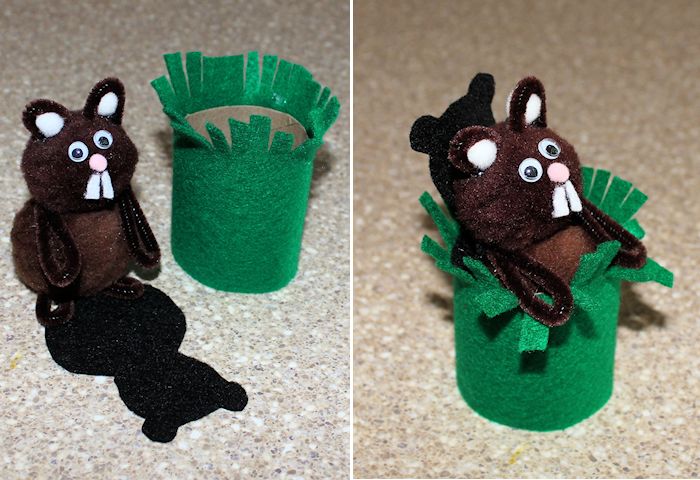 Your groundhog play set is now done. While you can decide whether your groundhog sees his shadow or not, let's all hope that the real groundhog does not see his shadow.
If you want even more Groundhog's Day activities, check out what these great blogs offer:
Shared as part of Craftastic Monday Link Party, Making the World Cuter Monday Link Party, Create Link Inspire Monday Party, Mad Skills Monday Link Party, Craft-O-Matic Link party Monday, Inspiration Monday Party, Make It Pretty Monday, Mix it Up Monday, What'd You Do This Weekend?, In and Out of the Kitchen Link Party, Too Cute Tuesday Link Par-Tay, Tuesday Confessional Link Party, From Dream To Reality, Treasure Box Tuesday, Make Bake Create Tuesday, Whimsey Wednesday, Your Whims Wednesday, We Did It Wednesday, Whatever Goes Wednesday, Wow Me Wednesday, Riverton Housewives Round-Up, Wonderful Wednesday Blog Hop, Fluster's Creative Muster Linky Party, Share Your Cup Thursday, Thursdays are Your Days, Creative Princess Party, Thriwback Thursday, Gingerly Made's Show & Tell, Link Party Palooza, The Party Bunch, Show and Tell Party, BFF Open House Link Party, Pin Me Linky Party, Friday Pinfest Link Party, Freedom Fridays.