Finally, I found some time to sit down and work on some more projects for the clear tube craft challenge.  While walking through the candy aisle at my local grocery store, a box of gummy LifeSavers caught my eye. I figured these candies were the perfect size to fit in the plastic tube and that is how this fun lifesaver thank you gift idea was conceived.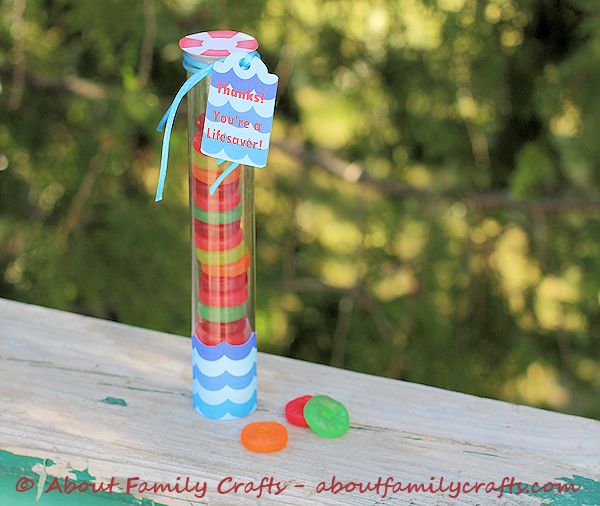 This thank you gift was so easy to make. You only need a few supplies and a few minutes.
Supplies You Will Need:
Clear Craft Tube with Lid (affiliate link)
Gummy LifeSaver Candy
Thin Ribbon or Cording
White Cardstock
Craft Glue
Transparent Tape
Tools You Will Need:
Printer
Scissors
Hole Puncher
I used a 3.5 ounce package of Gummy LifeSavers and it was the perfect amount of candy to fill the plastic tube.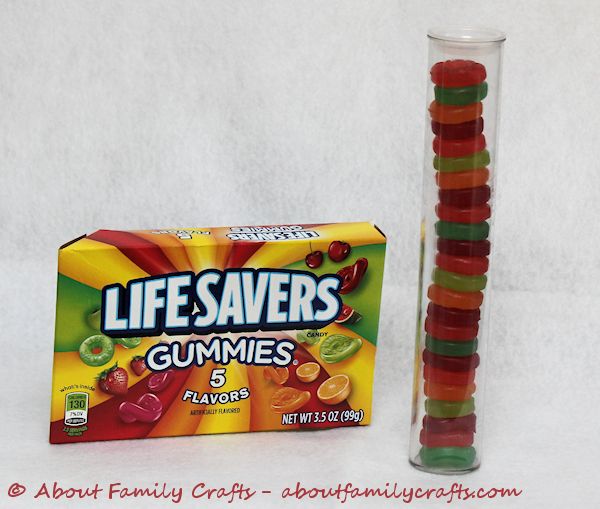 It was a little tricky getting them all in the tube. To ensure they all laid the proper lay inside the tube, I ended up stacking them all up on my table and slowly lowering the tube over the stack.  I had to rock the tube back and forth a little bit because the candy wanted to stick to the sides. If you prefer, you can use regular LifeSaver candies instead of the gummy ones. Once the tube if filled with the candy, pop on the lid.
Now you get to decorate the plastic tube!  I created these printables to use, or you can design your own. Start out by printing out either the JPG or PDF versions of these templates.
Cut out each piece.  Wrap the waves pattern around the bottom of the plastic tube. You may have to trim the width of the waves down to get a nice fit. Use a piece of transparent tape to hold it in place.
Cut a piece of ribbon about 12-inches long (I actually used two just for the fun of it). Slip one end of the ribbon into the hole you punched in the "Thanks! You're a Lifesaver!". Tie it around the top of the plastic tube.
Spread some glue on the back side of the red and white lifesaver template. Place this on the lid. Let the glue dry. Your lifesaver thank you gift is now done. What do you think of it?
I had so much fun making this project, and creating the printables for it, that I plan on making more using different candies and themes.  If you have a great idea, share it here and I may be able to come up with a set of printables for it.
Disclosure: As noted above, this post contains an affiliate link. See my disclosure policy for details.