If you know someone who loves to go fishing, you might want to make them one of these fishing survival kits. No matter what age they are, they will get a kick out of this silly kit and the list of ingredients on the printable bag tag. This would also make a fun favor to make to give to guests if you are throwing a fishing related party.

Not only is this a unique gift or party favor, it is easy to make. You need a plastic, zip-top sandwich bag, a piece of paper, and the survival kit ingredients listed here (when possible, use a miniature version of candy and facial tissue).
Piece of String: To use in case your line breaks.
Safety Pin: Can be used if you run out of hooks.
Gummy Worms: To use if you run out of bait.
Lifesaver Candy: Just in case you fall into the water.
Cotton Ball: To help pad your seat if you get in rough water.
Milky Way: To help you find your way back to shore, even after dark.
Bandage: Just in case you get hooked, instead of the fish.
Swedish Fish: So you can eat fish, whether you catch some or not.
Tissue: To help you dry the tears when the big one gets away.
Ruler: So you can measure how big your fish really is.
Rubber Band: To help you stretch your fish stories.
Penny: To help bring you good luck.
Gather together all of these items and place them in the plastic bag and seal it.
Download either the JPG or PDF version of the survival kit bag tag unless you prefer to make your own.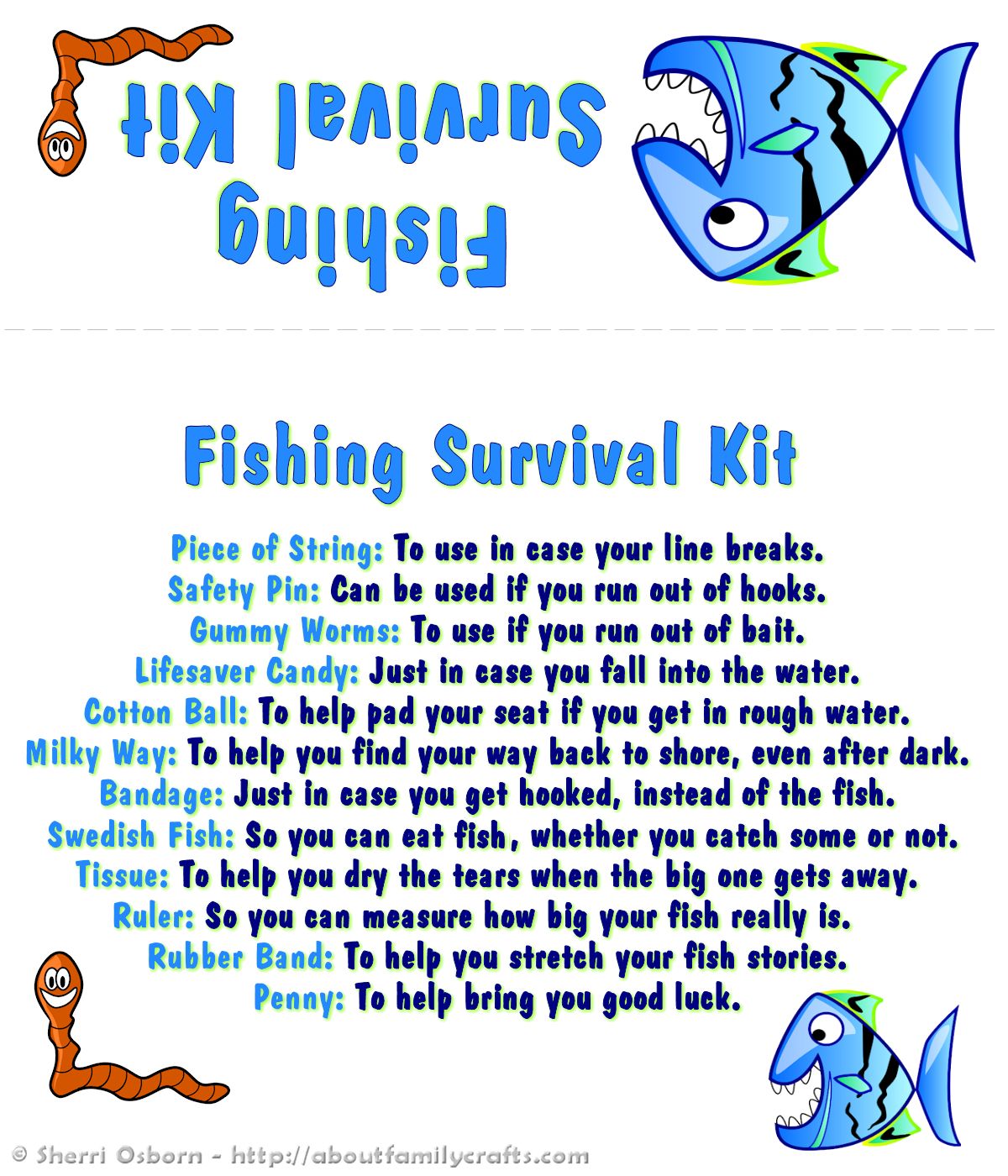 Download:


| PDF | JPG |
Print out the bag tag. Make sure your printer is set to print the image or page at 100% rather than making it fit to the page. The size of the bag tag, once you cut it out, should be about 6-inches wide and 7-inches tall. Of you like, you can change it depending on the size of the bag you are using.
Cut out the bag tag and fold it along the dotted line. Place the fold of the bag over the top of the seal zip-top bag and staple it in place. Your fishing survival kit is now finished. What will you do with it?