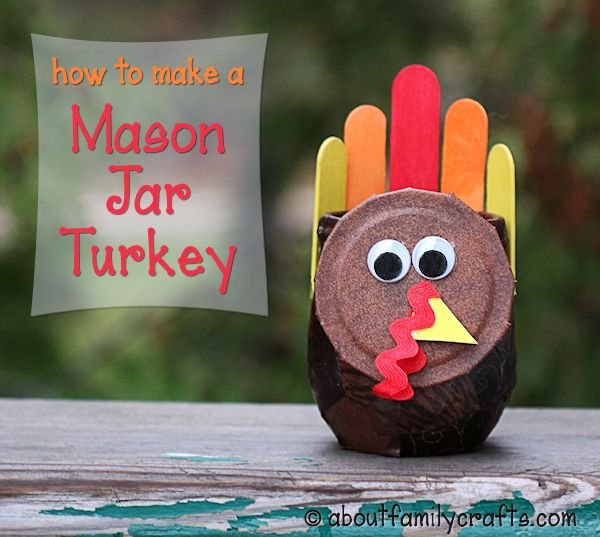 In the past, I have made turkeys from a variety of items including handprints, clay pots, and paper bags.  This year, I was trying to come up with some new and unique turkey crafts and this mason jar turkey is one of them (the other turkey craft I have came up with this year so far is this canning jar lid turkey).
I have a large collection of mason jars to choose from. I thought that this short, rounded jam jar was the perfect shape for a plump turkey. When I was digging the mason jar out of my pantry, I noticed the stack of used canning jar lids I had leftover from my last craft challenge and figured one of them would make a great head for this turkey. What do you think?
Supplies Needed to Make this Turkey Craft:
Mason Jar
Canning Jar Lid
Fabric Scraps
Mod Podge
Craft Sticks (plain or colored)
Hot Glue Sticks
Google Eyes
Yellow Craft Foam or Felt
Red Rick Rack
Tools Needed:
Rotary Cutter (optional)
Cutting Mat (optional)
Paint Brush or Foam Brush
Utility Knife
Hot Glue Gun
Scissors
I used brown fabric scraps to cover the body and head of my turkey. If you don't have fabric scraps, you can use paper instead.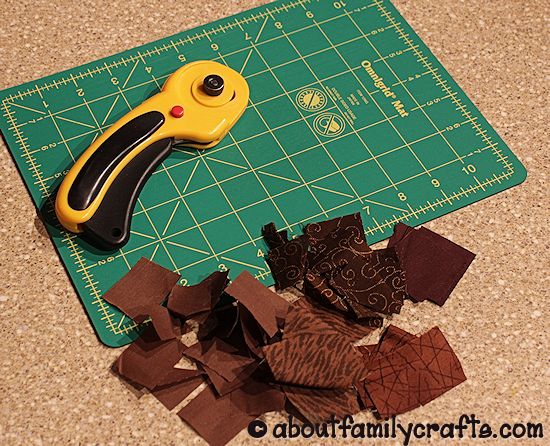 Start out by cutting the fabric into small pieces that are around 1-inch square.  Don't measure them, just use a rotary cutter and mat (or scissors) to cut the pieces.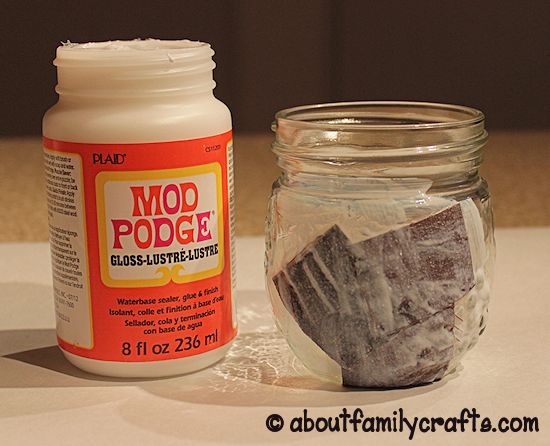 Brush a layer of Mod Podge on a small area of the mason jar. Stick a piece of fabric onto the Mod Podge and then brush some Mod Podge over that piece. Place a second piece of fabric onto the mason jar, slightly overlapping the first, and brush some Mod Podge over that.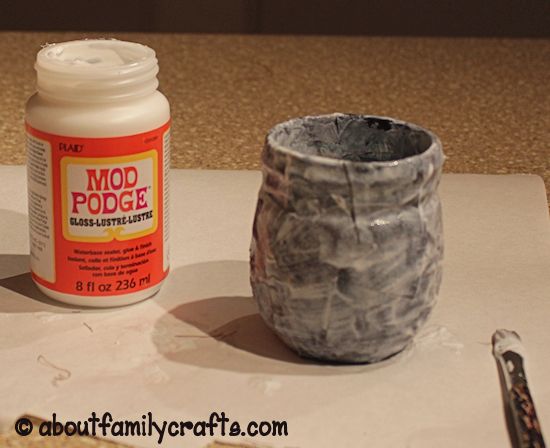 Continue adding pieces of fabric until the entire mason jar is covered.  When you are working around the top of the mason jar, brush a little Mod Podge inside the top of the jar and fold the fabric over the top edge and press it down.  Set aside the mason jar so it can dry completely.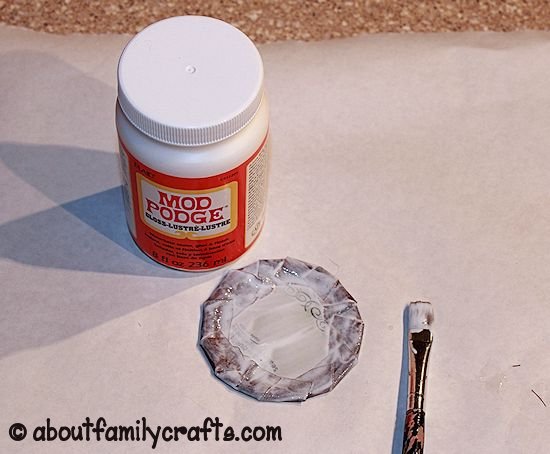 To cover the canning jar lid, I cut a piece of brown fabric that was about an inch large than the lid. Spread Mod Podge onto the lid and place the fabric on it.  Let it dry and then flip it over and use Mod Podge to secure the fabric around the edge of the lid. Let it dry.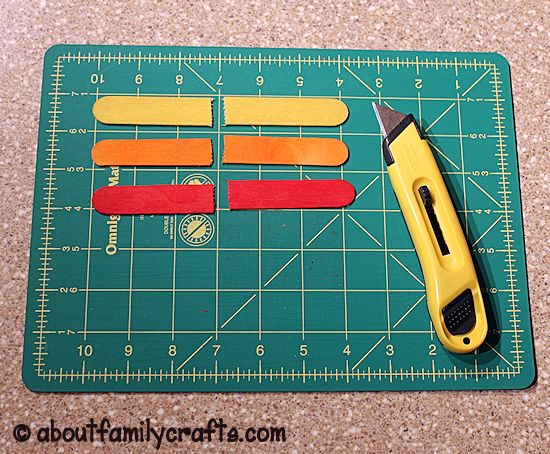 I used large, colored popsicle-style craft sticks to make the turkey's tail feathers.  I chose a red, orange, and yellow craft stick and used a utility knife and a cutting mat to cut them in half.  If you are going to paint your own craft sticks, cut them in half before you paint them.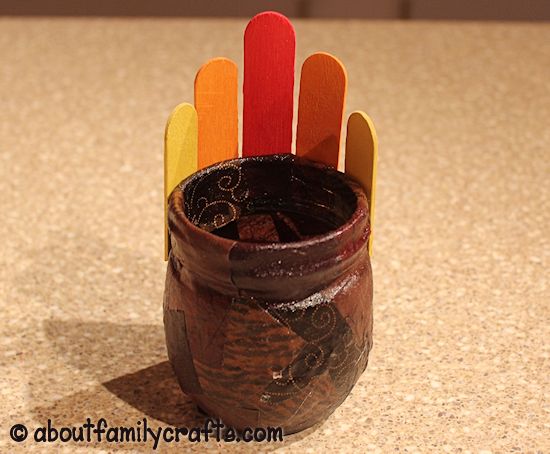 Glue the craft sticks to what will be the back of the turkey's body.  You can line them up like I did in this picture, or however you want. I liked the staggered looked.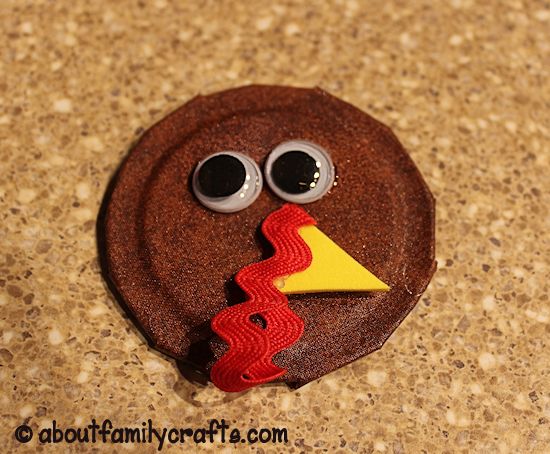 Cut a triangle shape out of yellow craft foam to be the beak.  Cut a piece of rick-rack that is about 3-inches long.  Fold it in half and glue the beak in between the two ends to form the waddle. Glue the beak and waddle in place on the face and then glue the google eyes in place.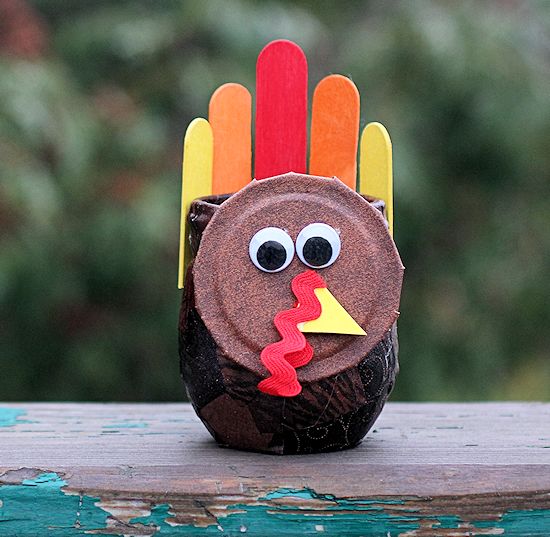 All that is left now is to glue the head to the mason jar!  This turkey will happily sit on your desk at work and hold fall treats or act as a Thanksgiving decoration at home. Why not make one for all of your Thanksgiving dinner guests and use them as place cards by writing the people's names on the center tail feather. If you are invited to someone's house for Thanksgiving,  Make one of these cute turkeys and fill it with sweet treats to give to them as a hostess gift.