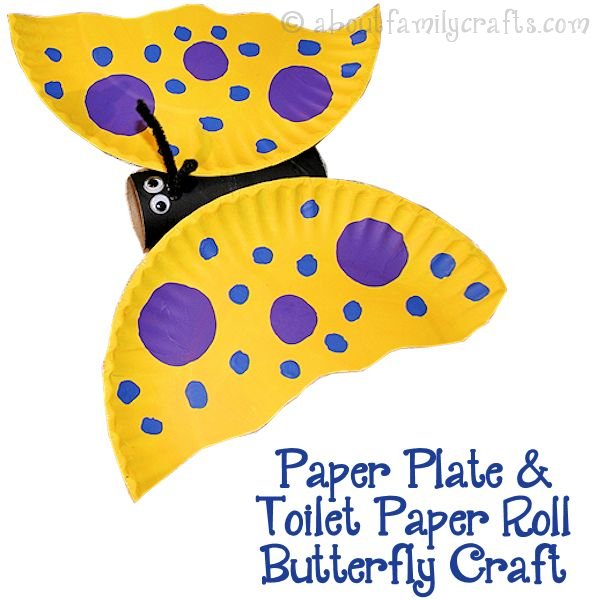 Seems like I have been on a paper plate craft kick lately so I figure I might as well keep it going…  What do you think about this paper plate butterfly?  Make several of them and hang them around your house or classroom or let the kids run around with them outside and watch them flutter around.
You can use a large paper plate and toilet paper roll to make a large butterfly like I did; or, if you would like a smaller butterfly, you can use a dessert-sized paper plate to make the wings and form a body by rolling a piece of colored paper into a tube shape.
Supplies Needed to Make a Paper Plate Butterfly:
Paper Plate
Cardboard Toilet Paper Roll
Paint
Craft Glue
Google Eyes
Chenille Stems
String, yarn, or Monofilament for Hanging
Tools Needed:
Start out by painting your paper plate. If you look at mine (below), you will see that I tried to paint each side so they are a rough mirror image of each other. Make sure you paint both sides of the paper plate so both the top and bottom of the wings are colorful. At this time, you should also paint the toilet paper roll. I used black, but you can use brown or any color you would like the body to be.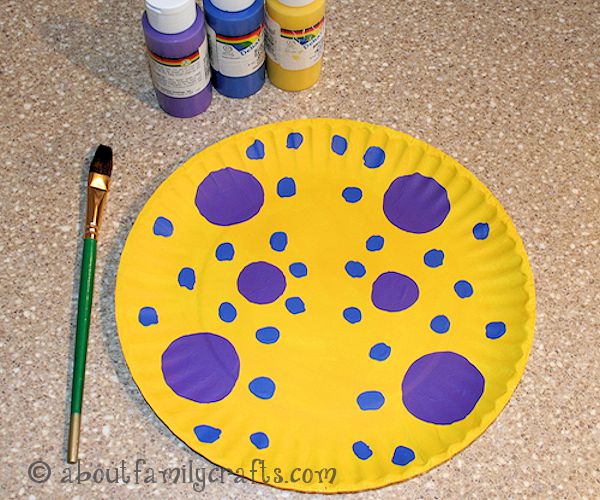 Once your paper plate is painted, and the paint is dry, you need to cut it in half.  As you can see, I cut a wavy line. I did this just to add some interest to the edges. If you like, you can simply cut a straight line.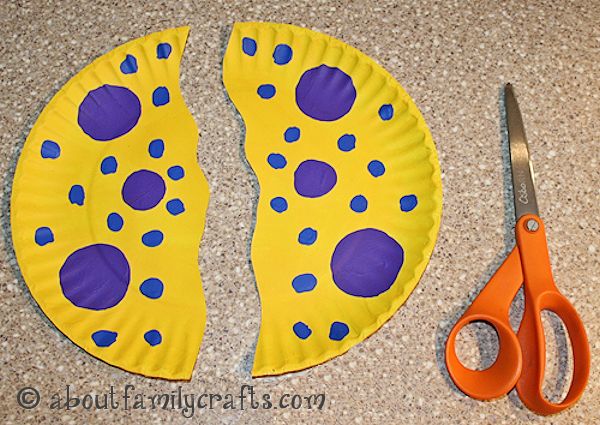 Place a generous amount of glue in the center of the curved edge of one of the half pieces of paper plate, on the bottom side of the plate. Set this, glue side down, on the painted toilet paper roll. Repeat this for the other half piece of paper plate.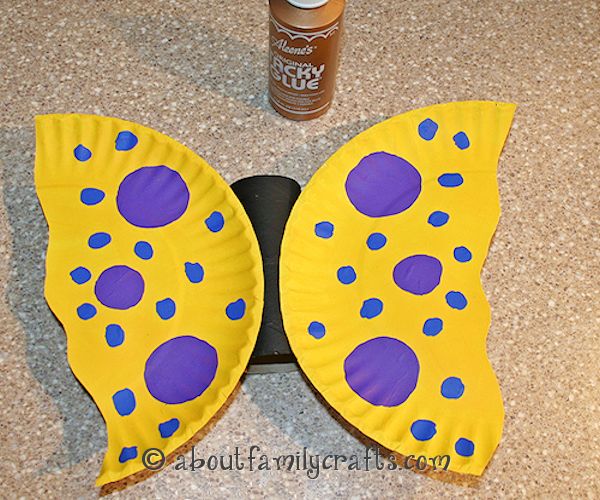 While you wait for the glue to dry, you will want to prop up the paper plate wings so they sit parallel to the table. You can use a couple of extra toilet paper rolls or anything about that height.
While you are waiting for the wings to dry, you can finish your paper plate and toilet paper roll butterfly. Glue the two google eyes in place. Cut two piece of chenille stem, each about 2- to 3-inches long. Glue these in place just above the eyes.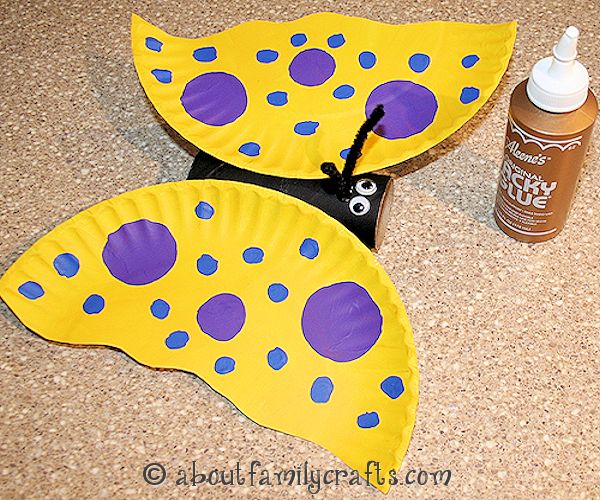 Finally, cut a piece of string, yarn, or monofilament and glue it to the center, back of your butterfly. The length or string you use will just depend on how you want to use your butterfly! Let the glue dry completely before you hang up of use your butterfly.