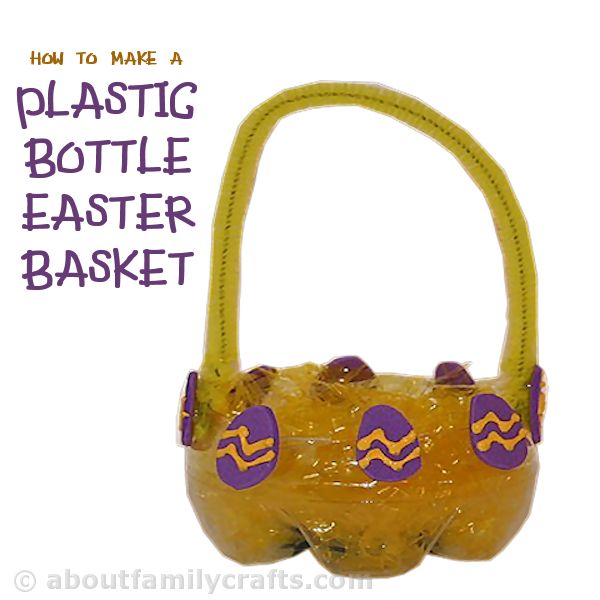 One of my favorite things to craft with is recycled items… You know, all of those household items that would normally get thrown away or sent out for recycling. Because of this, when I feel the urge to create something, I find myself digging through my kitchen for supplies before I even hit my craft room.
While there were many obvious choices for items to use to make an Easter basket craft, an almost empty, 2-liter bottle of Diet Pepsi caught my eye.  Since there was barely enough to warrant dirtying a glass and no one was around, I chugged the remainder of the bottle, washed it, and headed to my craft room.
Supplies Needed to Make a Plastic Bottle Easter Basket:
2-Liter Plastic Soda Bottle
Masking Tape
Chenille Stem
Hot Glue Sticks
Items to Embellish (see ideas below)
Tools Needed:
Utility Knife
Sandpaper
Hot Glue Gun
As I already mentioned, the very first thing you need to do is empty and wash your bottle. Dry off the outside of the bottle, remove the label, and prepare to cut off the bottom. You will want to cut about 4-inches up from the bottom of the bottle. You can adjust this measurement depending on how tall you want your basket to be.
To mark a straight cutting line, tear off a piece of masking tape that is long enough to fit around the bottle.  Carefully wrap it around the bottle, just above where you want to cut the bottle.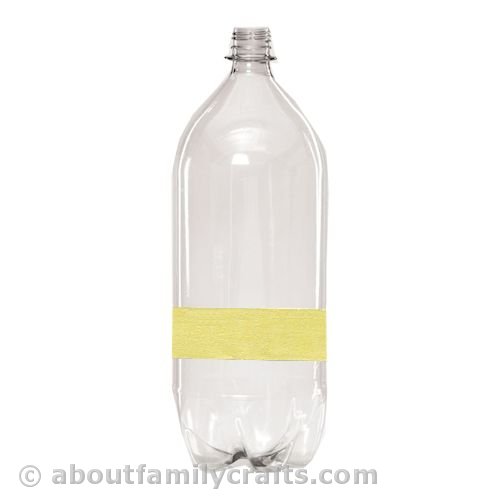 Use the bottom straight edge of the masking tape as your cutting line. Carefully use the utility knife to cut off the bottom of the bottle. Of course, adults only should do this step! Save the top of the bottle for another project or put it in your recycling bin.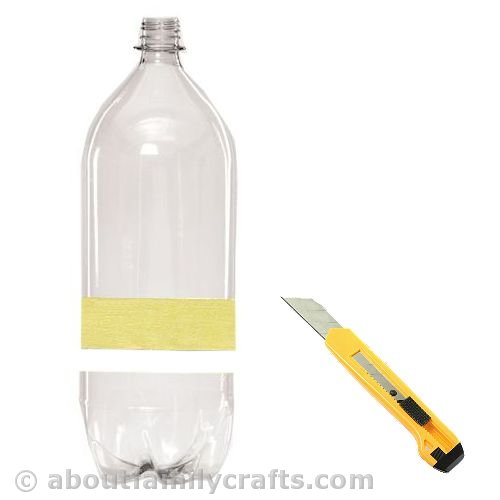 If the cut edge of the bottle feels sharp, use the sandpaper to smooth it down. If you don't have sandpaper, you can run a bead of hot glue around the top edge of the basket.  Glue the two ends of the chenille stem, across from each other, just inside the top edge of the basket.
Now you can decorate the basket. I used egg shapes cut from purple craft foam. I decorated the eggs using dimensional paint. You can use anything you have on hand to decorate the basket – sequins, Easter felt shapes, buttons, etc. Let your kids use their imagination; just make sure you help them with the hot glue gun! Once your basket is done, you can fill it with Easter grass and treats.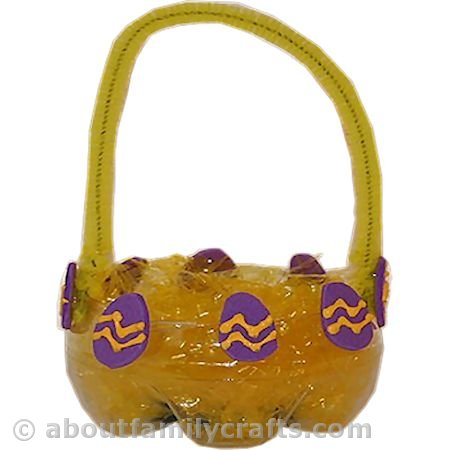 This plastic bottle Easter basket craft is very flexible, you can make a basket using the same supplies as I did, or vary them as needed. You can use smaller plastic bottles to make tiny baskets or even other kitchen containers.