Yesterday, I shared a template for a printable coupon book you could make to give as a Mother's Day gift.  Awhile back, I also shared six personalized gifts kids could make for mom.  If none of those are what you are looking for, perhaps this printable project will inspire you.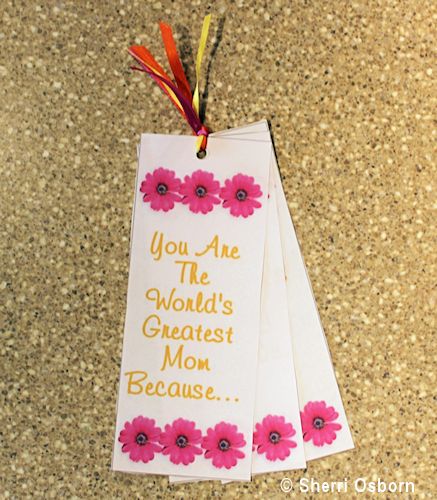 If you have a mom who loves to read, make this combination bookmark and Mother's Day card. Download and print out these templates and assemble them into a booklet that is the perfect size to slip into a book.  The bookmark is comprised of 3 different parts: the cover, the middle page(s), and the back page.  The cover states "You Are the World's Greatest Mom Because…". The middle page (or pages – I suggest printing out more than one middle page) is left blank so you can write why mom is the greatest. The back page wishes mom a happy Mother's Day and also has a spot for you to sign your name.
Start out by downloading the templates. You definitely need to download the page with the cover and back page; and, if you want to have several middle pages, download the other page. You can download them in either a PDF or JPG format.
Print out the page(s) on heavy paper or card stock. Cut out all of the pieces and use a hole puncher to make a hole in each one where it is marked with the gray circle. On each blank page, write one or more reasons why your mom is the greatest. Make sure you sign your name on the back page under the "Love,". Stack your bookmark card pieces in the correct order. Cut a few pieces of ribbon so they are about 8-inches long. Thread them through the holes and tie. Trim as needed.
While you can wrap this bookmark or slip it into a business sized envelope, why not download and print out this matching envelope template: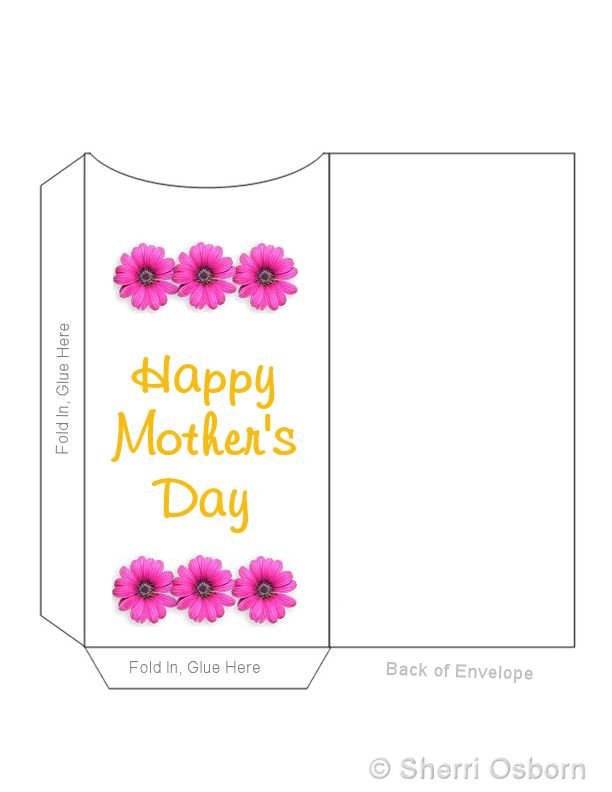 Download:
| PDF | JPG |
To assemble the envelope, start by cutting it out and folding back the flaps. Put a few drops of glue on the flaps, or use double-sided tape, and fold the back piece over onto the flaps. Let the glue dry. The bookmark card should now be able to slide right into the envelope.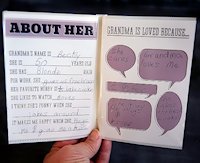 I ran across this printable craft for Mother's Day I just had to share. The gals over at eighteen25 create templates you can download and use to create a fun book especially for mom or grandma. This is such a fun idea and, like the bookmark here, can do double duty as a gift and card.  Find the templates here: A Printable Book for Mom.