Tonight, I sat down to think of a fun spring craft I could create for my granddaughter and decided to search around a little for some inspiration. While I found plenty of crafts that could be related to this season, I was focusing more on weather related crafts since that is what seems to be on our minds the most at the moment. We are all wondering if it is ever going to start feeling like spring weather!
Here are some of the great projects I found that are perfect for younger kids. I hope you enjoy making these while you wait for me to post the spring weather craft I am designing.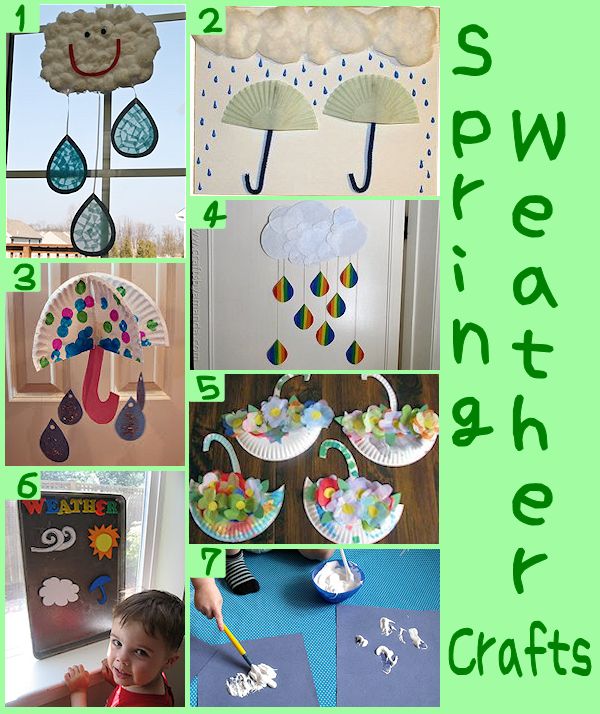 # 1 – Raining Cloud Craft – The All Kids Network shares this fun sun catcher craft featuring a puffy cloud and see-through rain drops. This tutorial even includes a printable rain drop pattern.
# 2 – Umbrella Picture – Make a fun and simple rain picture using a chenille stem and cupcake pan liner to make umbrellas and cotton balls to make clouds. You can use dimensional paint to make raindrops that actually look like they are popping off of the page.
# 3 – April Showers Mobile Craft – Head on over to The Ramblings of a Crazy Woman blog and learn how you can use a single paper plate to make a three-dimensional umbrella mobile.
# 4 – Cloud and Rainbow Drops Craft – Follow the directions shared at Crafts by Amanda and learn how easy it is to make colorful raindrops using light weight cardboard.
# 5 – April Showers Bring May Flowers – Amber, from Everything Except the Grill, explains how her and her son create unique paper plate umbrellas they flipped upside down and filled with tissue paper flowers.
# 6 – Magnetic Weather Station – This is such a fun and easy idea shared at No Time for Flash Cards. Your kids will not only have fun helping you gather all of the supplies and making this project, they will also have fun observing the weather every day so they can use it.
# 7 – Shaving Foam Cloud Paintings – Make Do + Friends shared how they had fun making cloud pictures using blue paper and shaving cream.