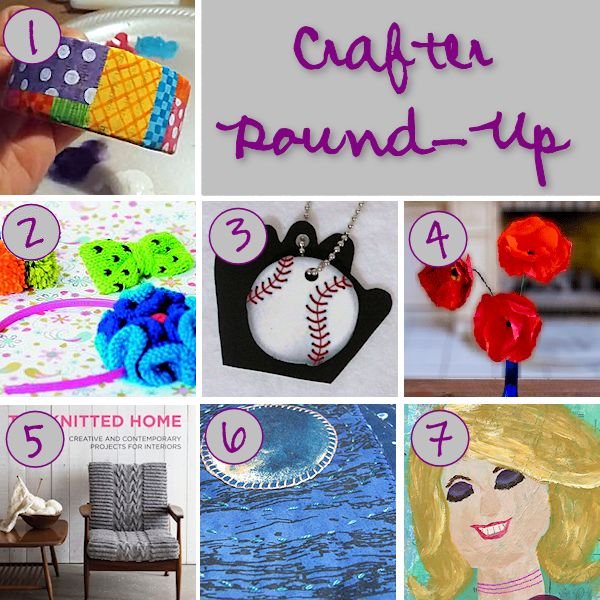 I am always amazed by the creativity and the generosity of these crafty bloggers, and the resources they are kind enough to share. Discover how to make colorful paper jewelry, how to draw a Sakura chibis (and, in some cases, learn what one is), how to enter to win a knitting book, and much more.
#1 – ACreativeDream – Check out this amazing bracelet June made out of little more than paper.
#2 – Craftside-A behind-the-scenes peek at our crafty world – Check out all of the treasure on Craftside this week, including a pattern for a knit polka dot bow, a tutorial about how to draw a Sakura chibis, some handmade book and Steampunk eye-candy and a recipe for Paleo slow cooker chicken pesto.
#3 – How to Make Baseball Charms – Learn how to use shrink plastic to make cool baseball themed charms.
#4 – How to Make Giant Red Remembrance Poppies – What a smashing impression these giant red Memorial Day poppies will make. But don't forget to buy the little ones to honor those who died in service of their country and to raise money for veterans in need.
#5 – Knitting Book Giveaway and Discount – Not only can you enter to win a book on the Crafty Princess blog, learn how to get a publisher's discount for the month of April.
#6 – Mixed Media Artist – Follow along with Cyndi's progress on this amazing quilt, which she is now quilting.
#7 – That Fun Coworker Who Makes You Laugh – Check out this amazing picture that Cherie painted. She hopes that you are lucky enough to have a co-corker with a smile this inviting.