When it comes to kid's birthday party ideas, many young girls would love to have a princess themed birthday party and hopefully the resources here will help you throw and stick to your budget. This collection will help you plan and make the food for your party along with decorations, games, crafts, and favor.  Check out all of these DIY ideas and also make sure you share yours.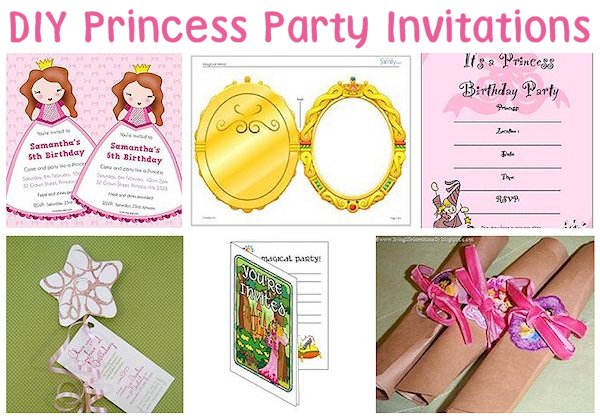 Free Princess Invite
This adorable invitation comes in a PDF format that the designer says you can edit. You need to have the latest free Adobe Acrobat Reader to be able to change the text.
Magic Mirror Invitation
You can download this Snow White inspired invitation from Disney's Family.com.
Princess Party Printable Invitations & Bonus Labels
Here in another cute invitation template you can download and print out.
Princess Wand Birthday Invitation
This adorable birthday party invitation is made using cardboard, a dowel, and a few basic craft supplies.
Printable Princess Party Invitations
This template will have you printing out one invitation on once sheet of paper.
Scroll Princess Party Invitation
Learn how to make a party invitation that looks like a scroll.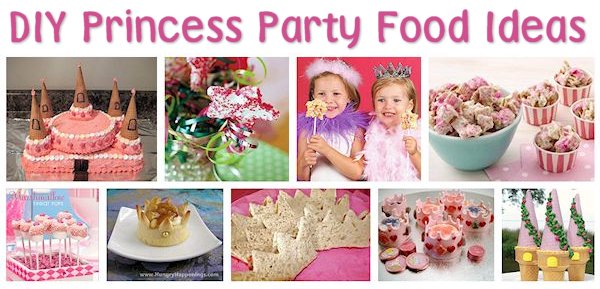 Easy Princess Birthday Cake
Discover how easy it is to make your own castle cake using a rectangular cake, a round cake, some cupcakes and ice cream cones.
Edible Magic Wands
Make each of your party goers one of these wands that are made using sugar cookie dough.
Fairy Princess Wands
These tasty magic wands are made using corn puff cereal, corn syrup, white chocolate chips, and a few other basic ingredients.
Jeweled Princess Chex Mix®
Check out this sweet, pink alternative to traditional Chex Mix.
Marshmallow Pops
These sweet and simple-to-make treats would be a big hit with every princess you know.
Pastry Crowns
These amazing crowns are made using Pillsbury Refrigerated Pie Crusts. The recipe used to fill these crowns is a cheesecake mousse with glazed banana bits — if this recipe is too fancy for the pallets at your party, you can fill it with just about anything!
Peanut Butter and Jelly Crowns
This is a wonderful sandwich to make for all of the princesses that come to your party. You don't have to make peanut butter and jelly sandwiches; you can use any lunch meat you like.
Princess Crown Cupcakes Recipe
This recipe explains how you can decorate a cupcake with a pretty, pink fondant crown.
Rapunzel Tower Cupcakes
While these were made specifically for a Rapunzel party, they would work well for any princess theme.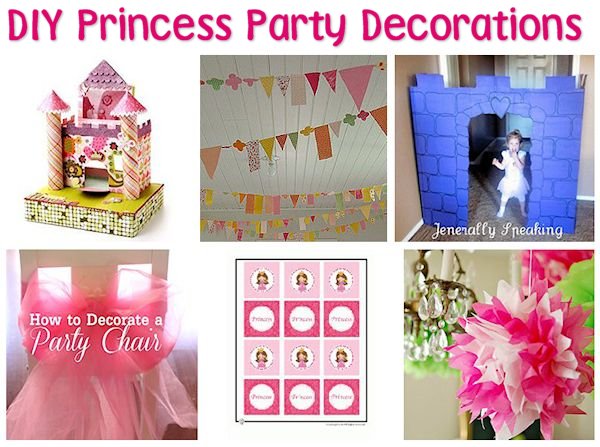 Cardboard Princess Castle
Use these directions and suggestions to create a small castle using cardboard and a few other household supplies.
Party Garland
This tutorial explains how to make a fabric party banner using a variety of shapes.
Princess Castle
If you are lucky enough to have a large cardboard box or two, use them to make a cool castle like the one shared on this blog.
Princess Party Chair
Discover how easy it is to dress up all of the chairs at your party table using tulle.
Princess Party Printable Table Decorations
You can download and print out cupcake toppers, water bottle wraps, candy bar wrappers, and thank you tags.
Tissue Paper Pom-Poms
Learn how to turn a few sheets of tissue paper into a lovely hanging party decoration.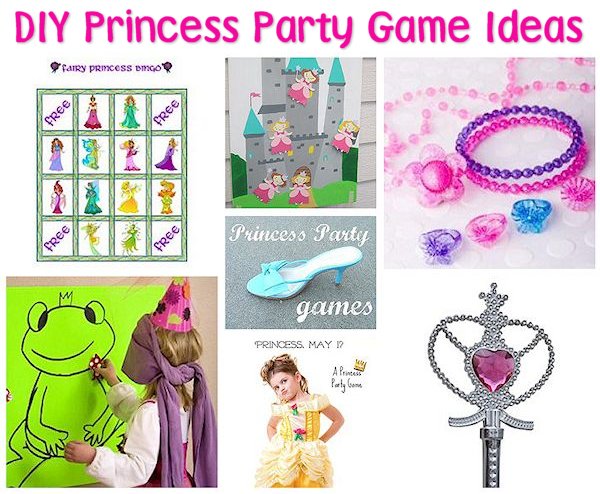 Fairy Princess Bingo
Download and print out a large collection of bingo cards to use at your next party.
Pin the Kiss on the Frog Game
A fun twist on the tradition pin the tail on the donkey party game.
Pin the Princess on the Castle
Follow the suggestions here and make your own version of this fun game.
Princess Lost Slipper Game
Find a pair of "princess" shoes at a local thrift store and hide one of them for party guests to search for.
Princess May I Game
This game is a twist on the classic Mother, May I game.
Princess Treasure Hunt
Explain to all of the party goers that a thief has come to all of the castles in the kingdom and stolen all of the princesses' jewels and they need to go search for them.
Who's Got the Magic Wand?
The concept on this game is really simple, which is what makes it so magical. It's perfect for the end of the party or while waiting for food to arrive.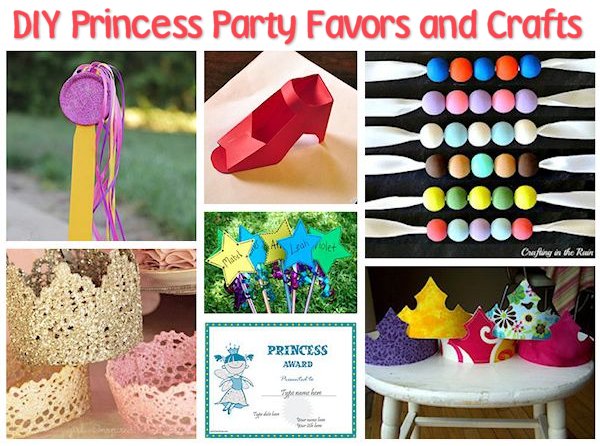 Fairy Princess Wand
This wand is made by recycling a couple of canning jar lids and a paint stir stick.
Lace Princess Crowns
Discover how easy it is to create fancy crowns using lace and spray starch. These should at least dry overnight so you might want to make them well in advance of the party.
Paper Shoe Treat Holder
Download and print out this pattern and assemble these shoes you can fill with treats.
Pixie Stick Wands
These adorable wands are made using a pixie Stick, craft foam, and a few basic craft supplies.
Princess Award
Download and print out these cute certificates you can personalize and give to everyone at the party.
Princess Necklaces
Follow these directions and learn how to make necklaces that represent your favorite famous princesses.
Princess Party Crown
Download the template provided in this tutorial and then follow the directions to make a collection of colorful, machine-sewn crowns.
I hope these resources help you have a blast planning a princess birthday party for for child. If you have any other ideas for this party theme, please feel free to use the comments to share. Feel free to also share other kid's birthday party ideas you wold like to see here.