When I was trying to figure out what to make using canning jar lids (for this craft challenge) I looked around my craft room and noticed a pile of paint stir sticks I have been yearning to make something with… That was when I came up with this idea.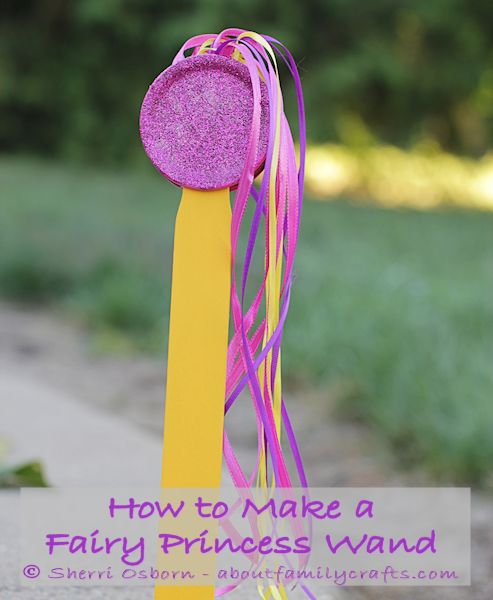 My granddaughter is just getting to the age where she is getting into watching princesses on television and she even has some princess dress up clothes. I figured she would love this fairy princess wand and she did. The minute she saw it she said, "Grandma, that princess is mys?" (She is 2 ½ and says mys instead of mine.) That alone makes me consider this craft a huge success.
Supplies Needed to Make this Craft:
Two Canning Jar Lids
Paint Stir Stick
Paint
Mod Podge
Glitter
Ribbon
Craft Glue
Tools Needed to Make this Craft: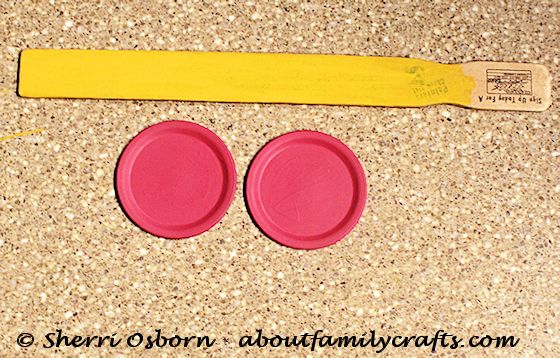 Choose the colors you want your paint stick and canning jar lids to be.  I chose yellow and pink. Paint both sides of the stick. There is no need to paint the top of the stir stick. You only need to paint the top side of each canning jar lid. It may take a few coats to completely cover any writing or pictures on them. Let the paint dry.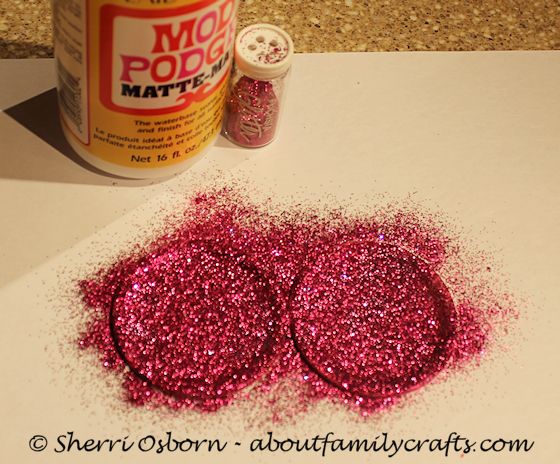 Use your paint brush to spread a layer of Mod Podge on the painted side of each canning jar lid.  Set the lids on a piece of paper and sprinkle them generously with glitter. Let the lids sit until the Mod Podge it dry. Pick up each lid and gently tap it on the paper to knock off any glitter that is not stuck. Once you have done this with both lids you can carefully pour the extra glitter back into the jar.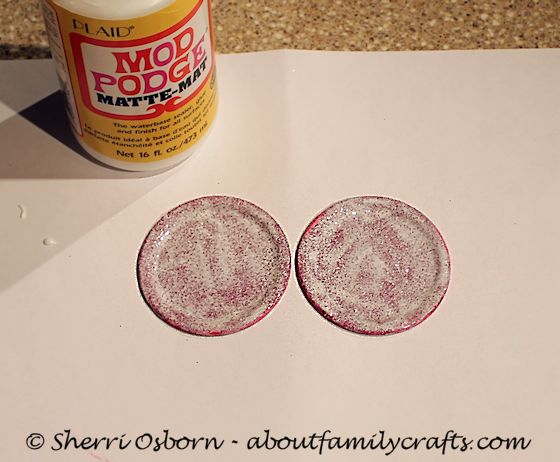 Now, use the paint brush once again to spread a layer of Mod Podge over the top of the glitter. This step will help to make sure the glitter stays on the wand and is not sprinkled all over your house. Let the Mod Podge dry completely before you proceed to the next step.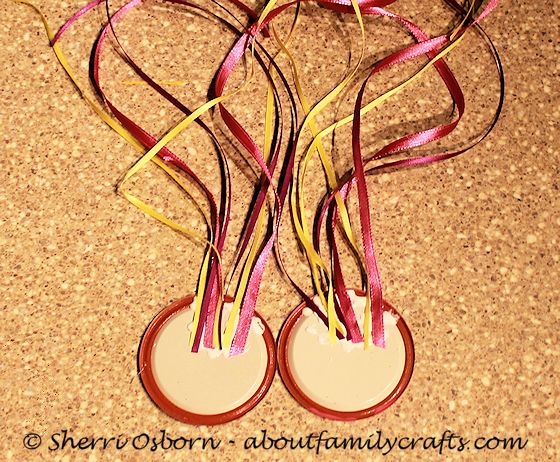 You will need to cut your ribbon into pieces that are about 12-inches long. There is no need to measure them, they do not all have to be the exact same. I used 14 piece of ribbon, but you can use as many, or as few, as you like. I cut 4 pieces of pink ribbon, 4 pieces of purple, and 6 pieces of yellow.
Flip over your canning jar lids and spread a generous amount of glue near one edge. Stick one end of each ribbon onto the glue. I divided up the colored ribbon evenly between the two lids.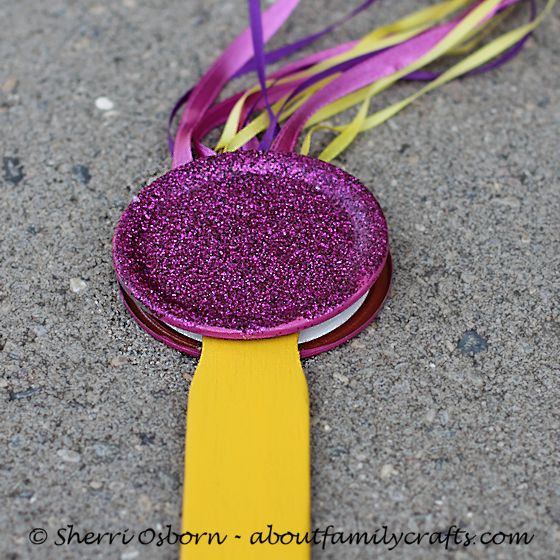 Once all of the pieces of ribbon are in place, squirt a generous amount of glue over the ends of the ribbon. Sandwich the top of the stir stick between the two canning jar lids. Make sure the ribbons are all sticking out from the top of the wand.
Let the glue dry and the wand is ready to be played with. I hope whomever you make this wand for enjoys it as much as my granddaughter did. Not only would this make a fun gift for a special little girl, it would be a fun craft or decoration for a princess-themed birthday party.