Duct tape was always present in our house when I was growing up. My dad believed you could use it to fix just about anything. These days, duct tape is not only used for repairs around the home, it is used for decorating! While you can still find it in the familiar silver color, it is now available in pretty much every color you can imagine and even many specialty designs.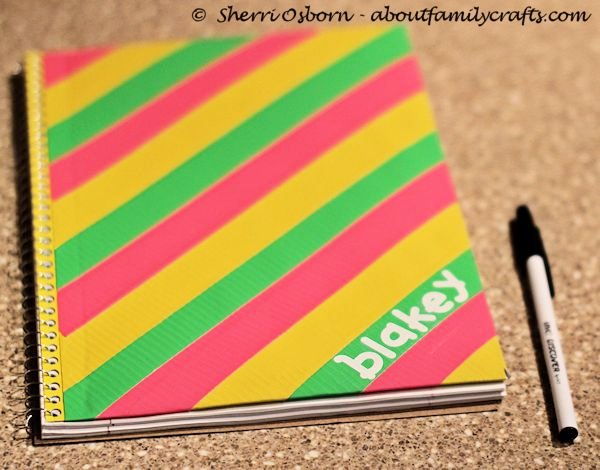 I figured with so many kids preparing to go back to school, duct tape would be a fun way to add some pizzazz and personalize notebooks. I came up with this easy method for decorating the front of notebooks that you can use to make many different designs. Read through these directions to learn how I made this striped notebook, and then use your imagination to make one using the same techniques. Once you make a notebook, you might want to make a Duct Tape Pencil Case to match it.
Supplies You Need:
Tools You Need:
Scissors
Ruler
Mat
Rotary Cutter or Utility Knife
Start out by laying a plain piece of paper on your work surface. You can use this as a great opportunity to recycle used paper or even junk mail. Just make sure the piece of paper is at least as large as your notebook cover (but not more than about 1- to 2-inches larger than your notebook cover).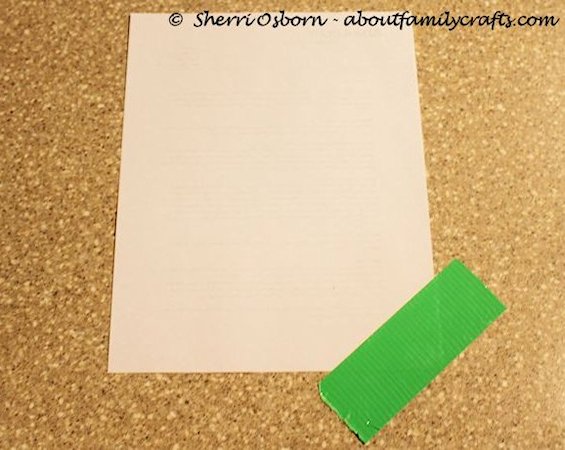 For my striped notebook, I started in one of the corners and placed a piece of tape duct tape at a diagonal.  You want the piece of tape to be long enough so that it overlaps the paper by about an inch on both sides. The duct tape will stick to the table and that is just fine.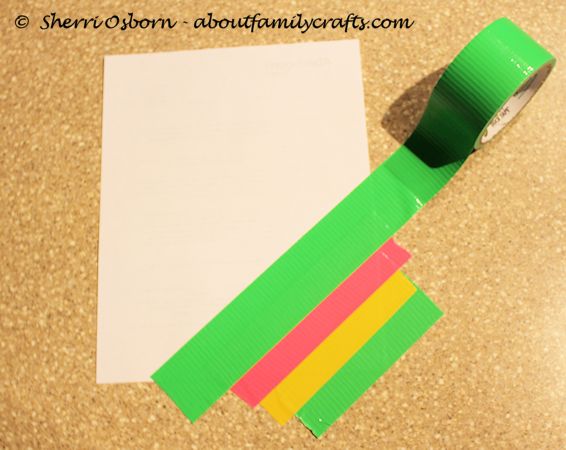 Add a second piece of tape so it overlaps the first piece. Rather than cutting off pieces of tape before you stick it onto the paper, simply pull some from the roll and lay it in place. When it is laying the way you want it, cut it from the roll.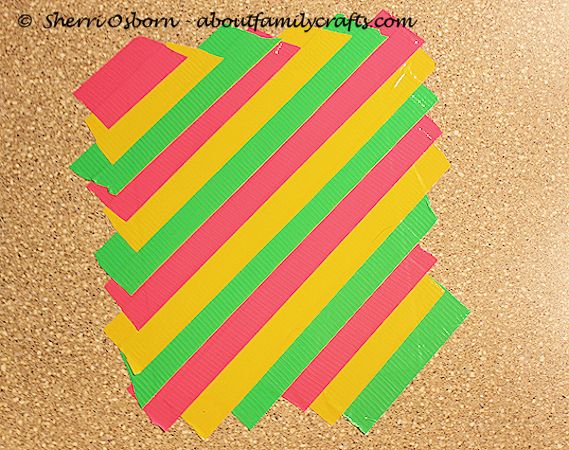 Continue adding strips of tape until the entire piece of paper is covered. Carefully pull up the edges of the tape and lift the paper off the table.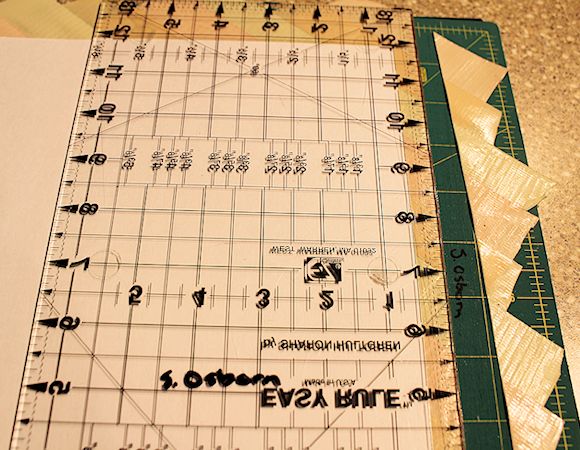 Place the sheet of duct-tape covered paper, upside-down, onto your mat. Lay a ruler down one of the long side, about a half inch from the edge of the paper (onto the tape). Cut a straight line down this edge using a rotary cutter or a utility knife.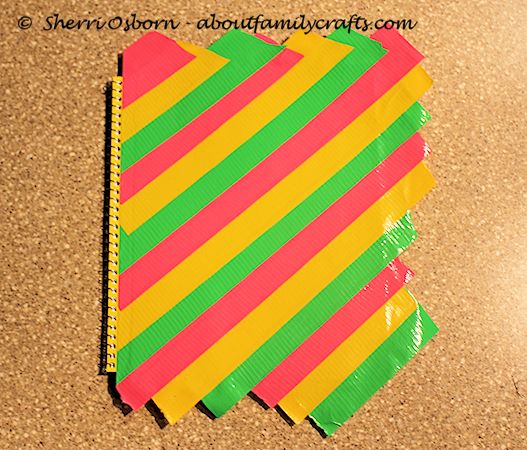 Pick up the paper and carefully lay it on the top of the notebook so the straight line you just cut will stick along the spiral-bound edge. Make sure the paper is also centered so you have about the same amount of over-hang along the top and bottom edge.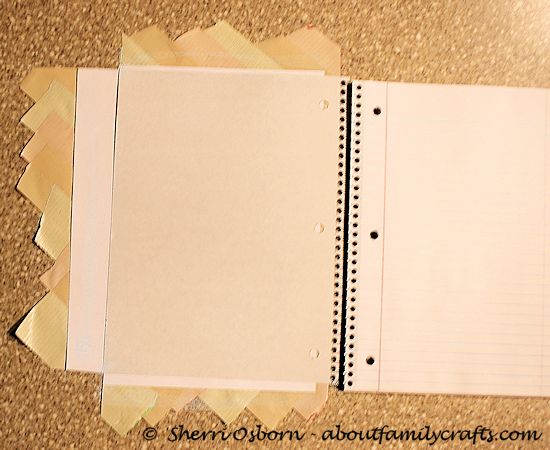 Carefully open then cover of the notebook. The duct tape sheet will be stuck near the binding but nowhere else yet.  Lay the open cover on your mat. Use a ruler and rotary cutter or utility knife and cut away the paper and tape in both corners.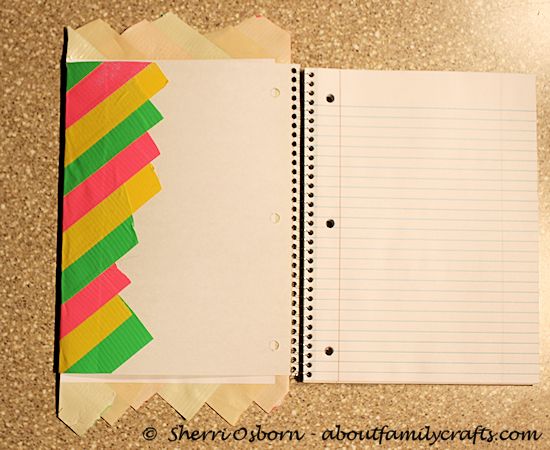 Now, fold the long edge of duct tape paper over the edge of the notebook. Rub the duct tape so it sticks to the inside cover of the notebook.  Repeat this for the top and bottom edges.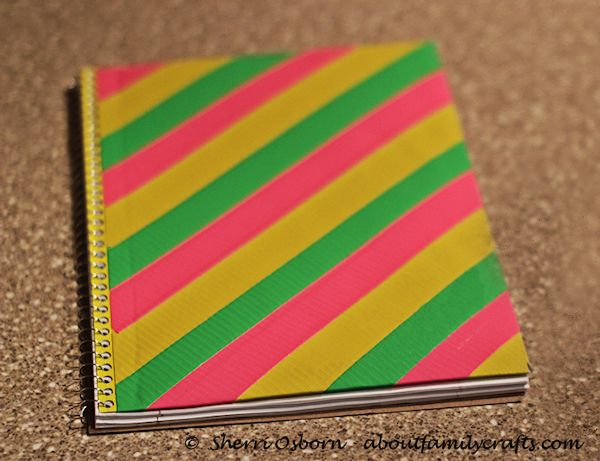 Your duct tape notebook is now done! You can personalize if further using stickers or more duct tape. Use your imagination to make it your own, and then make sure you come back here and share the picture with us!
Shared as part of Bewitch Me & Titi Party at Titi Crafty, Clever Chicks Blog Hop at The Chicken Chick, DIY Sunday Showcase at Pink When, Link It Or Lump It at Dream a Little Bigger, Share It Sunday at Denise Designed, Sunday Soiree Link Party at Craft-O-matic, A Round Tuit at Creating My way to Success, Craftastic Monday Link Up at Sew Can Do, Inspiration Monday at I Should Be Mopping the Floor, Inspire me Monday at Create With Joy, Mix It Up Monday at Flour Me With Love, Monday Funday at Uncommon Designs, Motivate Me Monday at Keeping it Simple, Mad Skills Monday at Mad in Crafts, Made by You Mondays at Skip to My Lou, Make it Pretty Monday at The Dedicated House, Project Inspired at Yesterday on Tuesday, Treasure Box Tuesday at Memories by the Mile, Awesome Things Tuesday at Sowdering About in Seattle, Fluster's Creative Muster Linky Party at Fluster Buster, Caffeinated Crafters Tuesday Link Party at Artzy Creations, From Dream to Reality at The DIY Dreamer, Take a Look Tuesday at Sugar Bee Crafts, Tip Me Tuesday at Tip Junkie, Too Cute Tuesday at Funky Polka Dot Giraffe, Project Parade at This Silly Girls Life, Wake Up Wednesday Link Party at A Peek into My Paradise, Whimsey Wednesday at Simply Designing, Wonderful Wednesday Blog Hop at Ducks in a Row, Wow Me Wednesday at Ginger Snap Crafts, Wow Us Wednesday at Savvy Southern Style, Your Whims Wednesday at My Girlish Whims, Inspire Me Wednesday at Seven Thirty Three, Whatever Goes Wednesday at Someday Crafts, Catch a Glimpse Party at A Glimpse Inside Blog, Create it Thursday at Lamberts Lately, Live Laugh Linky at Live Laugh Rowe, Life of the Party at The Grant Life, Pin It Thursday at Sweet Bella Roo, Showcase Your Talent Thursday What's Cooking Love, Craft Frenzy Friday at Craft Dictator.