Did you see the CD turtle project I shared a couple of weeks ago? I received so many notes from people telling me how much they loved it, I thought I would post another craft made from a CD. What do you think of this CD cardinal craft?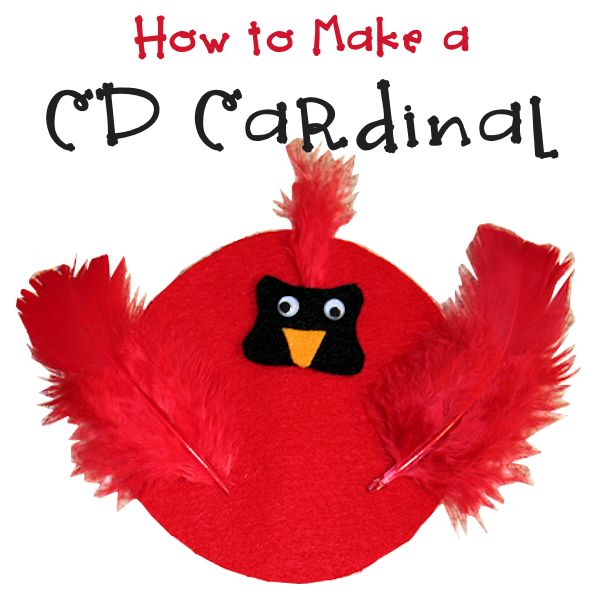 This cardinal craft is quick and easy to make and you can, and, with very little effort, you can modify the design to make other birds. How about making a variety of birds and hanging them in your window!?
Supplies Needed to Make a a CD Cardinal:
Unwanted CD
Felt (red, black and light orange)
2 – 3 Red Feathers
2 Google Eyes
Craft Glue
Tools Needed:
Start off by setting the CD on the red felt and trace around it. Cut out the felt circle and glue it onto the side of the CD that has a printed design on it.
I was going to use 3 feathers on my cardinal, two for the wings and one on top of the head, but I had only 2 nice red feathers. What I ended up doing was pulling some feather pieces off the bottom of the two feathers I had. I thought these little 'puffs' were perfect! Glue a feather on each side of the CD so they look like wings. Glue a third feather, or a clump of feather 'puffs', onto the top of the CD.
Cut a rectangle out of black felt. Use your scissors to round the sides of the rectangle. Use my picture above as a reference or experiment with your own shape. Glue the black rectangle in place, covering the bottom of the head feathers a little bit.
Cut a beak from the light orange felt. I rounded the tip just a little bit. Glue this in place on the black rectangle along with the google eyes.
Your CD cardinal is now done. If you do want to hang it in your window, or anywhere else, make a loop using ribbon and glue it to the back of the CD.