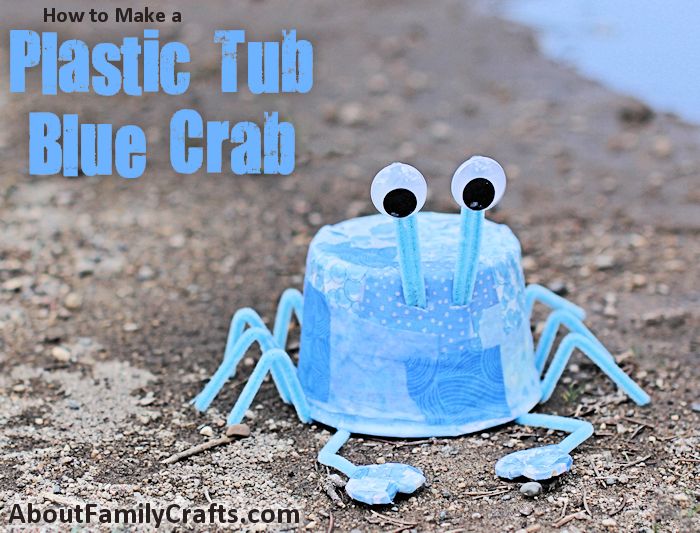 I know it has been awhile since I announced the margarine tub craft challenge, but I didn't forget about it… I actually created this blue crab craft a couple of weeks ago but I haven't had a lot of time to post.
I made this margarine tub blue crab craft using a couple of my favorite craft supplies — Mod Podge and fabric. One thing I should have done, that I will urge you all to do, is to paint your margarine tubs with a primer first. I actually ended up putting a couple of layers of fabric on it because you couple see the writing so clearly.
I think this little guy (or girl) turned out pretty cute, how about you?
Supplies Needed to Make a Plastic Tub Blue Crab:
Margarine Tub (or any bowl)
Fabric Scraps
Mod Podge
2 Small Wooden Hearts
5 Blue Chenille Stems
Hot Glue Sticks or Craft Glue
Large Google Eyes
Tools Needed:
Scissors
Foam Brush
Hot Glue Gun
Utility Knife (optional)
The first thing you need to do is make sure your margarine tub is clean and dry. You want to make sure there is no slick, butter residue on it. Cut your blue fabric into small squares.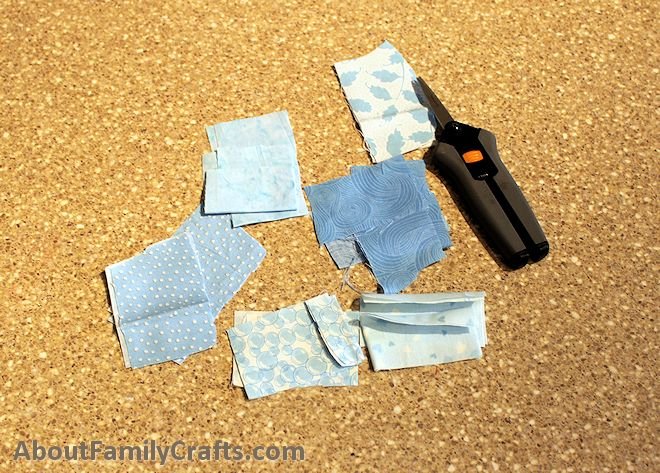 Start attaching the fabric squares to the margarine tub using the Mod Podge. Use the foam brush to spread a generous layer of Mod Podge onto the margarine tub. Work in a little area at a time.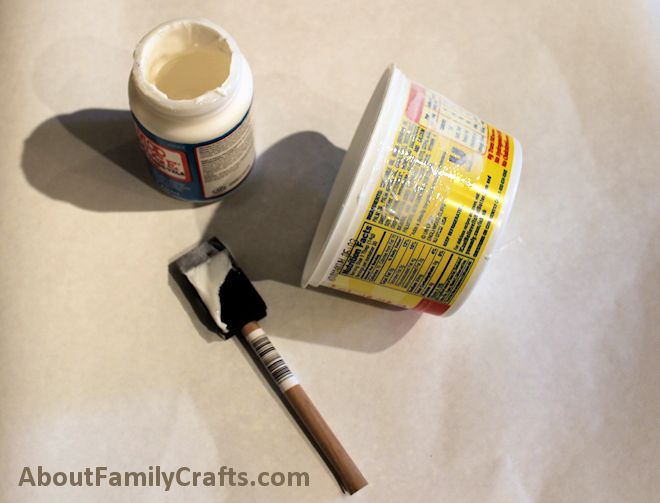 Stick a fabric square on the Mod Podge and spread a thin layer of Mod Podge over the fabric. Lay a second piece on, slightly overlapping the first. I started along the top edge of the margarine tub and made sure I had at least a half inch of fabric hanging over the top. I bent that extra fabric over the edge and attached to the inside of the bowl using Mod Podge.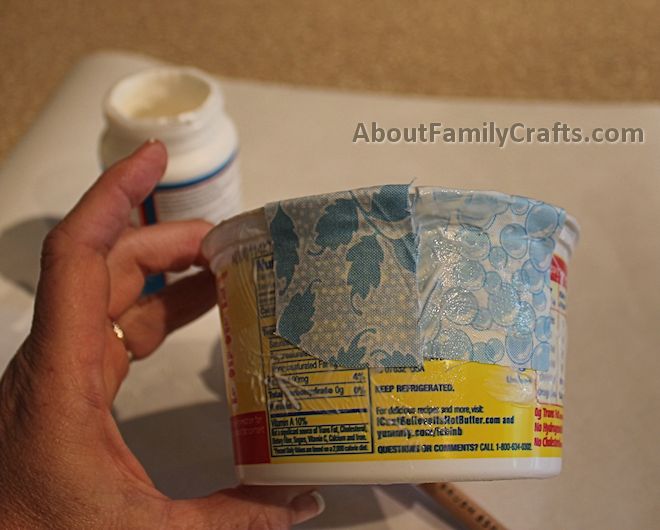 Use this technique to completely cover the outside of the margarine tub with fabric.Let the Mod Podge dry completely and then add another thin layer of Mod Podge over the entire bowl. Let it dry.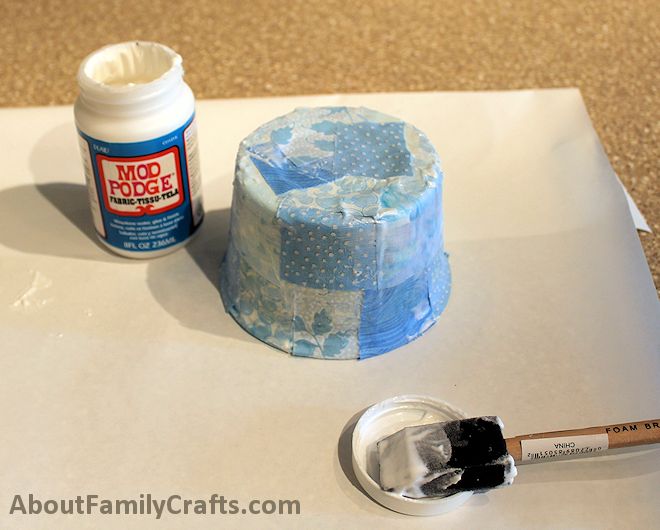 You also need to cover the wooden hearts with Mod Podge and fabric. For this, I cut fabric pieces that were only about a half inch square. Let the Mod Podge dry and then brush on a second layer. Let it dry.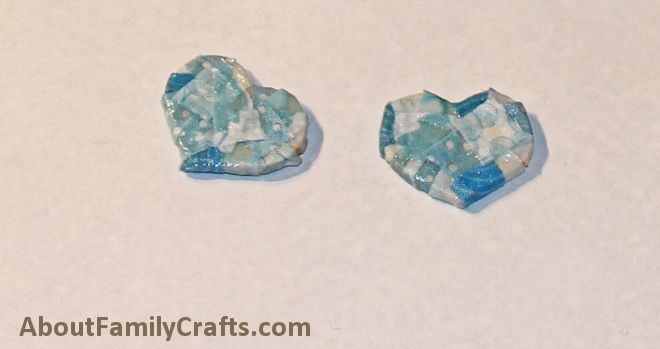 Now you need to cut your chenille stems. First of all, grab one of the chenille stems and cut it in half. These will each be about 6-inches long. Set this aside to use for the eyes. From the other chenille stems, cut 10 pieces that are each about 4-inches long.
Grab four of the 4-inch chenille stem pieces and bend over about a quarter of an inch on one end. Glue these four, across from each other, just inside the top edge of the bowl.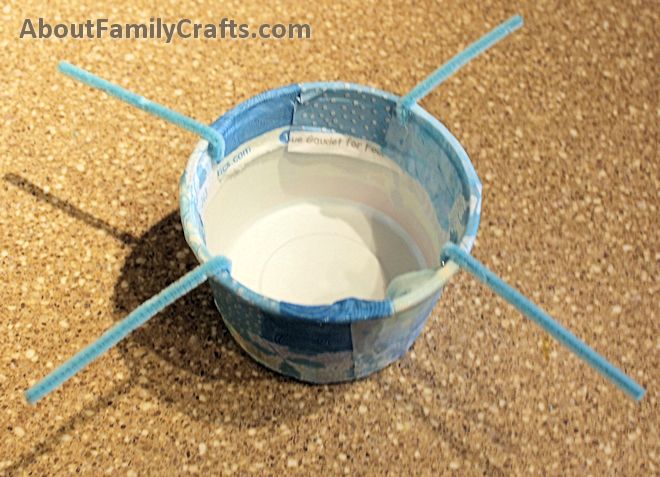 Next, glue on the other six chenille stems the same way. Let the glue set/dry.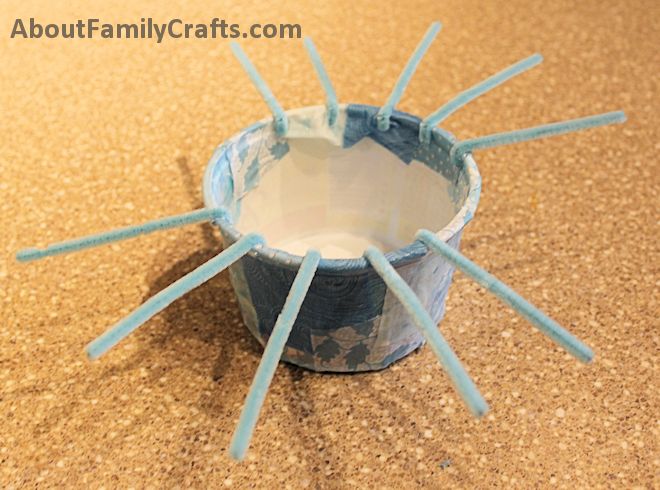 Flip the bowl over and bend up the chenille stems so they look like legs. Glue the wood hearts onto the end of two of the chenille stems so they can be the crab's claws. Let the glue dry/set.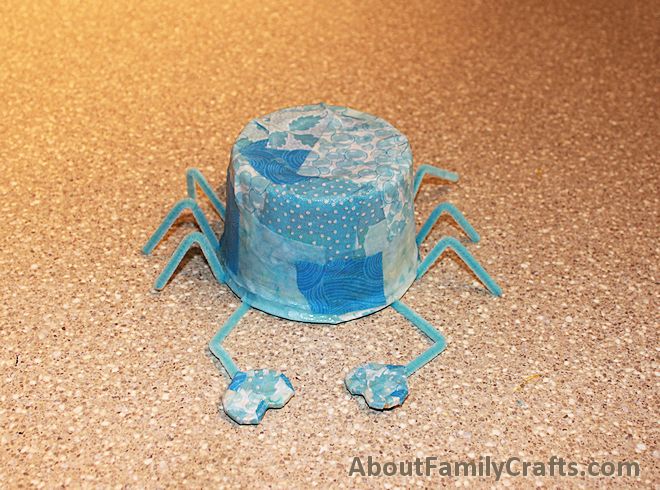 Fold the two 6-inch chenille stem pieces in half. Use a utility knife to cut two small slits in the front of the margarine tub, about 3/4 of an inch from the bottom. Stick both ends of the chenille stems into each hole.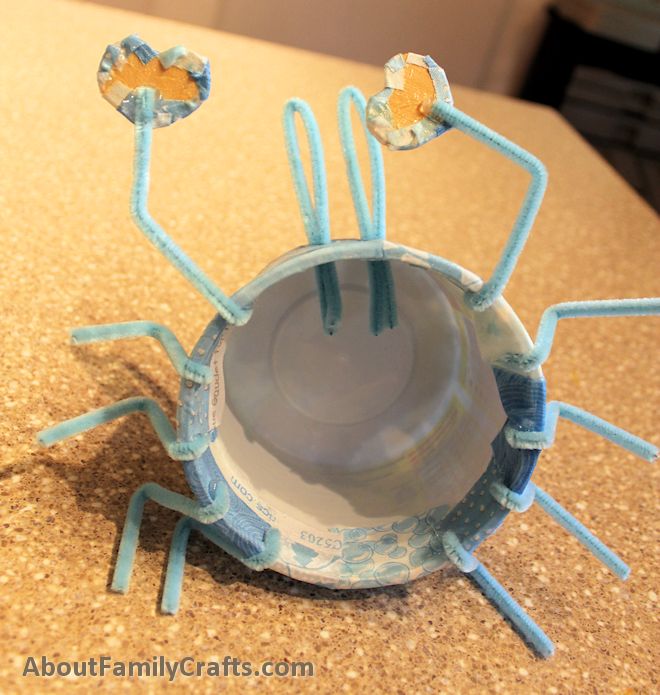 Push down the ends of the chenille stems and glue them to the inside (side) of the margarine tub. This should cause the bent end on the chenille stem to stick straight up when you flip it over. If it doesn't, simply fold the chenille stems how you want them to be. Glue on the wiggle eyes.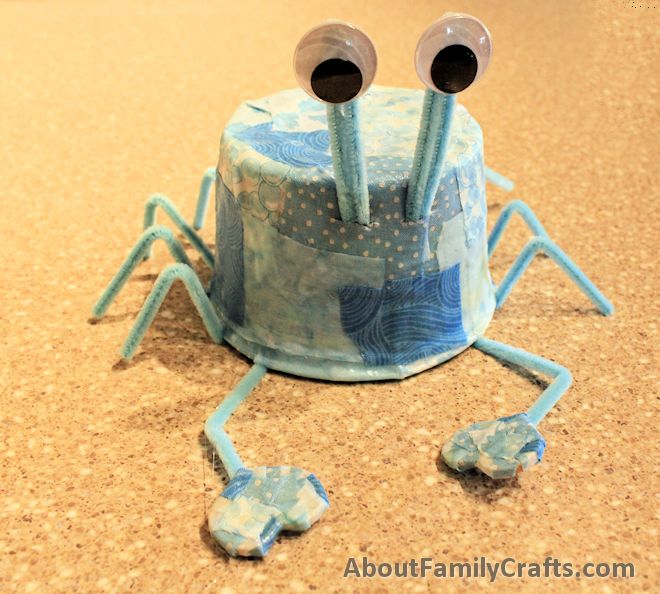 Your adorable crab is done. You certainly don't have to stop here. You can make a red crab to go long with your blue one, or you can make a crab in every color of the rainbow.
Shared as part of Show Stopper Saturday at Will Cook for Smiles, Bewitch Me & Titi Party at Titi Crafty, Clever Chicks Blog Hop at The Chicken Chick, DIY Sunday Showcase at Pink When, Link It Or Lump It at Dream a Little Bigger, Share It Sunday at Denise Designed, A Round Tuit at Creating My way to Success, Craftastic Monday Link Up at Sew Can Do, Inspiration Monday at I Should Be Mopping the Floor, Inspire me Monday at Create With Joy, Mix It Up Monday at Flour Me With Love, Monday Funday at Uncommon Designs, Motivate Me Monday at Keeping it Simple, Show-Licious Craft & Recipe Party at 3 Little Greenwoods, Mad Skills Monday at Mad in Crafts, Made by You Mondays at Skip to My Lou, Caffeinated Crafters Tuesday Link Party at Artzy Creations, Tip Me Tuesday at Tip Junkie, Treasure Box Tuesday at Memories by the Mile, Awesome Things Tuesday at Sowdering About in Seattle, From Dream to Reality at The DIY Dreamer, Take a Look Tuesday at Sugar Bee Crafts, Too Cute Tuesday at Funky Polka Dot Giraffe, Fluster's Creative Muster Linky Party at Fluster Buster, Project Parade at This Silly Girls Life, Show and Tell Wednesday at SNAP Creativity, Wake Up Wednesday Link Party at A Peek into My Paradise, Whatever Goes Wednesday at Someday Crafts, Whimsey Wednesday at Simply Designing, Wonderful Wednesday Blog Hop at Ducks in a Row, Wow Me Wednesday at Ginger Snap Crafts, Your Whims Wednesday at My Girlish Whims, Moonlight and Mason Jars at The Newlywed Pilgrimage, Pin It Thursday at Sweet Bella Roo, Showcase Your Talent Thursday What's Cooking Love, Catch a Glimpse Party at A Glimpse Inside Blog, Create it Thursday at Lamberts Lately, Live Laugh Linky at Live Laugh Rowe, Life of the Party at The Grant Life, Craft Frenzy Friday at Craft Dictator, Friday Favorites at Simply Sweet Home, Friday Link Party at The Pin Junkie.