More than once, I have been accused of going overboard when I plan a party. What does that have to do with this s'more craft? I created it to use as a party favor for guests at a baby shower I threw. The baby shower had a hunting/camping theme and these s'more kits were placed on tables (one for each guest to take home) along with a miniature campfire centerpiece.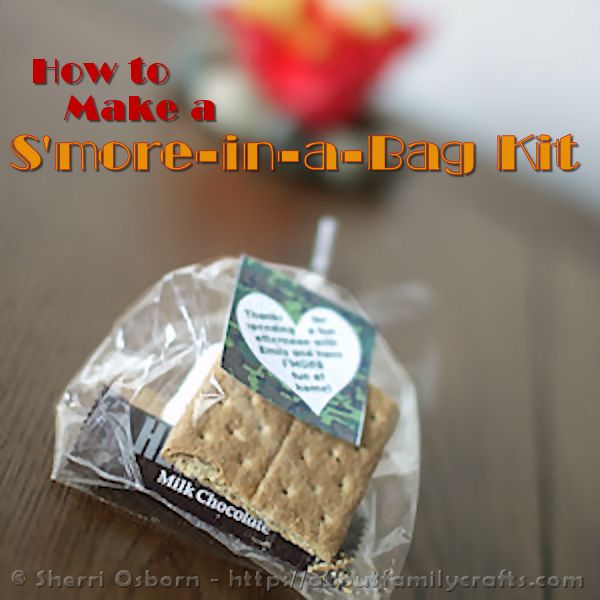 Of course, you can make this project for a similar party or simply for the fun of it. They would make nice surprises to give to the kids while on a camping trip. They would also be fun for a family picnic.
To make this s'more kit, I first decided on what to use as a wrapper. I found clear treat bags
with twist ties (affiliate link) at my local craft store that were about 4-inches wide and 9-inches tall. I also purchased a package of sticker paper
(affiliate link) you can use in an inkjet printer.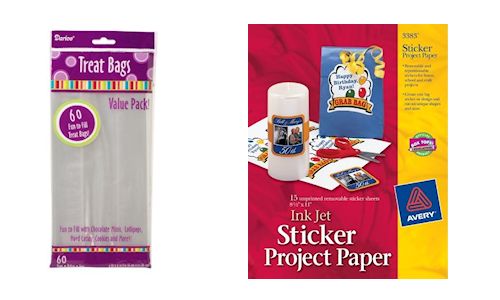 I used my PaintShop Pro
(affiliate link) to create the stickers. I wanted the stickers to fit the theme and tell everyone we appreciated them attending the party so I came up with this camo heart design with a message that said "Thanks for spending a fun afternoon with us. Take this treat home & have S'MORE fun."
You can print out and use the stickers I created, or design your own. You can download either a PDF or JPG version of this file: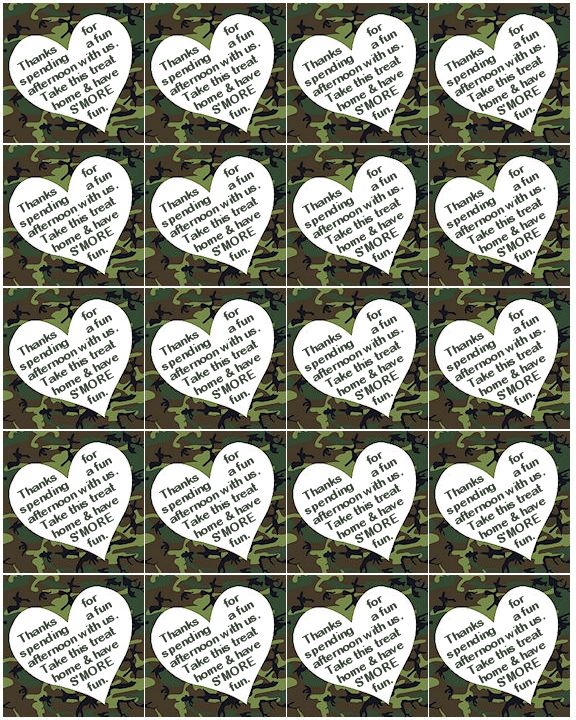 Download:

| PDF | JPG |
Simply cut the stickers apart and stick them onto the bags. Position each sticker so it is centered on the bag, about 2-inches up from the bottom. You might want to put the sticker on one bag and fill it with the s'more ingredients to make sure you like the placement before you put the stickers on all of the bags.
Once you have your packaging ready, you should fill each one with the ingredients you need to make a single s'more. Use a graham cracker, broken in half; a snack size Hershey's chocolate bar (leave the wrapper on); and a regular sized marshmallow.

Place them in the bag in the order you would build a s'more: graham cracker square, candy bar, marshmallow, and the other graham cracker square. Use the twist tie that came with the bag, or even some coordinating ribbon, to tie the top of the bag closed.
Your s'more in a bag kit is now done. What will you make them for? Please share!
Disclosure: As noted above, this post contains affiliate links. See my disclosure policy for details.