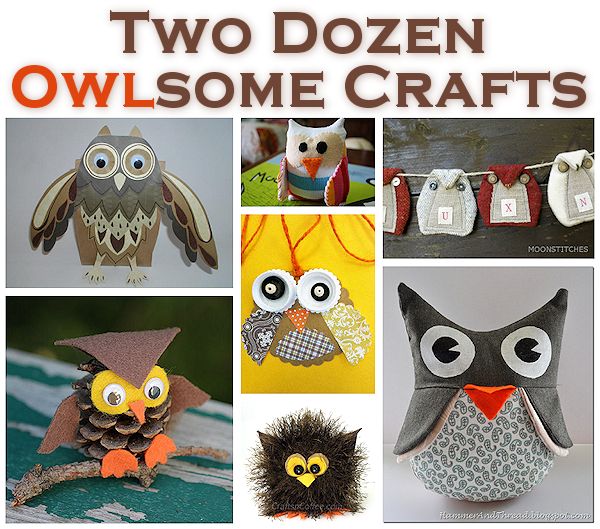 I was so inspired by the response I got for my canning jar lid owl wreath (find the link at the bottom of this post) that it set me off on a search for other owl crafts. I am always so amazed by the creative talent you can find online if you dig deep enough.  I found owls that were made out of acorns, burlap, pine cones, socks, and even a paper back book.
I hope you enjoy these owl crafts. Make sure you take a minute to leave comments for the crafters that made them (and don't forget to tell them who sent you)!


Acorn Owls @ Bloesem Kids
Use acorns and felt scraps to make an entire family of owls.
Baby Barn Owl Pendant @ Small Hands Big Art
This owl craft is made from a cereal box, a water bottle lid, and some basic craft supplies.
Baby Felt Owl @ Homelife
Use a combination of felt and fabric scraps to make these owls.


Baby Yarn Owl  @ Crafts and Coffee
This adorable owl is made using a styrofoam ball and eyelash yarn among other things.
Burlap Owls @ Purple Hue and Me
I love how this craft made the base of this owl using paper mache and then covered it with burlap.
Calendar Owl Craft @ Pysselbolaget
Use your paper scrapping supplies to make this owl that doubles as a calendar.


Cute and Colorful Owl Quilt @ Crafty Imaginings
Discover how easy it is to make a quilt shaped like an owl.
DIY Owl Pin Cushion @ My Owl Barn
Watch this video and learn how to make one of these fun, stuffed owls.
Felt Owls from Styrofoam Balls @ Factory Direct Crafts
With some felt, a styrofoam ball, and a few other supplies you can make an owl or two.


Little Craft Scare Owl @ Carolyn's Homework
Recycle some basic household items to make this owl to help protect your garden.
Ombre Owl Artwork @ The V Spot
You can use the techniques here to make your own owl picture.
Ombre Owl Napkin Holder @ The Country Chic Cottage
Learn how you can give an old napkin holder new life using little more than paint.


Owl Bunting @ Spunky Junky
Create a chain of scrappy owls using left-over pieces of fabric.
Owl Finger Puppet Tutorial @ Playing with Words 365
Make these felt owls and try out the included fingerplay.
Owl Pennant @ Moonstitches
I love the rustic look of these cute owls made out of wool and linen.


Owl Stuffies Tutorial @ Hammer and Thread
Use this pattern to sew up an owl stuffed toy.
Owl Treat Bags @ Club Chica Circle
Print out the free template here and you can esily make your owl owl treat bag.
Paper Bag Owl @ Hands on Crafts for Kids
Decorate a small paper bag with a variety of paper and felt to creat this lovely owl.


Paper Plate Owl @ Crafts by Amanda
Learn how to turn two paper plates into one adorable owl.
Paperback Book Owl Craft @ About.com
This owl is made using an old paperback book and some scraps of paper.
Pine Cone and Cotton Ball Owls @ The Crafty Classroom
I love the look of this little guy who has two different sizes of eyes.


Pine Cone Owl Craft @ About.com
All you need to make this cute owl if a pine cone, some felt, and googly eyes.
Sock Owls @ Whimsy Loft
This is such a great use for colorful, orphaned sock!
Who's There Owl Wreath @ About Family Crafts
I made this owl using a grapevine wreath, a couple of canning jar lids, and a few basic craft supplies.