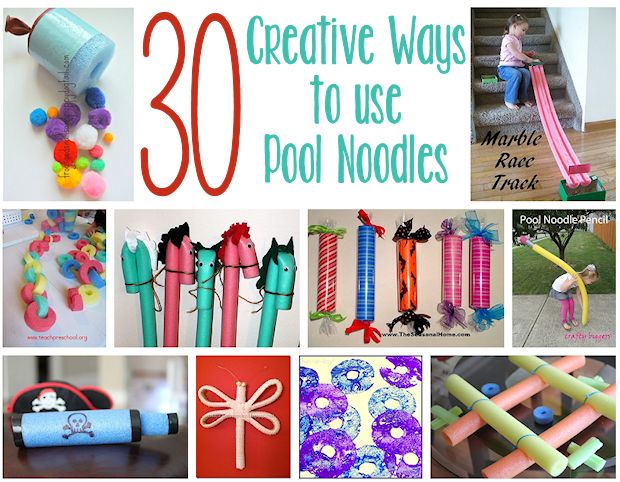 Every time I walk by a display of colorful pool noodles at the store, I stop, stare, and think about how many creative possibilities they hold…
It is those thoughts that inspired me to do this fun round-up of creative ideas! Because pool noodles are so colorful, flexble, and inexpensive — they make the perfect craft supply. What do you think of all of these projects?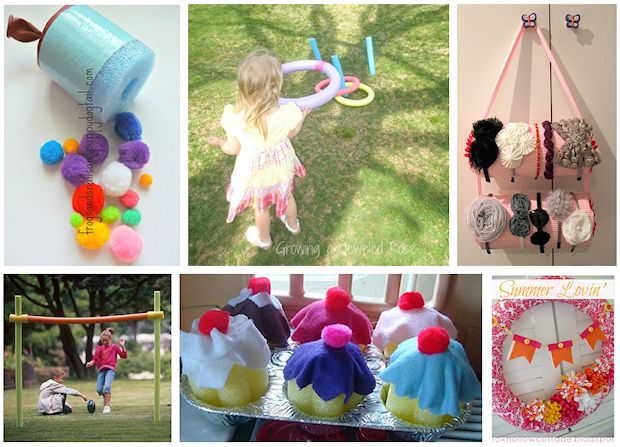 1 – DIY Pool Noodle Pom Pom Shooter from Frogs, Snails and Puppy Dog Tails
2 – Pool Noodle Ring Toss Game from Growing a Jeweled Rose
3 – DIY Headband Holder from Baubles 'n Babbles
4 – Backyard Goalpost from Spoonful
5 – No Sew Cupcake Craft from Frugally Blonde
6 – Pool Noodle Wreath from Fox Hollow Cottage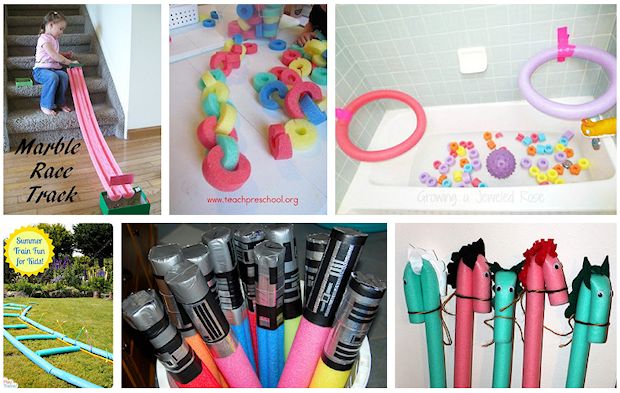 7 – Marble Race Track from My Homespun Threads
8 – Fun with Pool Noodle Chains from Teach Preschool
9 – Bath Games with Pool Noodles from Bath Activities for Kids
10 – Pool Noodle Train Tracks from Play Trains
11 – Pool Noodle Lightsabers from Muddy Boots Blog
12 – Making Swimming Noodle Ponies from Mrs. King's Music Class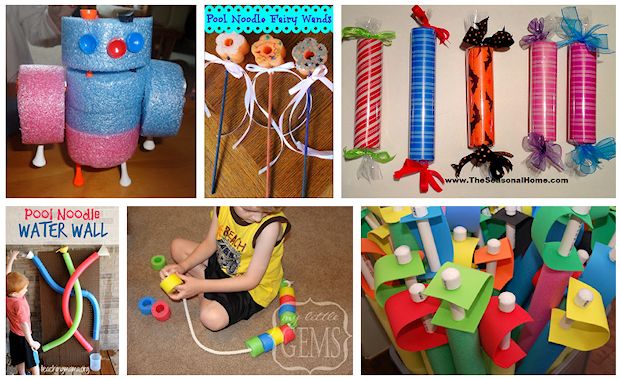 13 – Pool Noodle and Golf Tee Sculptures from Time for Play
14 – Pool Noodle Fairy Wand from Gummy Lump
15 – Faux Candy Decorations from The Seasonal Home
16 – Pool Noodle Water Wall from Teaching Mama
17 – Water Noodle Lacing and Pattern Practice Game from My Little Gems
18 – How to Make Foam Swords from One She Two She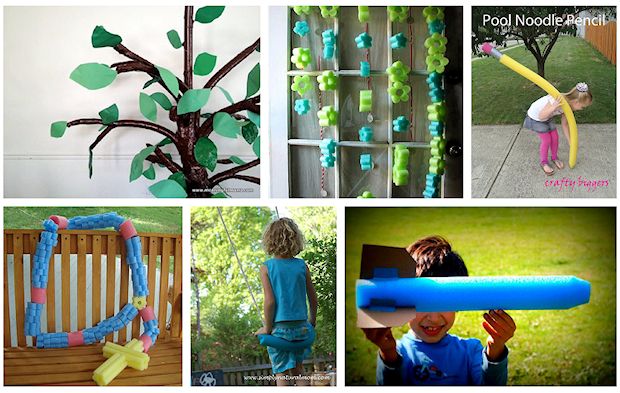 19 – 3 Dimensional Tree out of Swimming Noodles from Meaningful Mama
20 – Flower Pool Noodle Garland from Make
21 – Pool Noodle Pencil from Crafty Biggers
22 – Giant Rosary from Catholic Icing
23 – Pool Noodle Swing from Simply Natural Mom
24 – DIY Rocket Ship from London Fields Blog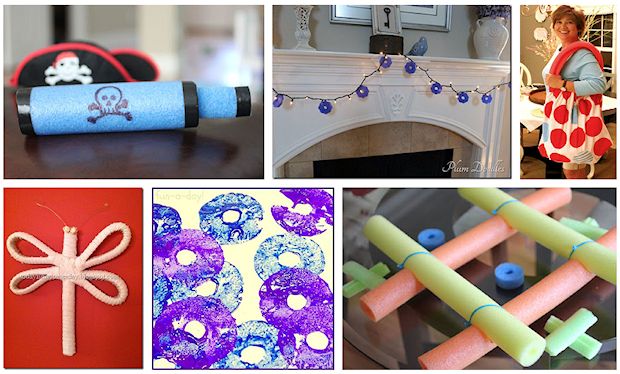 25 – Pool Noodle Telescope from Repeat Crafter Me
26 – Pool Noodle Patio Umbrella Lights from Plum Doodles
27 – Summer Noodle Bag from Refresh Restyle
28 – Pool Noodle Dragonfly from Today is Someday
29 – Pool Noodle Prints from Fun-A-Day
30 – Pool Noodle Tic-Tac-Toe from Repeat Crafter Me
So now this list have given me several wonderful excuses to head out to the store and buy some pool noodles. How about you?