Check out the variety offered by the crafty bloggers this week! You can admire the artistry, learn about some handy products, and even make a creative treat. Yes, I said treats! First of all, you can get creative and make dinosaur cake pops for the kids, and then move on to making some whiskey fudge for the grown-ups.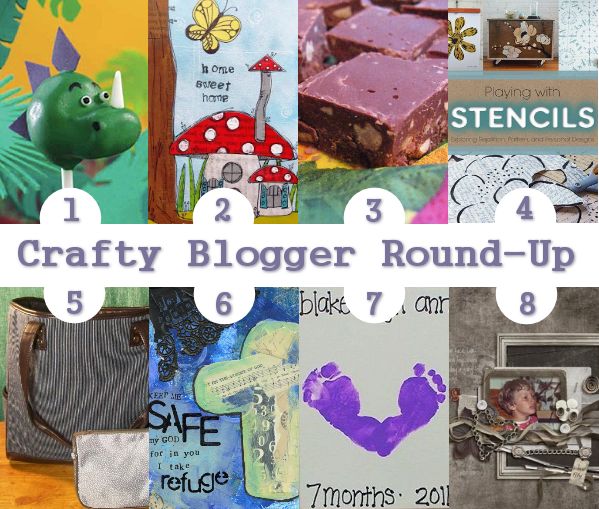 #1 – Dinosaur Cake Pops – If you are planning a birthday party for a little one, or even an adult, who loves dinosaurs, check out these cake pops created by the Crafty Foxes. They may look complicated by these directions will take you step by step through everything from baking the cake base to forming the dinosaur's pointy spines.
#2 – Mail Art Collection – How amazing would it be to go to your mailbox and find one of these works of art?! June shares pictures of all of the mail art postcards she has created.
#3 – Whiskey Chocolate Peanut Fudge – Recently, Cyndi from Mixed Media Artist found herself too distracted for art so instead she got creative in the kitchen making this fudge that uses a unique ingredient.
#4 – Craftside – A behind-the-scenes peek at our crafty world – At Craftside this week you can learn how to draw a motorcycle, find tips for working with stencils, learn how to change the carb property of a baked potato, and much more.
#5 – Crafting on the Go Solutions – If you aks me, a purse can never be too big; after all, a girl has to be prepared for any crafty opportunities while on the road. Tammy, from The Crafty Princess, shares a wonderful tote that has room for almost everything!
#6 – Finding Inspiration in the Psalms – I always enjoy looking at Cherie's artwork and this week is no different. Her inspiration this week came from some favorite Psalms, and her prints are made using doilies, papers from books, and a variety of stamps and stencils.
#7 – Mother's Day Gifts Ideas for Kids to Make – Here is a collection of half a dozen craft projects that the kids will have a lot of fun trying while they make a unique gift to give for Mother's Day.
#8 – Saturday May 4 is National Scrapbooking Day – Check out these easy scrapbooking ideas shared by Eileen, The Artful Crafter. Learn a little bit about her digital scrapbooking efforts and try it yourself.
Have fun visiting all of these blogs and make sure you take a moment to comment and tell them that Family Crafts sent you.