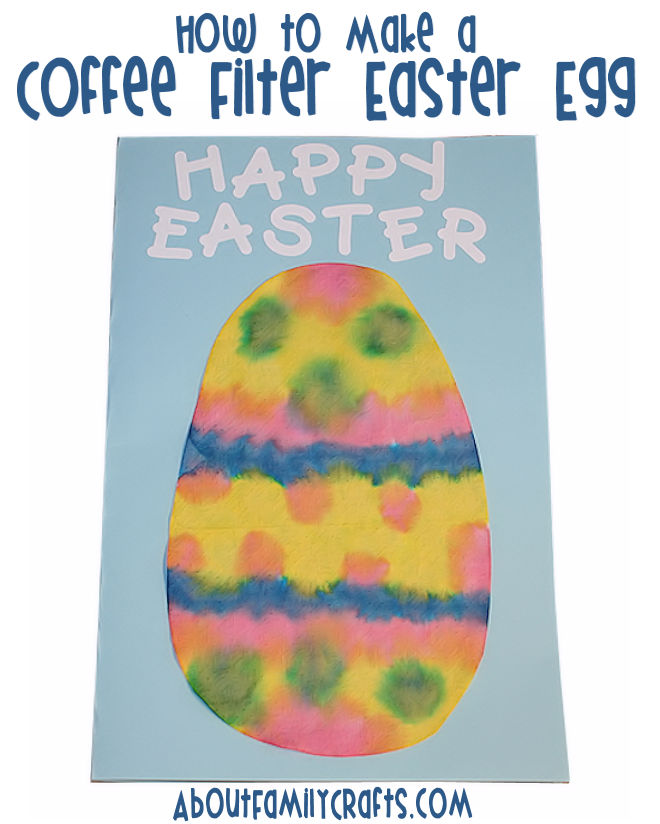 Make one or more of these simple coffee filter Easter eggs to use as decorations or to top a homemade Easter cards. If you prefer ot to mount the finished Easter egg on card stock, consider hanging them in a window. The light should shine theough them nicely.
Sorry for the lack of step-by-step photos, but, in all honesty, this craft project is so simple they really aren't needed. If you have any additional questions, feel free to ask them using the comments section below!
Supplies Needed to Make a Coffee Filter Easter Egg:
Coffee Filter
Food Coloring or Watercolors
Glue Stick
Card Stock
Marker or Alphabet Stickers (optional)
Tools Needed:
Scissors
Paint Brush or Cotton Swab
Start out by flattening the coffee filter. Lay it on your work surface and simply push it flat as best as you can. Once it gets wet, it will lie flatter.
Use your scissors to cut the coffee filter into an egg shape. Lay the egg-shaped filter on a protected surface (such as an old cookie sheet or newspaper) and paint designs on it. You can apply water colors, or food colors, in various designs using a paint brush or a cotton swab. Let your design dry.
Once it is dry, use a glue stick to mount the egg on a piece of card stock. You can then use alphabet stickers or a marker to write a message. If you like, fold the piece of card stock in half, glue the egg to the front, and create a fun and easy Easter card to give to someone special.
What do you think? Is this a super easy project or what??