While I had out some mason jars making my Magic Potion Jar Decorations, I thought perhaps I would make some simple treasure holders. When I say simple, crafts don't come too much easier than these silly 'stache jars.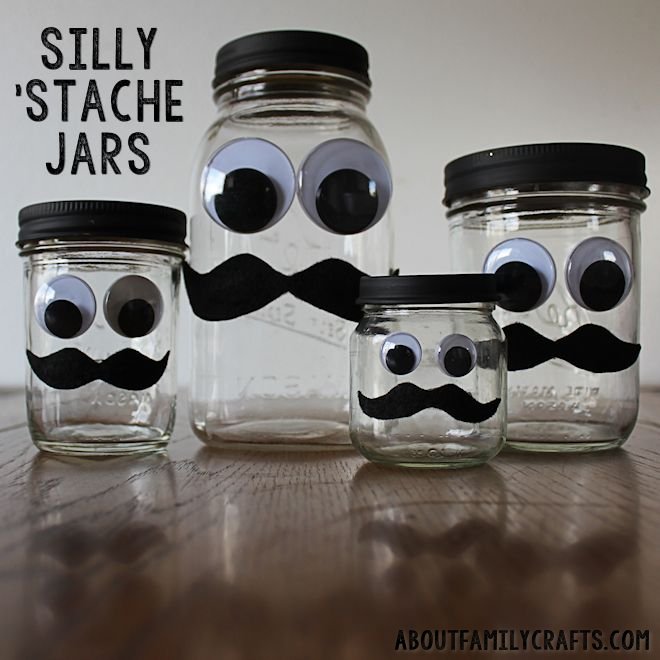 If you are familiar with this site, you know I usually share detailed step-by-step directions that includes photos, but this 'stache jar craft is so easy I will skip those formalities. All you need to make one of these cute crafts is 15-minutes, a clean jar, and a few basic craft supplies.
Supplies Needed to Make a Silly 'Stache Jar:
Jars
Paint
Black Felt
Google Eyes
Hot Glue Sticks
Tools Needed:
Paint Brush
Scissors
Hot Glue Gun
You can use jars of all sizes to make one of these 'stache jars. To make mine, I used mason jars and also a baby food jar. Make sure your jars are clean and dry.
Start off by painting the jar lid. I chose black because I wanted my 'stache jars to look more formal by being only black and white, but you can use whatever colors you like.
Cut a mustache out of felt. I found this was easiest if I cut a small rectangle from the felt, folded that in half, and then cut the mustache out the same way you would cut out a heart from a folded piece of paper.
Use the hot glue gun and glue sticks to attach the mustache to the jar. You should also use the hot glue gun to glue on the google eyes just above the mustache.
Once the paint is dry, your mustached jar is ready to use. You can use it to 'stache away your treasures or as a bank. I recently ran across this Inspiration Jar project and I think a mustache would be a great adornment for this project!
What will you use your decorated jars for?