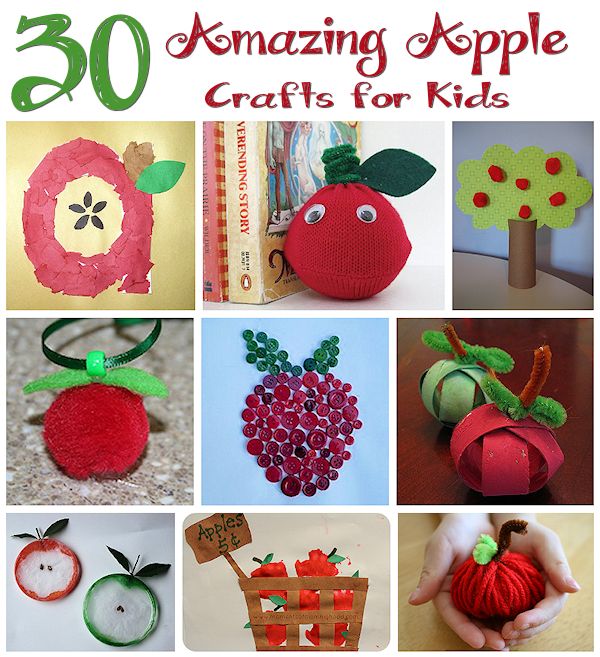 Apples make a wonderful theme for autumn crafts. The variety of projects I have gathered in this collection are wonderful for kids of all ages and most of them can be made with basic craft supplies and other items you have lying around the house.


A is for Apple @ Mom to 2 Posh Lil Divas
Show your kids how to make an apple out of a lower case a and some torn pieces of paper.
Adorable Apple Bookend @ What's Up Families
This cute apple is made using a tennis ball, a sock, and a few other supplies.
An Apple Tree @ Happy Home Fairy
This is a simple apple tree you can build using a toilet paper roll, paper, and pom-poms.

Apple Core Craft @ Kiboomu Kid's Crafts
This site offers a printable apple core template and directions so you can help your kids make an apple picture using little balls of tissue.
Apple Garland @ I Can Teach My Child
You can make a whole string of apples using Con-Tact paper.
Apple Necklace Craft @ About
Make this easy apple necklace out of a pom-pom, a bead, some ribbon, and a small piece of felt.


Button Apple Craft @ Free Kid's Crafts
Discover how easu it is to make this fun apple craft using a printable template and some buttons.
Caramel Apple Craft @ Tippy Toe Crafts
These fun apple pictures are topped off with real sprinkles from your kitchen.
Cardboard Tube Mini-Apples @ Naturally Educational
These apples are made using 3 circles cut from a toilet paper roll.

Cinnamon Apple Wreath Craft @ All Kids Network
Use a paper plate, a printable apple template, paper, and a few other supplies to make this fun autumn decoration.
Clear Lid Apples @ 4 Crazy Kings
These apples, which make fun sun catchers, are made using 2 plastic lids, tissue paper, and real apple seeds.
Coin Art Apples @ Gummy Lump
Show your kids how they can make this unique apple by rubbing the side of a crayon over coins.


Easy to Handle Apple Printing @ Catholic Icing
Such a genious idea! Show your kids how to make apple prints by using a half an apple with a corn cob holder handle.
Fabric Scrap Apple @ Baby Center
It will take just a few minutes to whip up one of these apples using a scrap of fabric, a ball of fiberfil or cotton balls for stuffing, and a chenille stem.
Hand Print Apples in a Basket @ Moments of Mommyhood
The apples in this fun basket craft are made by painting the palm of your child's hand.


Little Apple Yarn Favors @ Makes and Takes
Not only can you make miniature red apples using yarn and a chenille stem, you can make green and yellow apples also.
No Bake Apple Pie @ Chasing the Goose
Kids of all ages will love this fun and unique apple craft.
Paper Apple Garland @ Parents
These apples are so simple to make and I love that the garland has almost a rustic feel to it.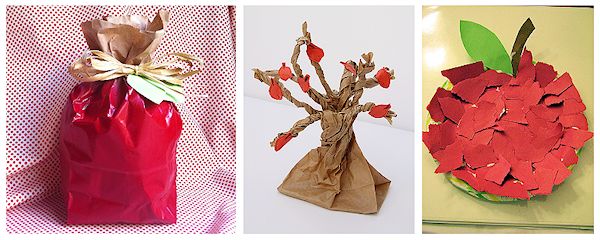 Paper Bag Apple @ Skip to My Lou
This apple was made to be a gift bag, but it can also just be stuffed with balls of newspaper and used as a decoration.
Paper Bag Apple Tree @ Creative Jewsih Woman
All you need to make this artistic tree is two paper bags, some red paper, and a pair of scissors.
Paper Plate Apple @ Th Ramblings of a Crazy Woman
All you need to make this fun apple is a paper plate, some paper, and some glue.


Paper Plate Apple Basket @ Free Crafty Ideas
A fun and easy craft made by decorating paper plates to look this an apple basket. Young kids will have fun putting the apples in and out of the basket.
Plastic Bottle Apples @ Krokotak
Although this tutorial is not written in english, it is still easy to figure out how to make this craft using all of the step-by-step pictures.
Recycled Apple Craft @ No Time for Flash Cards
I love the simplicity of this apple craft which is made from a single toilet paper roll.

Stained Glass Apples @ Sarah's Journal
This fun apple piecture is made using tissue paper and was paper and it is framed with construction paper.
Tissue Paper Apple Craft @ Krafty Kids
This apple collage craft is easy to make with the printable template provided.
What's Inside an Apple @ Crafts for Preschoolers
Use red and white paper to make two halves of an apple and then attach them together using a brad.


Wiggle Worm Apple Preschool Craft @ Mommy Savers
Your child will no only enjoy making this puppet, they will have fun playing with it.
Worms in My Apple Game @ Mama Jenn
This is a fun file folder game you can let the kids help you make and then they can play it over and over again.
Yarn Paper Plate Apple @ Frogs and Snails and Puppy Dog Tails
Start out by letting the kids color a paper plate red, and then let them practice their cutting skills by snipping off short pieces of yarn to glue to their apple.
I hope you and your kids enjoy making all of these fun crafts. As you visit each project, make sure you take a moment to leave a comment and tell them Sherri at About Family Crafts sent you.