Are you working on a special craft project right now? Do you usually work on projects that take several days, or even more, to finish or do you prefer something that gives you instant gratification? I love quilting, which can usually take several days, but sometimes if I am in the mood for something quicker I will choose to make a baby quilt!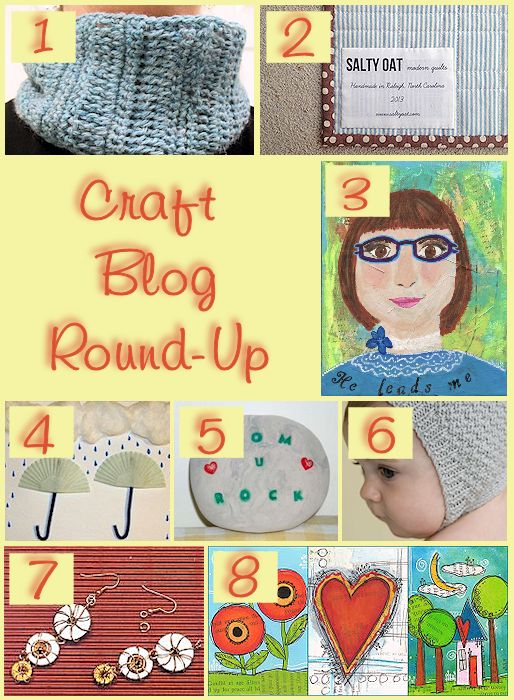 I hope you find the time to browse through all of these great posts.
#1 – Infinity Scarf Pattern – Follow along with this free pattern from Crafty Princess Diaries and you can use amazing alpaca yarn to make a scarf.
#2 – Quilt labels – Discover how you can create your own personalized quilt labels at Spoonflower fabric printing.
#3 – He Leads Me – Amazing artist Cherie Burbach explains how she was inspired by a favorite Bible passage for a new print.
#4 – Spring Weather Crafts for Kids – Find some fun and easy craft projects the entire family can do together.
#5 – Mother's Day Craft Tutorials – Eileen gathered together some of her favorite projects that would make perfect Mother's Day gifts.
#6 – Baby Bonnet Knitting Pattern – Check out this free baby bonnet knit pattern and make a gift for your little one.
#7 – Craftside-A behind-the-scenes peek at our crafty world – At Craftside this week you can learn how to make earrings out of washers, read an interview with Icelandic Handknit's author Helene Magnusson, and a recipe for a hot apple pie cocktail.
#8 – ACreativeDream – If you aren't sure what mail art is, pop on over to June's blog and find out; then, you can sign up to participate in her mail art party.