I am having a lot of fun working on these Christmas crafts and I hope you are taking some time to try them.  I had some Hershey's Kiss candies in my craft room to use with the clear tube challenge so I thought I might try to make an ornament using them.  I came up with this mouse, but it can easily be made into any sort of animal instead.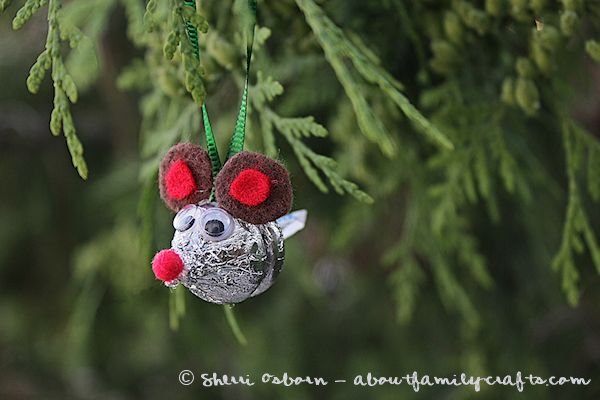 This project takes just a few simple supplies and also very few minutes to complete.
Supplies to Make One Candy Kiss Mouse
2 Hershey's Kiss Candies
Ribbon
Hot Glue Sticks or Craft Glue
Felt
Google Eyes
Small Pom-Pom
Tools to Make the Candy Kiss Mouse
Scissors
Hot Glue Gun (if you choose hot glue sticks over craft glue)
Start out by cutting a piece of ribbon about 8-inches long. Fold it in half to form a loop.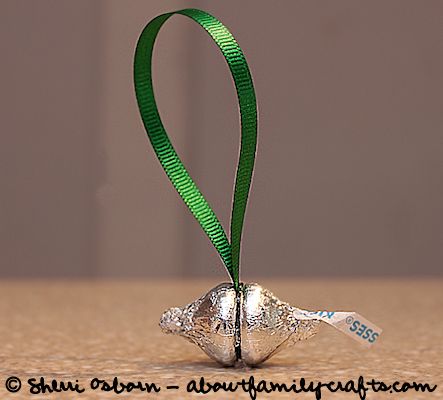 Place some glue on the bottom of one of the Hershey's Kisses. Press the ends of the ribbon into the glue. Place some glue on the bottom of the other Hershey's Kiss and press it onto the ribbon ends. The end result is that you will have the ends of the ribbon sandwiched between the two candy Kisses. This will be the hanger for the mouse ornament.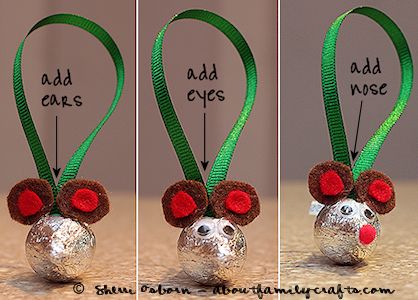 Now, you can use the basic craft supplies I suggested above or use whatever you have on hand to make the facial details of the mouse. Before I did anything, I removed the Hershey's Kiss tag from the candy that was going to be the mouse's face. I left the other in place to be the mouse's tail.
I cut two circles out of brown felt and two smaller circles out of red felt. I glued these together to form the ears and then glued the ears to the candy Kiss mouse just in front of the ribbon.
I glued on two wiggle eyes in front of the ears. I glued a small red pom-pom on to be the mouse's nose. Once all of the glue is dried or cooled, your ornament is ready to hang.
Have fun experimenting with this craft. What kind of animal will you make?