I love it when my grand kids come to visit, and I especially love trying to come up with creative activities for them to do. Three of my four grand kids are toddlers so they are at the age where they love to try everything. They especially love going into my craft room and exploring what is on the shelves.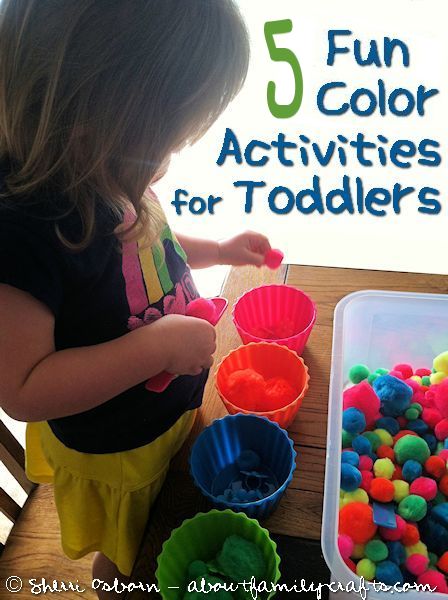 I made these sorting and matching color activities and tested them out on my toddlers, and they were a big hit! The favorites seemed to be the color sorting cups and the color match chicks and eggs.  I thought my granddaughter would love the peg dolls, but she was more interested in the cups.
Color Sorting Cups
Toddlers will sit for quite awhile putting things inside any container, dumping them out, and then putting them back in again.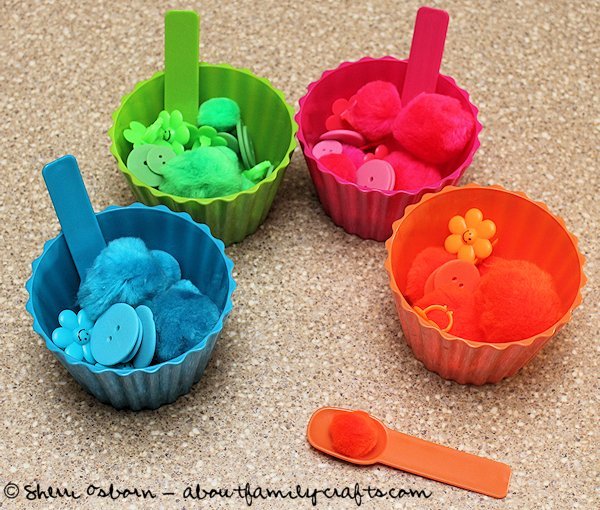 I found the neon ice cream dishes with matching spoons at Party City.  To go inside each dish, I found pom-poms in a variety of sizes, large buttons, and flower-shaped smiley face rings that all matched the colors of the bowls. I put all of these items in a large container and mixed them up. I then had my grand kids try to use the spoon to scoop up the items and put them in the matching bowl.  They loved this color sorting game!
Color Matching Chicks and Eggs
My grand kids enjoyed putting the chicks in the matching eggs and then pulling them out again.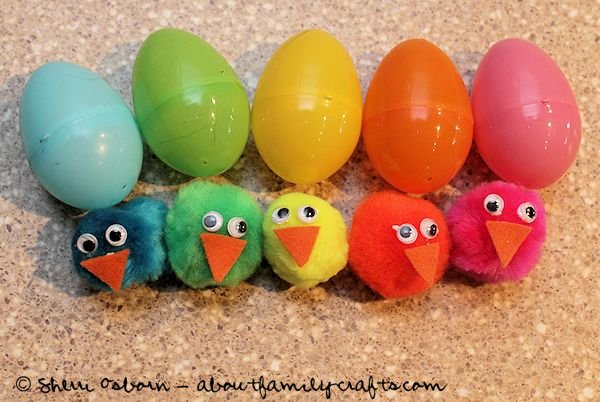 I actually bought the colorful eggs on clearance after Easter. I made each chick by cutting a triangle out of orange felt, and gluing that onto a pom-pom along with a pair of wiggle eyes. Once the glue was dry, I popped each one into the egg of the same color.
Peg Doll Color Drop Game
I thought this would be my granddaughter's favorite color game because she loves her 'babies', but she really loved filling and emptying the coloring sorting cups so spent most of her time with that activity.  Not to say that her and my grandson's didn't like this activity. They did have fun trying to get the peg dolls out of the bottle and then putting them back in. While they did it, we would say the colors out loud and also count the dolls.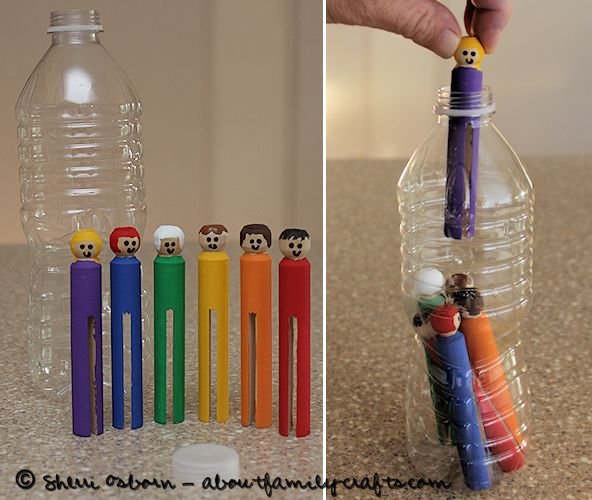 I used acrylic paint to dress up old-fashioned six clothespins. I used a different color for each body, and also for each doll's hair. I didn't paint the ball end of the clothespin; I left the face the natural wood color. I used black paint to add eyes and a mouth. Once the paint was dry, I sprayed each clothespin with a clear acrylic sealer.  Once that was dry, I slipped them all into a clean, dry plastic bottle.
Color Matching Popsicles
Well, who doesn't like popsicles? My grand kids thought these were pretty nifty and also enjoyed being silly by pretending to each them and then laughing at each other. They did well matching the colored sticks to the correct popsicle, although they did struggle a little bit with pinching the clothespin open and they needed help putting it in place on the popsicle.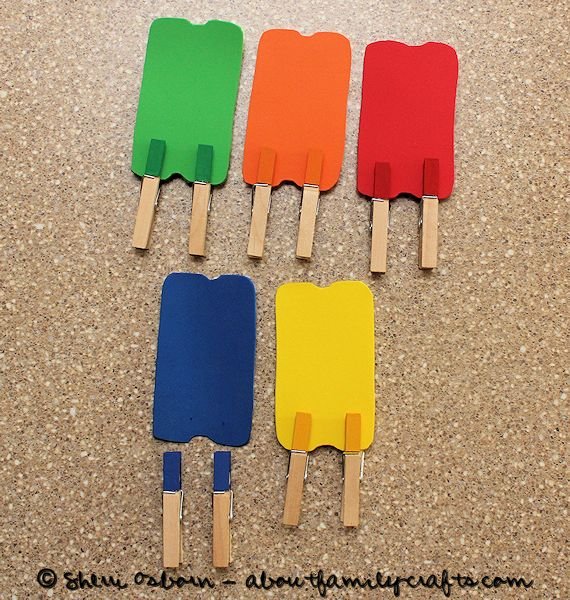 I started out by painting the clothespins, then you can cut out the popsicles while you wait for the paint to dry. As you can tell by looking at the picture, I painted just the top (pinching part) of the clothespins. You need two color-coordinated clothespins, aka popsicle sticks, for each popsicle. Once painted, set them aside to dry.
You can draw your own popsicle pattern or print out this pattern I created (you can download either the JPG or PDF version: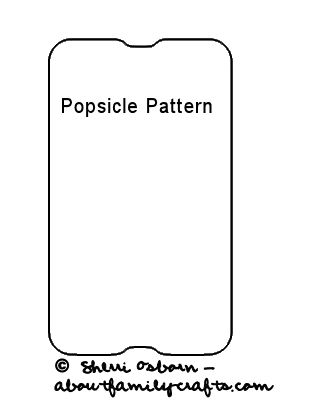 Download:
| PDF | JPG |
Cut out the popsicle pattern and trace it onto craft foam. Obviously, I used 5 different colors, but you can use as many or as few as you like.  Cut out the craft foam popsicles and then you can clip the painted clothespins onto the bottom of each one.
Show your toddler the assembled popsicles and then un-clip the clothespins and mix them up in a pile. Encourage him or who to choose a clothespin and clip it onto the correct popsicle.
Button Sorting Cups
I came up with this fun color activity after I originally wrote this collection, so you can fin the directions to make these simple sorting cups here: Button Sorting Cups tutorial.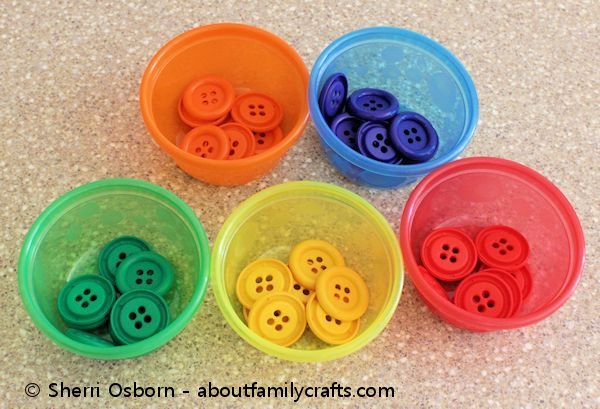 I hope your toddler enjoys these fun color matching activities. If you would like to craft with your toddler, check out this article so you know what supplies to gather up; of course, you might also want to read about what craft supplies to avoid.  You might also want to explore these toddler activity links I found: