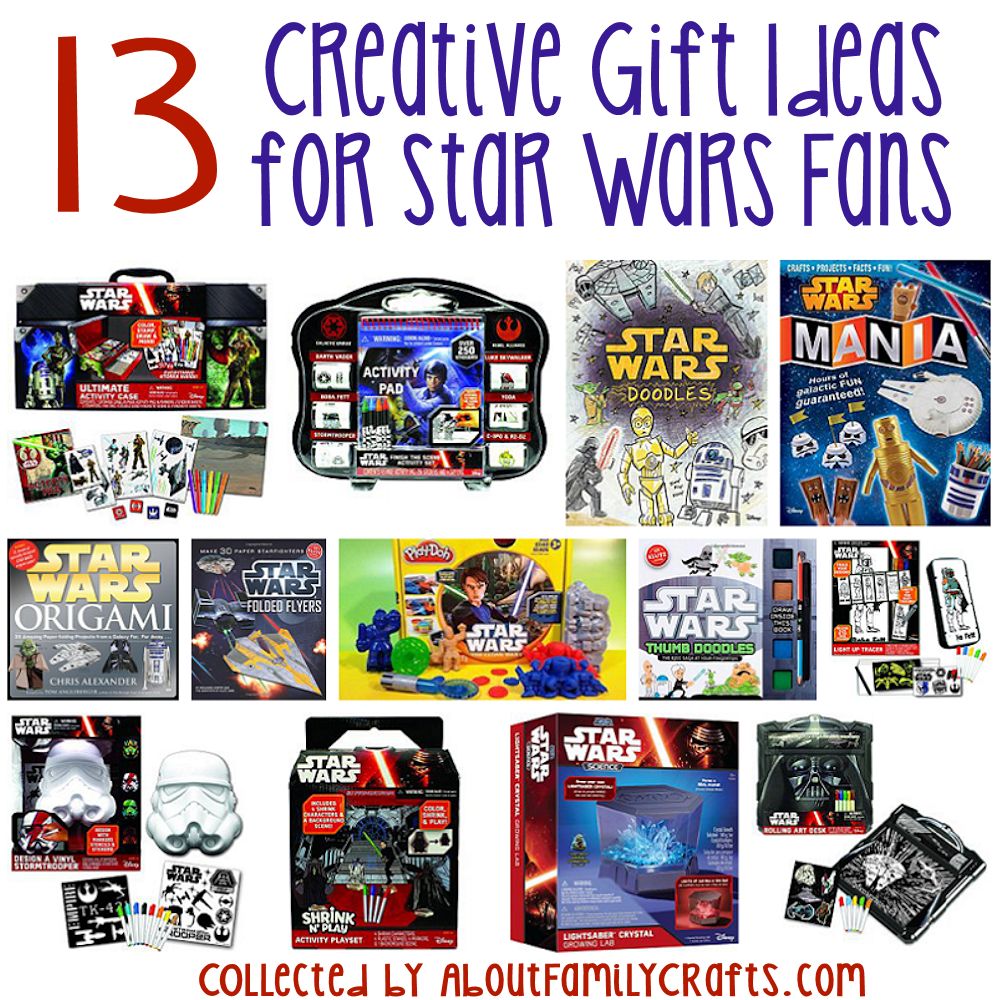 Are you wondering what to get your favorite Star Wars fan for Christmas? Check out this list of fun gift ideas that will get their creative juices flowing without any help from the Force! YOur favorite fans, both young and old, can have fun with drawing, stickers, clay, and much more. No matter the age, something here will appeal to your favorite Jedi!

Star Wars Deluxe Design a Vinyl Storm Trooper Play Set

Decorate the Storm Tropper head however you like!

Star Wars Origami

Learn how to use a simple sheet of paper to make Boba Fett, Princess Leia, Yoda, and more.

Star Wars Folded Flyers: Make 30 Paper Starfighters Craft Kit

Learn how to fold custom-designed paper into fancy Star Wars flyers.

Star Wars Shrink N' Play Activity Play Set

Use shrink plastic to create 4 Star Wars characters.

Star Wars Darth Vader Rolling Art Desk

This Darth Vader shaped 'disk' hold a 50 foot roll of ready to color activities.

Star Wars Science – Lightsaber Crystal Growing Lab

Grow your own crystals and light them up Jedi blue or Sith red.

Star Wars Ultimate Activity Case Play Set

Kit includes an activity pad, magnetic scenes, foam stampers, mini markers and metallic stickers.

Star Wars Doodles Book

Draw, color, and create with all their favorite characters from the Star Wars films.

Star Wars Light Up Fun Tracer Play Set

Trace your favorite Star Wars characters and even make fun scenes.

Play Doh Star Wars Activity Kit

Use the molds to make Anakin Skywalker, Battle Droid figures, and even Light saber weapons.

Star Wars Mania

Learn how to make a variety of fun Star Wars crafts!

Star Wars Finish The Sticker Scene Play Set

Each of these 45 activity pages can be colored and completed with stickers.

Star Wars Thumb Doodles Book and Kit

Learn how to draw your favorite Star Wars characters using your thumbprint.