One of the things I love about the Internet is being able to spend endless hours exploring. Of course, one of my favorite things to explore are other crafty blogs. Over my 16+ years writing online and designing crafts, I have met some amazing crafters, and here are some posts from some of my favorites.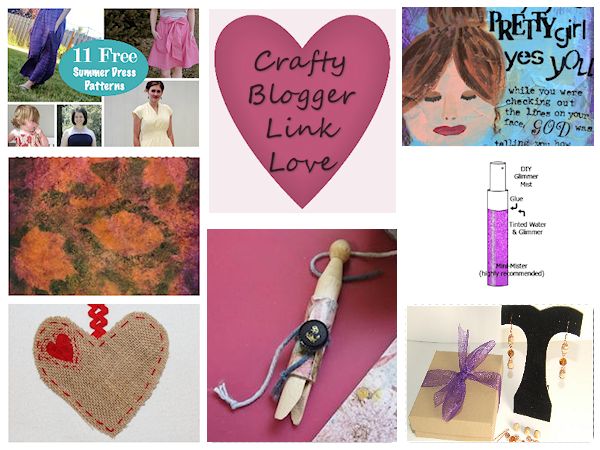 11 Free Sundress Patterns for Summer – The Craft Foxes scoured the web to find a collection of free sundress patterns and they were nice enough to share them with all of us.
Background Papers Galore – Cyndi's list of tutorials about how to create your own background images, for both physical and digital projects, is amazing. Check them out!
Burlap Heart Hanger – This instruction sheets explains how you can make a stuffed heart using burlap and potpourri or cinnamon sticks.
Craftside – A behind-the-scenes peek at our crafty world – There is so much to explore this week at the Craftside blog. Watch a video featuring Helen Hiebert who talks about some fun paper projects from her new book titled Playing With Paper, learn how to make a clothespin book, learn how to stamp on fondant, and much more.
Hey You! – This week, Cherie shares three paintings that she added inspirational wording to.
Make Your Own Glimmer Mist to Add Panache to Projects – Eileen shares her recipe for making your own glimmer mist using a few inexpensive art and craft supplies.
Wholesale Jewelry Kits – Get a major jewelry deal with this bundle of earring kits, now available at a wholesale price.