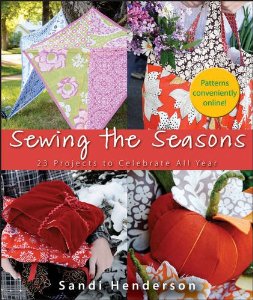 The subtitle of this book is misleading; while there are 23 formal projects in this book, you get much more than that with this book.  You will also find eight seasonal recipes along with an extra bonus of eight downloadable embroidery patterns. There are two of each for each season.
The author, Sandi Henderson, has broken this book down into 4 logical sections. As the book title suggests, you will find projects grouped together for spring, summer, autumn, and winter. As I already mentioned you will find related recipes in each section along with the sewing projects.  Each section is introduced with a two-page spread that is comprised of a collage of pictures of the projects from that section on a background that features a couple of embroidery designs (the bonus patterns I told you about above).
There is a nice range of sewing projects shared in this book.  You can make a variety of accessories, clothing items, and household goods.  Make a tote bag to take along to the farmer's market, a lunch bag that features a fun apple-shaped flap, and recyclable storage bags for pencils and other small items. You can sew up some fancy ties for your favorite guys or a fashionable petticoat or pair of bloomers for a special gal.  Amongst the more unique projects shared in this book, you will find directions for making your own colorful umbrella, a pretty kite, and a tee-pee tent.
While the book contains all of the directions and illustrations you need to complete each project, you will need to have access to the internet and a printer for the pattern pieces.  The author and publisher have made them all available online so you don't have to worry about tracing them or cutting them from the book or about losing them.
Of course, you can tackle the projects in this book in any order you like.  While some of them are a little more season specific, like the Ice Cream Sundress or the Shabby Pumpkin decorations, many can be altered a little to cover more than one.  I, for one, am thinking of leaving this book on my craft table all year long and tackling the projects as each season arrives…  Buy Sewing the Seasons: 23 Projects to Celebrate the Seasons
(affiliate link).
Disclosure: A review copy of this book was provided by the publisher. No further compensation was given and all opinions are my own. As noted above, this post contains affiliate links. See my disclosure policy for details.