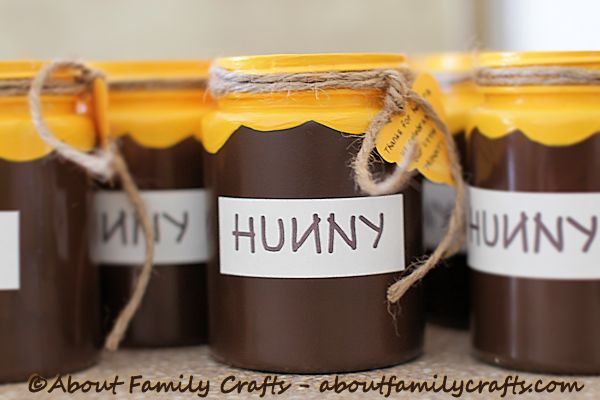 I made these cute honey pots to use as table decorations at a Winnie the Pooh themed baby shower. I filled them with Bit-O-Honey Candies and sent them home with the guests as party favors. I even created a cute little tag in the shape of a bee that said "Thanks for helping us celebrate our little HUNNY".
There are very few supplies you need if you would like to make this cute decoration or party favor:
Supplies You Need:
Plastic or Glass Jar
Brown Spray Paint
Yellow Acrylic Paint
Yellow paper or cardstock
Sticker Paper
Bee Template (below)
HUNNY Label Template (below)
Jute Twine
Tools You Need:
Paint Brush
Printer
Scissors
Hole Puncher
I started off by painting each jar brown. Work in a well ventilated location and use a few coatings of brown spray paint to cover the jar. Let the brown paint dry completely and then use a paint brush to paint yellow around the top of the jar to look like honey. It will take a few coats of the yellow paint to get good coverage over the brown paint. Set the pot aside to dry.
Download the templates for the honey pot label and the bee tag (If you prefer, you can create your own labels and tags).  You can choose either PDF or JGP files to download.
Print the bee pattern onto yellow paper or cardstock. Cut out one bee for each pot you are making, Use a hole puncher to put a hole in the top of each bee.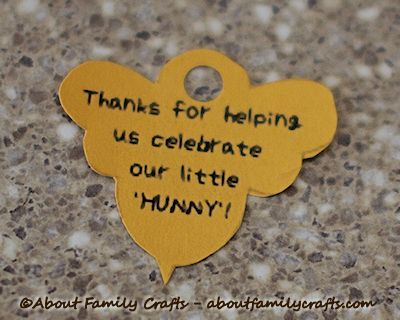 Cut a piece of jute twine that is about 24-inches long.  Wrap it around the top of the jar twice and tie the two ends together using an overhand knot.  Slip the bee tag onto one of the ends of the twine. Tie another overhand knot to hold the tag in place.
Print out the HUNNY labels onto sticker paper. Let the ink dry completely and then cut out rectangle-shaped jar labels. Cut one HUNNY label for each jar you are making. Remove the paper backing from the HUNNY label and carefully place it on the jar.
You can now fill the honey jar with a sweet treat, stuffed bees, or anything else you like. If you make these for a party you are throwing, make sure you let us know how it turns out!