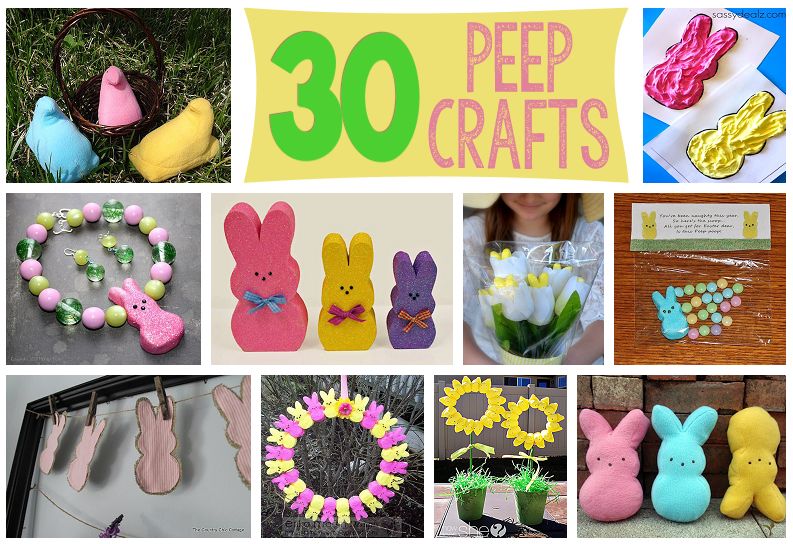 Need an excuse to buy extra Easter candy? If so, check out this collection of Easter Peep crafts! Some of these craft projects use actually Peep bunny and/or chicks in creative ways and others are simply inspired by these sugar coated marshmallow treats.
Do these projects inspire you to craft, eat or both?
(If you are looking for edible Peeps projects, check out this collection of Peep Inspired Recipes.)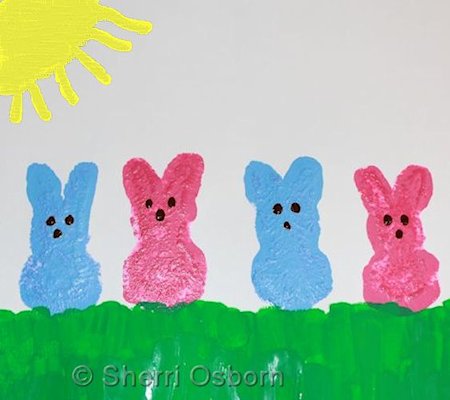 1 – Spring Bunny Painting from Me!
Learn how to use Peep bunnies as stamps.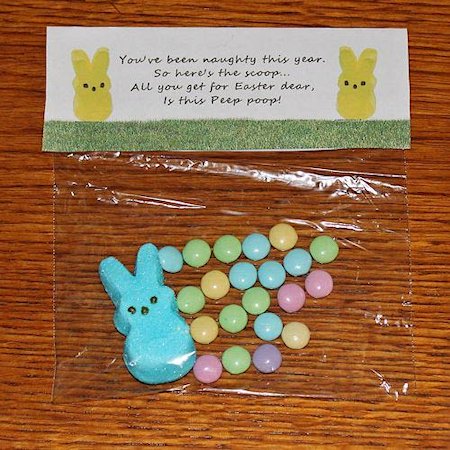 2 – Peep Poop Craft from Me!
Make up a bag of Peep poop and print out this free bag tag.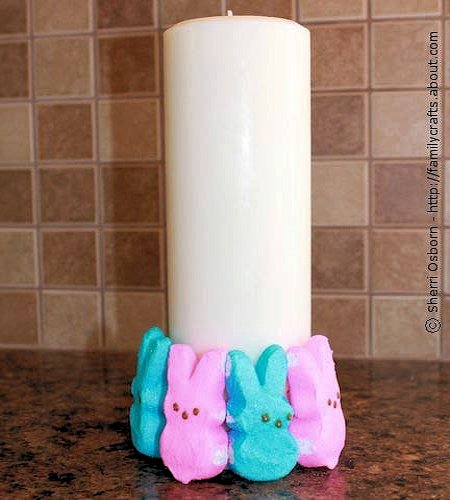 3 – Peeps Candle Craft from Me!
It will only take you a few minutes to make this Easter decoration.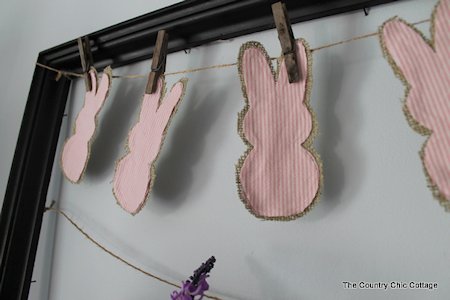 4 – Rustic Peeps Bunny Garland from The Country Chic Cottage
Make lovely garland using a Peep bunny pattern, burlap, and fabric scraps.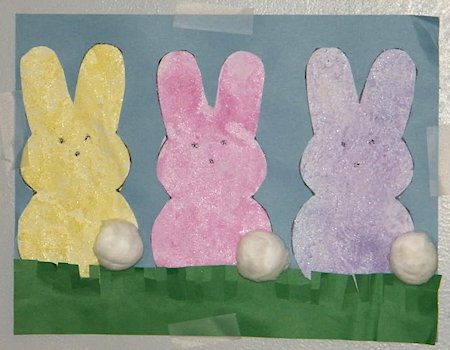 5 – Peep Salt Art from Adventures in Mommy Land
Show your kids how to paint their own Peep pictures using paint mixed with salt.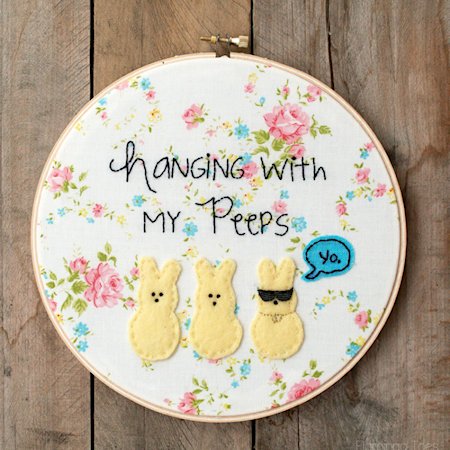 6 – Spring Peeps Embroidery Hoop Art from Flamingo Toes
Decorate your how for Easter using this sweet and easy embroidery project.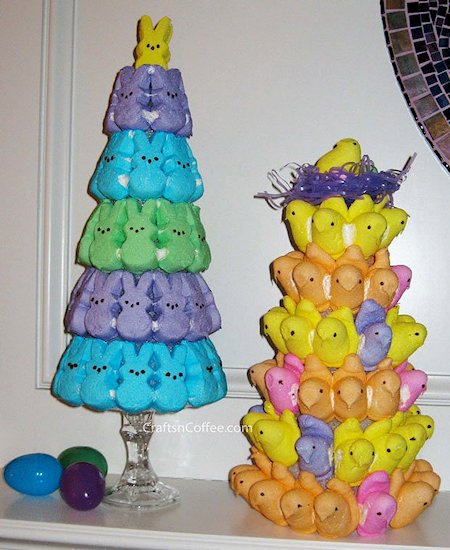 7 – Peeps Topiary from Crafts N Coffee
Learn how to make a topiary using either Peep chicks or bunnies.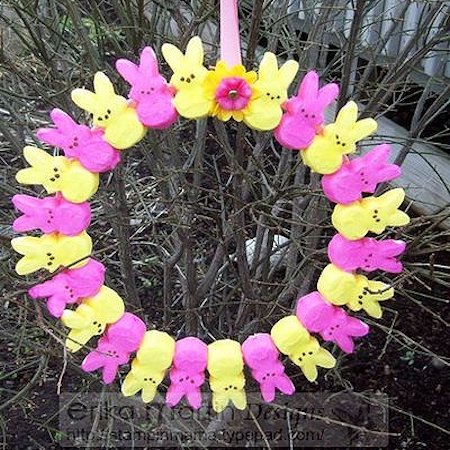 8 – Peeps Bunny Wreath from Living the Creative Life
Learn how to make a wreath using bunny-shaped Peeps and an embroidery hoop…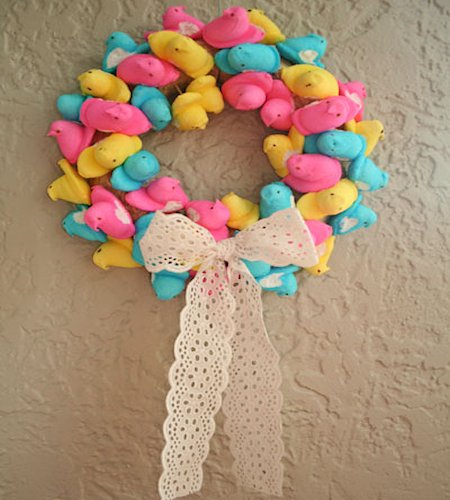 9 – Peeps Chick Wreath from Tried and True Blog
…Or with chick-shaped Peeps and a straw wreath.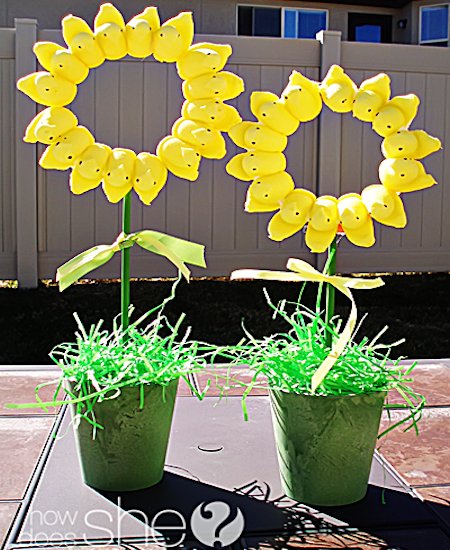 10 – Peeps Sunflower Topiary from How Does She
Make a topiary that resembles a sunflower.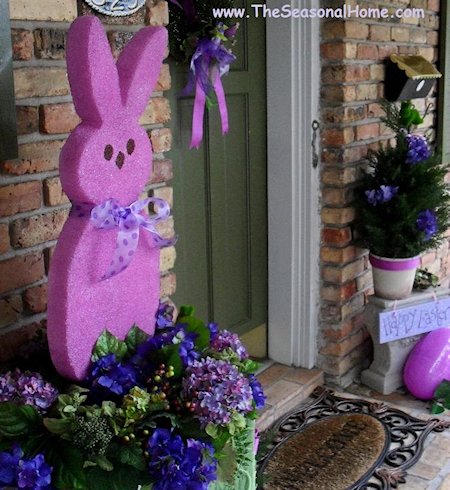 11 – Large Peep Decoration from Craft-O-Maniac
Make on over-sized Peep bunny using a sheet of styrofoam.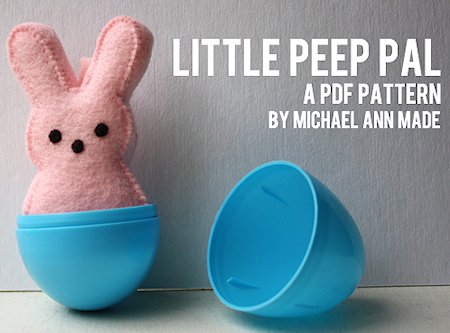 12 – Little Peep Pal by Michael Ann Made
Use this free pattern and felt to make little Peep toys.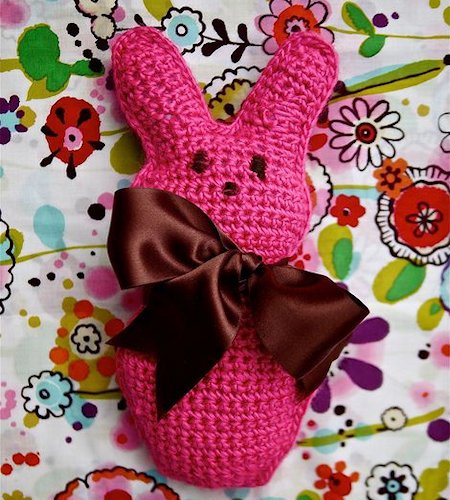 13 – Crocheted Peep from Vickie Howell
Grab some brightly colored yarn and use this free crochet pattern to make a peep.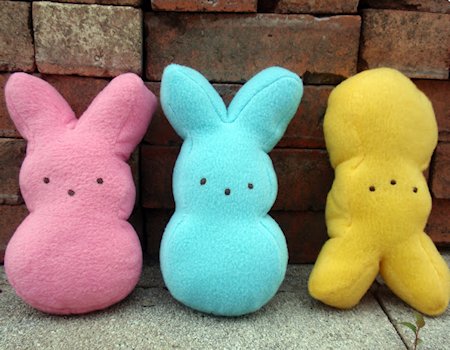 14 – Bunny Peep Plushie from Dandelions and Lace
With this pattern, you can make a plush bunny your kids will love to snuggle…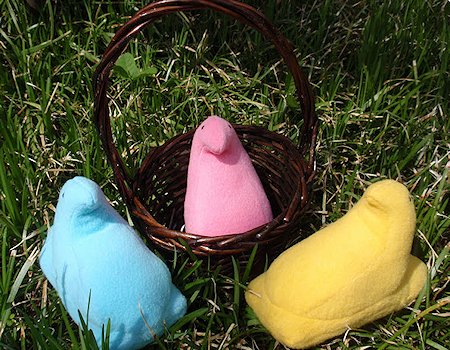 15 – Chick Peep Plushie from Dandelions and Lace
… Or perhaps they would prefer a Peep chick!?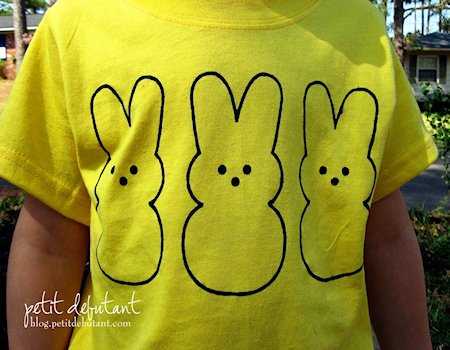 16 – Bunny Peeps Shirt Stencil from Petit Design Co.
Dress up a t-shirt using this free pattern.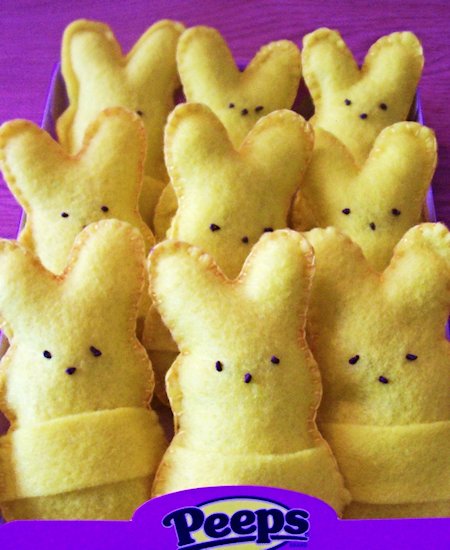 17 – Felt Bunny Easter Gift from Mommy Savers
This stitched bunny has a special pocket (or arms) to hold a gift.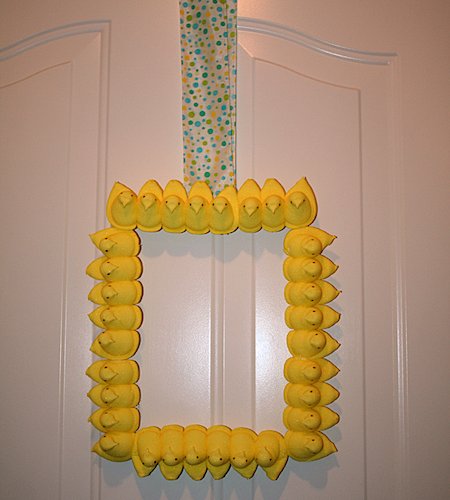 18 – Square Peeps Wreath from Everyday Celebrating
Make a unique wreath out of an unwanted picture frame.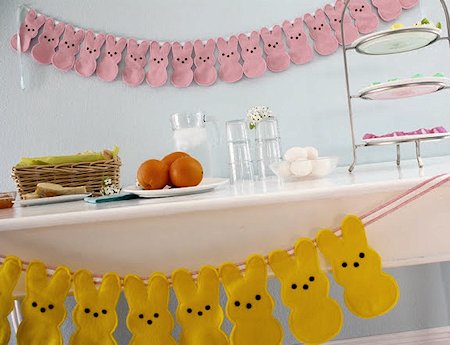 19 – Peeps Bunny Bunting and Door Hangers from Dana Made It
These bunnies make great Easter decorations.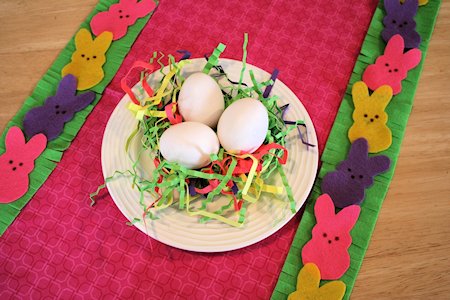 20 – No-Sew Felt Table Runner from Chica and Jo
Use felt and glue to make this table topper.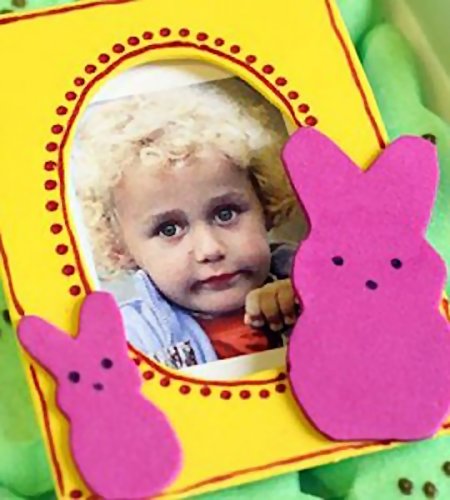 21 – Peeps Picture Frame from Country Woman Magazine
Use craft foam and a cookie cutter to make a unique easter frame.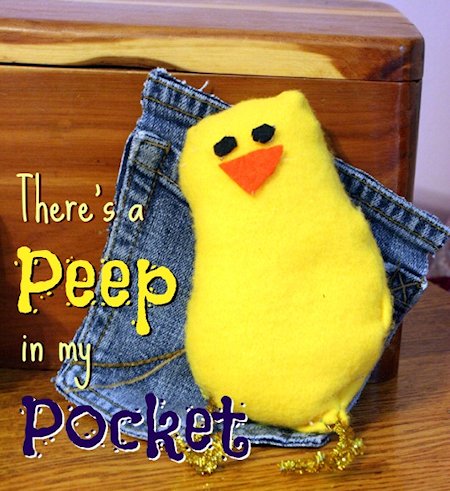 22 – Peep in My Pocket Craft from Two Kids Cooking
Learn how to make a chick using felt and apocket cut from jeans.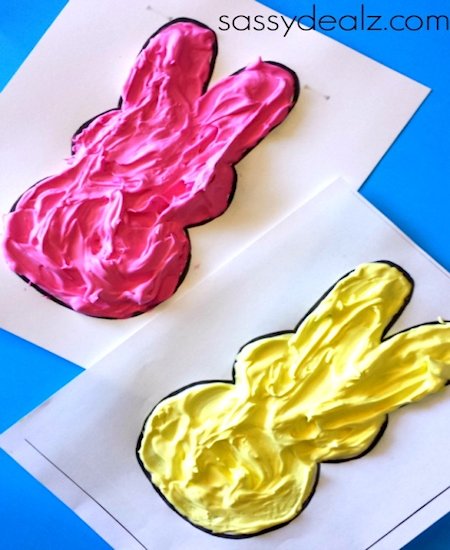 23 – Peep Puffy Paint Craft from Sassy Dealz
Paint pitures of Peeps using colored shaving cream.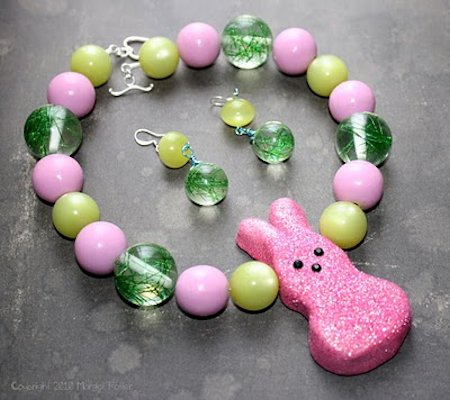 24 – Pretty in Peeps Pendant from The Impatient Crafter
Find out how you can use Sculpey Ultra Light to make a Peep.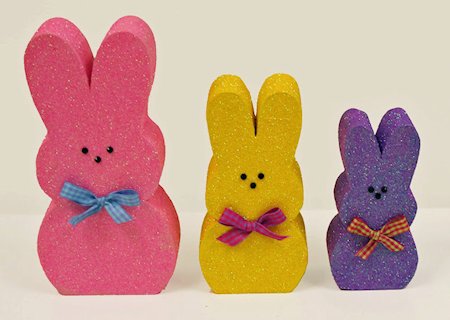 25 – Wooden Peeps from Oh My Crafts
Paint wooden bunny shapes to look like peeps.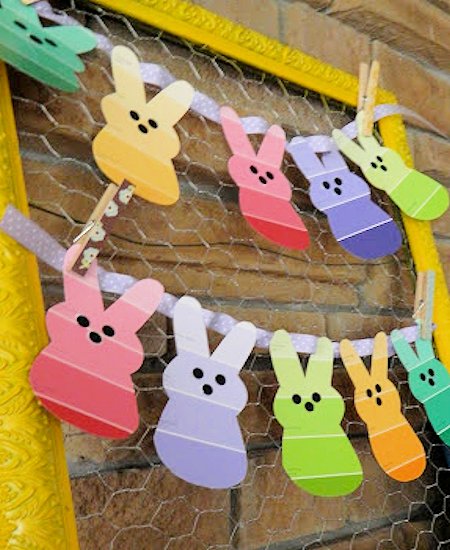 26 – Paint Chip Bunny Garland from Jenni Can Knit
Make a colorful Easter decoration using paint chip cards.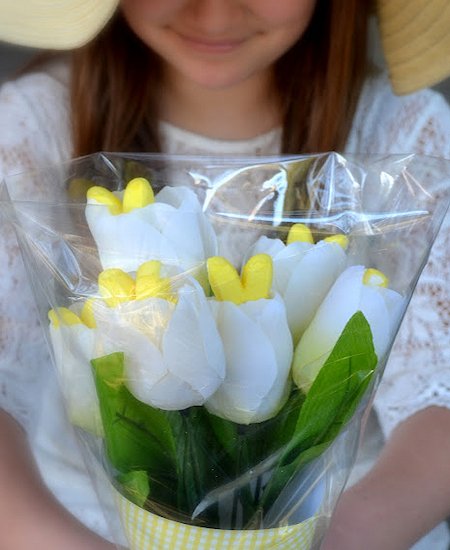 27 – Peeps Bunny Bouquet from Rook No. 17
Combine Peeps ccandy with dollar store flowers to make this amazing gift.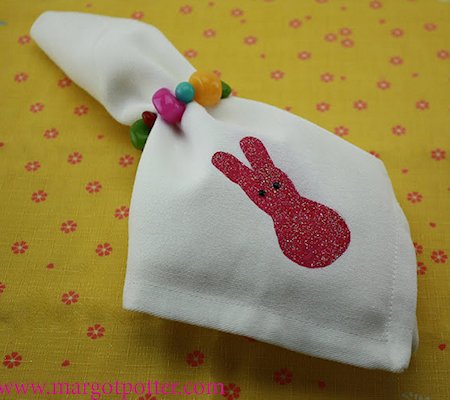 28 – Peeps Stenciled Napkins from The Impatient Crafter
Learn how to make a stenciled napkin and a festive napkin ring.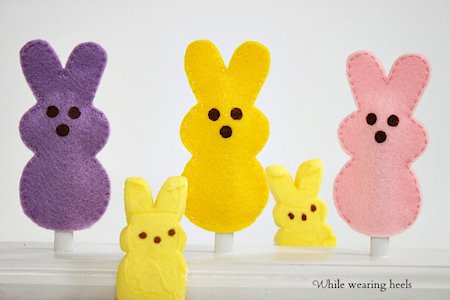 29 – Peeps Finger Puppets from One Artsy Mama
Use felt to make colorful puppets for the kids.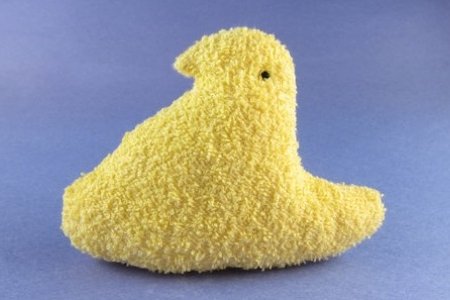 30 – Peep Bath Buddy from Just Crafty Enough
Use terry cloth to make this stuffed chick bathtub toy.
So, do any of these projects inspire you to save some of your Easter candy for crafting?