This project was inspired, in part, by my Margarine Tub Craft Challenge. Knowing my granddaughters were coming for a visit, I prepped the margarine tubs for them to have some fun with.! I showed them how to turn them into funny-faced friends they could even give haircuts to!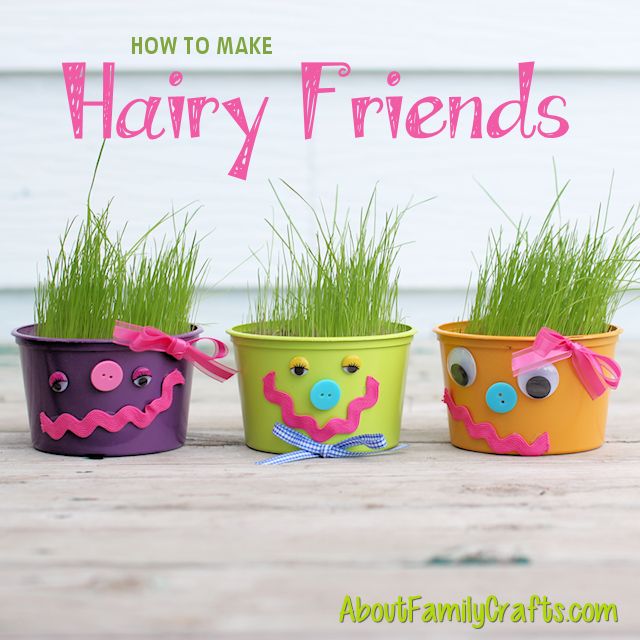 Not only are these hairy friends adorable, they are a great way for preschoolers to get some practice with scissors and work on their fine motor skills. The grass will keep growing, and your child can keep giving their hairy friends haircuts, as long as you remember to water it and give it some sunshine.
Supplies Needed to Make a Hairy Friend:
Margarine Tub (or something similar)
Primer
Paint
Google Eyes
Ribbon
Buttons
Rick-Rack
Glue
Potting Soil
Grass Seed
Tools Needed:
Paint Brush (if you use acrylic paint)
Scissors
Large Spoon or Small Plastic Cup
Spray Bottle
The first thing you need to do is make sure your margarine tub, or whatever container you use, is clean and dry. Take them outside and use spray on primer to prepare your bowls for the paint. I put parchment paper under my bowls, but you can use newspaper if you prefer.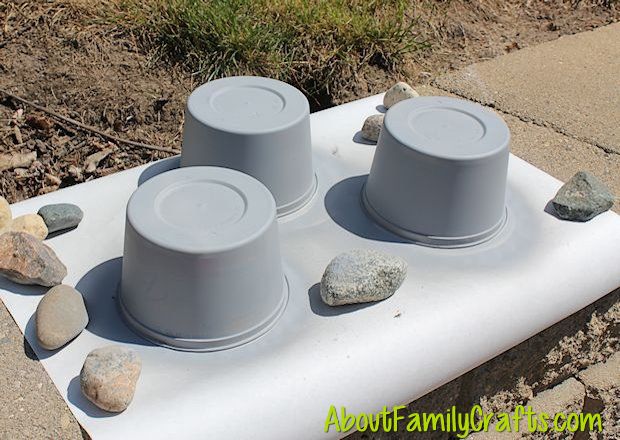 Let the primer dry and then spray your bowl a fun color. I used the colors I had on hand, otherwise I would have made a pink one for my 3-year-old granddaughter! 🙂
It took several thin coats to get a nice coverage on the bowl. Once I was happy with how the paint looked and the paint was dry, I flipped the bowls over and painted the top edge of the inside because it would be seen a little bit.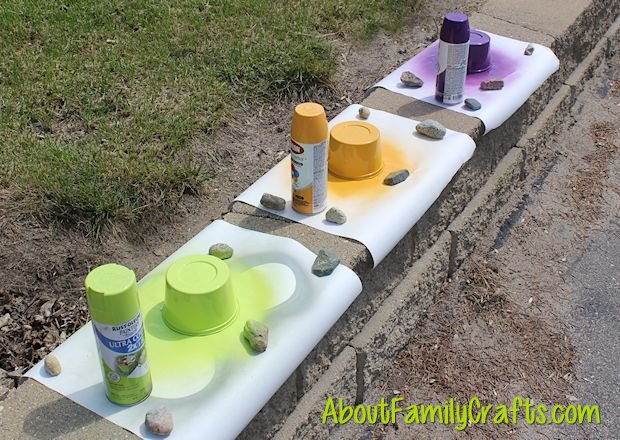 Let the paint dry completely before you move to the next step. I actually did the painting myself and gave them several days to dry before my granddaughters came to my house. If you want the kids to paint the bowls, consider using a brush on acrylic paint. To get a nice shiny finish, spray it lightly with a clear acrylic sealer.
Now it was time for some fun! I gave my granddaughters some google eyes, buttons, rick-rack, and ribbon to use. I cut the pieces for them as they are 3 and 18 months. For this age, glue dots work wonderfully! I placed the glue dots on the back of each facial feature and they placed them on the margarine tub. Older kids could use craft glue or even a hot glue gun and glue sticks.
I think they turned out adorable, how about you?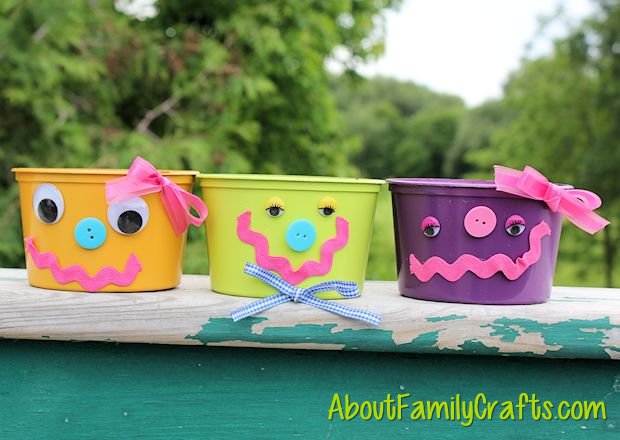 Once the faces were done, I let them use a large spoon to fill the bowl with potting soil. This was messy, but they had a lot of fun. I then let them sprinkle a generous amount of grass seed on top of the soil. I then mixed it in just a tiny bit.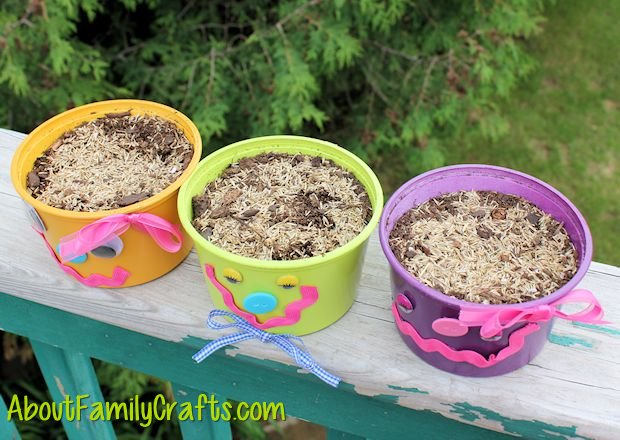 Keep the grass seed moist using a spray bottle with a fine mist and you should have some hair growing withing a week! Buy the fastest growing grass seed you can find! Let the kids water and check on the progress of the hair every day.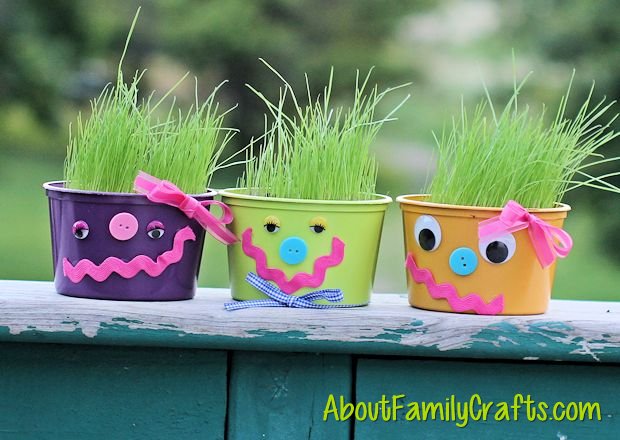 Once the hair gets a few inches long, give the kids a pair of scissors and let them give their friend a hair cut. Don't worry about cutting it to short, in a matter of days the grass will grow long again.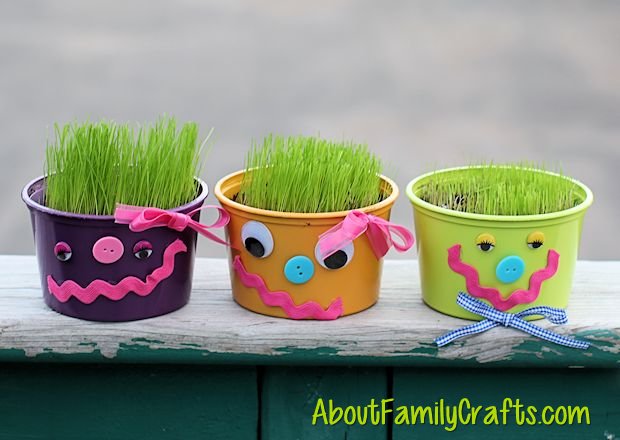 My 3-year old granddaughter enjoyed practicing with the scissors. My 18-month-old granddaughter preferred to play with the button and google eyes and wasn't too pleased when we glued them to the tub!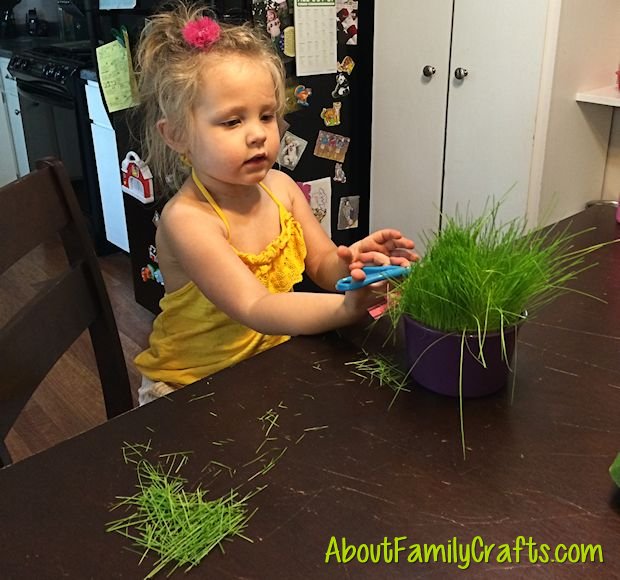 I hope your kids have this much fun.
Shared as part of Show Stopper Saturday at Will Cook for Smiles, Bewitch Me & Titi Party at Titi Crafty, Clever Chicks Blog Hop at The Chicken Chick, DIY Sunday Showcase at Pink When, Link It Or Lump It at Dream a Little Bigger, Share It Sunday at Denise Designed, A Round Tuit at Creating My way to Success, Craftastic Monday Link Up at Sew Can Do, Inspiration Monday at I Should Be Mopping the Floor, Inspire me Monday at Create With Joy, Mix It Up Monday at Flour Me With Love, Monday Funday at Uncommon Designs, Motivate Me Monday at Keeping it Simple, Mad Skills Monday at Mad in Crafts, Made by You Mondays at Skip to My Lou, Project Inspired at Yesturday on Tuesday, Awesome Things Tuesday at Sowdering About in Seattle, Caffeinated Crafters Tuesday Link Party at Artzy Creations, Take a Look Tuesday at Sugar Bee Crafts, Tip Me Tuesday at Tip Junkie, Too Cute Tuesday at Funky Polka Dot Giraffe, Treasure Box Tuesday at Memories by the Mile, Fluster's Creative Muster Linky Party at Fluster Buster, From Dream to Reality at The DIY Dreamer, Whimsey Wednesday at Simply Designing, Wonderful Wednesday Blog Hop at Ducks in a Row, Wow Me Wednesday at Ginger Snap Crafts, Wow Us Wednesday at Savvy Southern Style, Your Whims Wednesday at My Girlish Whims, Inspire Me Wednesday at Seven Thirty Three, Project Parade at This Silly Girls Life, Show and Tell Wednesday at SNAP Creativity, Wake Up Wednesday Link Party at A Peek into My Paradise, Whatever Goes Wednesday at Someday Crafts, Create it Thursday at Lamberts Lately, Moonlight and Mason Jars at The Newlywed Pilgrimage, Live Laugh Linky at Live Laugh Rowe, Pin It Thursday at Sweet Bella Roo, Showcase Your Talent Thursday What's Cooking Love.