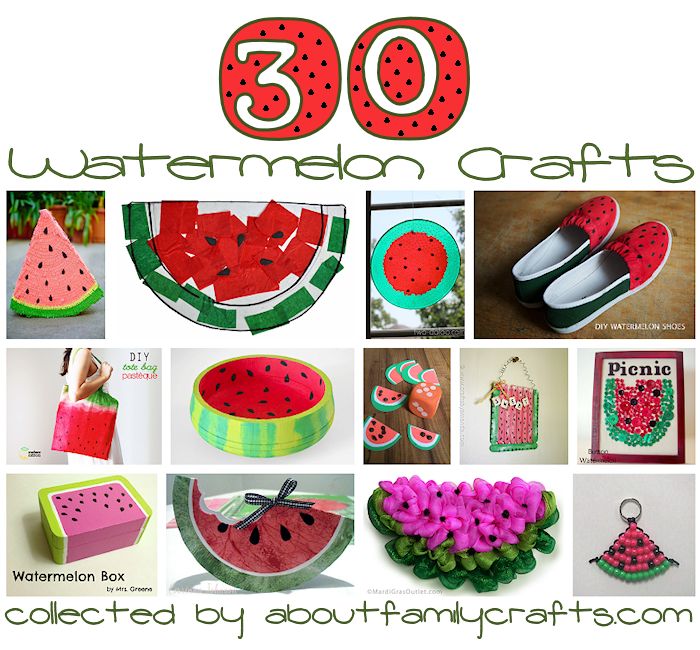 Being summer is a good enough excuse for me to want to make watermelon crafts; but, just in case you need another excuse to try one or more of these amazing watermelon crafts, how about making one or more of these to celebrate national Watermelon Day (celebrated on August 3rd)?
Anyone who knows me knows that I love coming up with my own family-friendly craft projects and I have two that are watermelon related so it makes sens that I share them with you first.


1 – Simple Watermelon Picture from Me
2 – Watermelon Sun Catcher from Me
After you try the watermelon projects I created, make sure you explore some of these amazing crafts. Make sure you leave comments and let all of these craft designers know how much you appreciate them sharing their projects with all of us.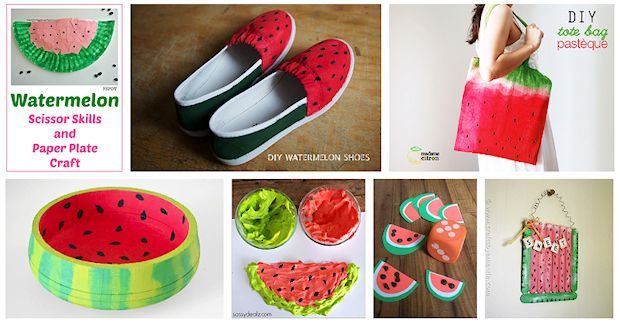 3 – Watermelon Scissor Skills Craft from Frogs, Snails and Puppy Dog Tails
4 – Watermelon Shoes from Kittenhood
5 – Watermelon Tote from Madame Citron
6 – DIY Watermelon Bowl from Dream a Little Bigger
7 – Puffy Paint Watermelon from Crafty Morning
8 – Edible Watermelon Seeds from Toddler Approved
9 – Craft Stick Watermelon from Crafts by Amanda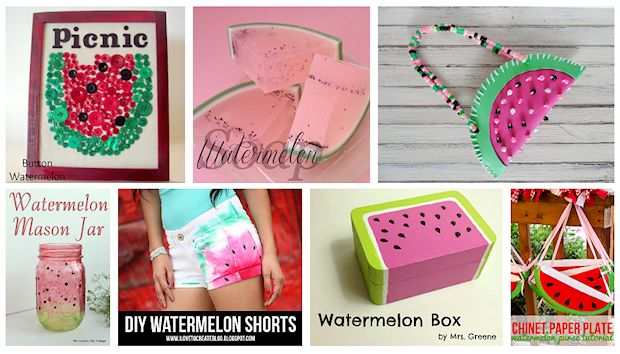 10 – Button Watermelon from Summer Scraps
11 – Watermelon Soap from Riverlea Soap
12 – Beaded Watermelon Purse from Ganz World
13 – Watermelon Mason Jar from The Country Chic Cottage
14 – Watermelon Tie Dye Shorts DIY from I Love to Create
15 – Painted Watermelon Box from Mrs. Greene
16 – Paper Plate Watermelon Purse from Love the Day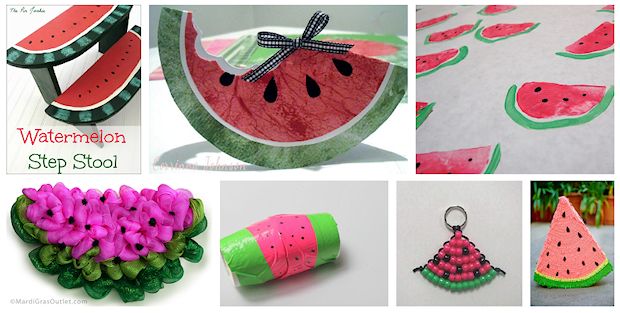 17 – Watermelon Step Stool Craft from Katherines Corner
18 – Watermelon Card Or Invitation from Squidoo
19 – Watermelon Wrapping Paper from Inner Child Fun
20 – Summer Watermelon Wreath Tutorial from Mardi Gras Outlet
21 – Summer Fun Watermelon Maracas from Kiwi Crate
22 – Watermelon Bead Pattern from Free Kids Crafts
23 – Watermelon Pinata from Oh Happy Day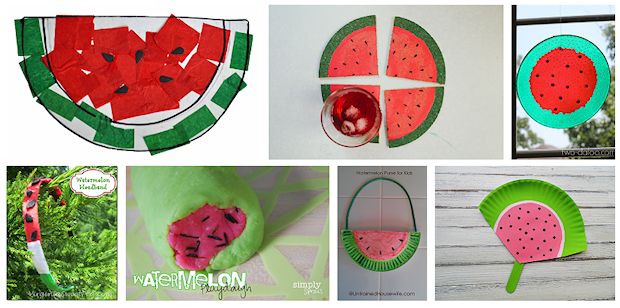 24 – Watermelon Crepe Paper Pic from Children's Learning Activities
25 – DIY Sliced Watermelon Coasters from Kittenhood
26 – Melted Bead Watermelon Suncatcher from Two Daloo
27 – Watermelon Headband from Virginia Sweet Pea
28 – Watermelon Playdough from Simply Sprout
29 – Paper Plate Watermelon Purse from Untrained Housewife
30 – Watermelon Fan Craft from Make and Takes