Whether you have a baseball (or softball) fan who is 2 or 102, they would certainly love it if you threw them a baseball themed birthday party.  Of course, all of these ideas can easily be modified to fit in with a softball birthday party.
This collection of amazing DIY birthday party ideas will help you create everything from start to finish. You can make personalized baseball or softball related invitations to help start the party right and then send them all home after the party with some fantastic party favors.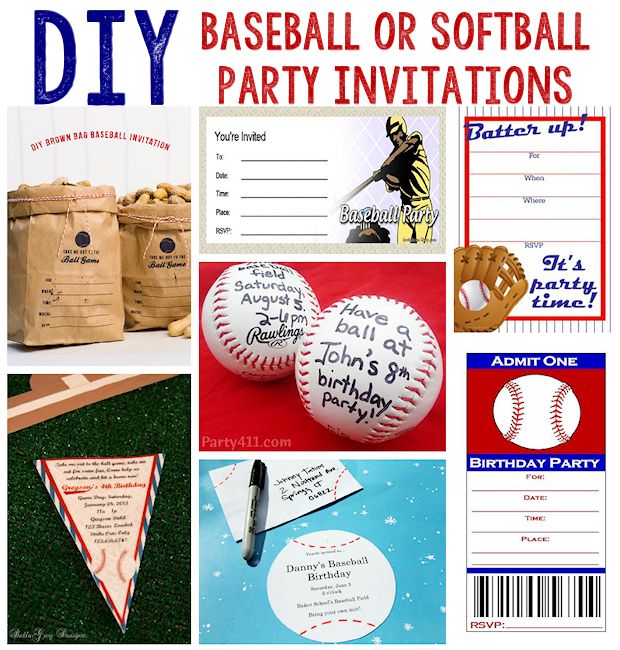 DIY Brown Bag Party Invitations from Confetti Sunshine
Print out this free party invitation template on a brown paper lunch bag.
Pennant Invitation from Spaceships and Laser Beams
Use this invitation as inspiration to create your own.
Printable Baseball Player Invitations from Invitation Shop
This printable invitation features an image of a baseball player swinging a bat.
Real baseball or Softball Invitations from The Daily Party Dish
Write the party information on a baseball or softball and deliver them to your guests.
Simple Cardstock Baseball or Softball Party Invitation from HGTV
Cut a circle from cardstock and draw the stitch lines on it. You can even add stitch lines to the envelope.
Blank Batter Up Card from Hub Pages
This printable birthday invitation features a ball and glove image.
Printable Baseball Ticket Birthday Party Invitation from Sherri
This printable baseball party invitation looks like a ticket to a baseball game.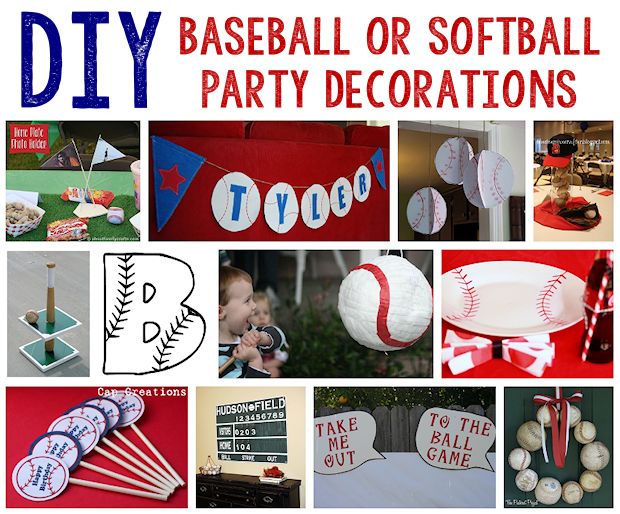 DIY Home Plate Photo Holder from Sherri
Learn how to make a photo holder that looks like home plate.
Fabric Baseball Banner from Nap Time Crafting
Learn how to make a fun baseball themed banner that can spell out any message.
3D Baseball Decorations from Pitter Patter Art
Let the kids help you make hanging decorations using fingerprints on paper.
Baseball Centerpieces from The Obsessive Crafter
Sometimes doing something simple, like filling a large vase with baseballs, will give you an amazing decoration.
Baseball Cupcake Stand Tutorial from Growing with the Gimlins
Discover how you can make a cupcake stand using a real baseball bat.
Baseball or Softball Alphabet Letters from Craft Jr.
Use these printable letters to make signs and banners.
Baseball Pinata from Craft Corners
Learn how to make a pinata that looks like a baseball.
Baseball Plates from Spaceships and Laser Beams
All you need to dress up your baseball table is a white plate and a red sharpie.
Baseball Printable Cupcake Toppers from Cap Creations
Download and print out cupcake toppers that look like baseballs.
Baseball Scoreboard from That Village House
Dress up one of the walls in your house by making your own scoreboard.
Baseball Signs from Catch My Party
Create a bunch of signs that have popular baseball sayings on them and hang them around the room or yard.
DIY Baseball-Softball Wreath from The Pinterest Project
Make a fancy door decoration using old baseballs and softballs.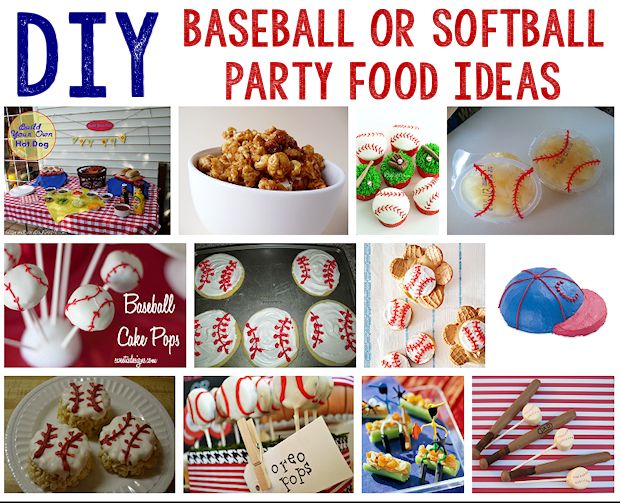 Deluxe Hot Dog Bar from Celebrate Every Day With Me
No baseball or softball themed party would be complete without hot dogs.
Baseball Cookies or Rice Krispie Pops from Room Mom 27
Learn how to make sugar cookies or how to transform store bought rice Krispie bars into baseball themed pops.
Major League Baseball Cupcakes from Worth Pinning
You can make cupcakes for your guests that look like baseballs or a ball field.
Baseball Glove Cupcakes from Better Homes and Gardens
These baseball gloves are made using Nutter Butter cookies.
Chocolate Covered Pretzel Bats and Marshmallow Balls from Sweet Simple Stuff
Learn how to create baseball gear out of pretzels and marshmallows.
Simple Baseball Fruit Cups from All-Star Team Mom
All you need is a red marker to turn a fruit cup into a baseball treat.
Baseball Hat Cake from Spoonful
Discover how easy it is to turn an ordinary cake into a baseball hat.
Baseball Cake Pops from Sweet C's Designs
Use this tutorial to make your own baseball or softball cake pops.
Baseball Oreo Pops from The Burchett Bunch
If the thought of making cake pops scares you, you can dip Oreo cookies in white chocolate to get a similar effect.
Homemade Cracker Jack from Brown Eyed Baker
Evey baseball or softball themed party needs some Cracker Jacks!
Baseball Krispie Treats from Come Together Kids
Make Rice Krispie treats that look like baseballs.
Bench Warmer Snacks from Better Homes and Gardens
Dress up celery stalks so they are fit for a birthday snack.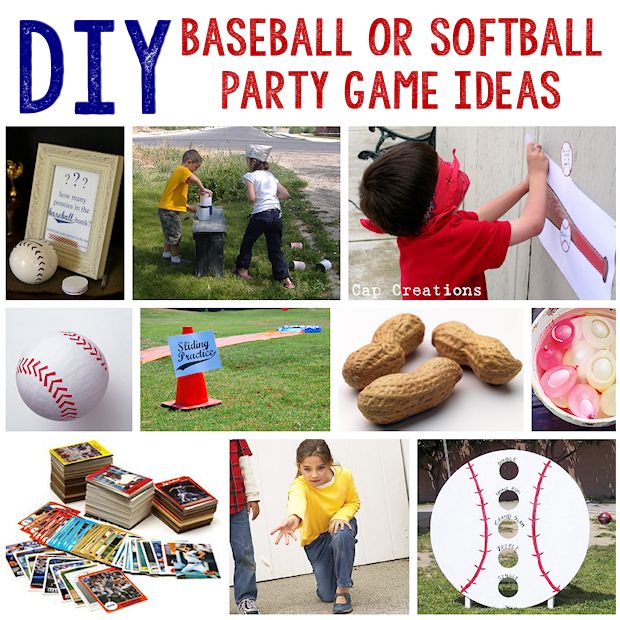 How Many Pennies from Notable Nest
Have your guests wager a guess as to how many pennies might be in a baseball-shaped bank.
Knock Down the Cans Game from The American Homemaker
Stack up cans to form a pyramid and have kids throw baseball or softballs at them.
Pin the Baseball on the Bat Game from Cap Creations
A perfect twist on the classic Pin-the-Tail-on-the-Donkey party game.
Really Big League Baseball Pinata from Spoonful
While I already suggested using a pinata as a decoration, hitting around a baseball filled with treats is sure to please all of your young guests.
Sliding Practice from iCandy Handmade
This is a fun activity for kids using a simple Slip and Slide.
Peanut Toss Game from Sherri
Set up cans and see who can get in the most peanuts. If you have party guests that have peanut allergies, you can easily make pretend peanuts by painting rocks or making small peanut-shaped bean bags.
Water Balloon Baseball from It's Just Laine
If you have hot weather, this is a wonderful game that can cool your guests down.
Baseball Scavenger Hunt from Party Ideas by a Pro
Hide baseball cards and let your guests hunt for them.
Driveway Baseball Game from Spoonful
If you have limited space, play a game of driveway baseball.
Home Run Baseball Toss Game from Oh Sew Sandy
Make this fun bean bag toss game.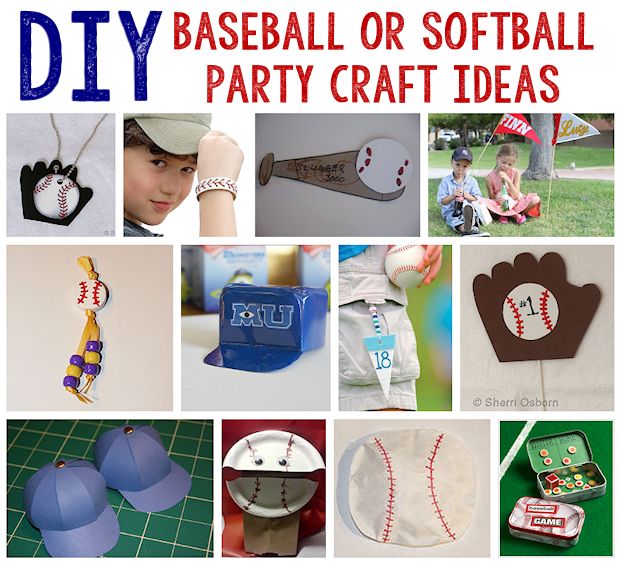 Baseball Charm Necklace from Sherri
Let your party guests make their own baseball or softball themed jewelry.
Baseball Wristband from Spoonful
Learn how to make a bracelet by cutting the laces from a baseball.
Bat and Ball Craft from No Time for Flash cards
Let your party guest decorate their own paper bats and balls.
Felt Pennants from Fanciful No. 2
Let each party guest make a felt pennant featuring their own name.
Beaded Baseball or Softball from Sherri
This beaded baseball can be used as a pin or a magnet.
Juice Box Baseball Cap from Someday I'll Learn
This tutorial teaches you how to turn a juice box into an adorable baseball cap.
Keychain Pennants from Spoonful
Use pony beads and felt to make miniature pennants
Number 1 Baseball Fan from Sherri
Party goers will have fun making these craft foam baseball fans.
Paper Baseball Hat from Child Made Tutorials
All you need to make these adorable hats is a piece of paper and a brad.
Paper Plate Puppet from Free Crafty Ideas
Use a paper plate and a lunch bag to make a fun puppet.
Stuffed Baseball or Softball Craft from Sherri
You can use paper, fabric, of felt to make a stuffed baseball.
Travel Party Game from Plaid
This craft can even double as a party favor.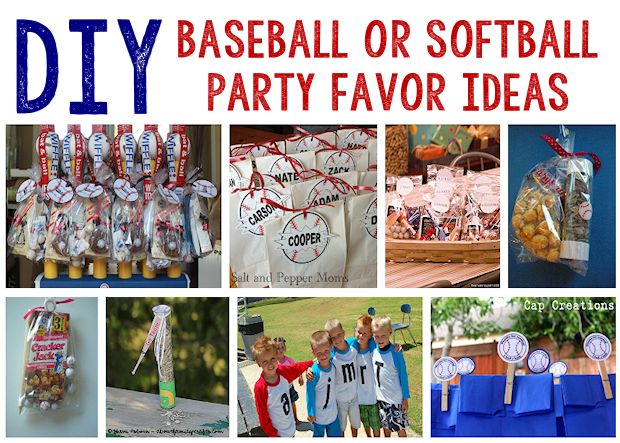 Wiffle Ball Party Favors from Catch my Party
Package up a wiffle ball set along with some sweet treats.
Baseball Snack Tags from Salt and Pepper Moms
You can top any treat bag with these homemade tags.
Baseball Party Favor Goodie Bags from Martha Stewart
Fill a cellophane bag with a variety of items a baseball or softball player would love.
Baseball Treats Favor Bags from Room Mom 27
Kids will love these treat bags full of Cracker Jacks, sunflower seeds, and baby Ruth candy bars.
Cracker Jacks Baseball Favor from Room Mom 27
Package up some candy baseballs and a box of cracker jacks.
Go Team Baseball Party Favor from Sherri
Send the kids home with some sunflower seeds in this cute container.
Personalized Raglan Shirts from iCandy Handmade
It is so easy making a special shirt for everyone using these techniques.
Printable Party Favor Thank You Tags from Cap Creations
Personalize your favor bags with clothespins topped with baseball.
I hope all of these amazing resources help you plan the perfect baseball or softball party! If you know of any other great resources, let me know.